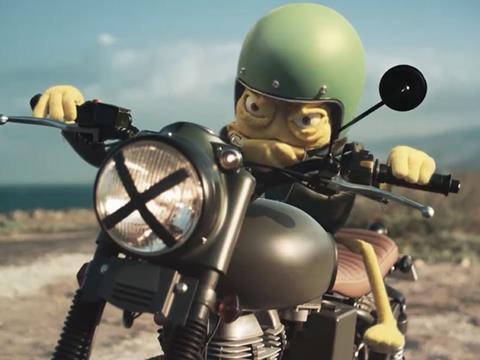 Thought Shreddies had locked up Hunger? Alas, that was only 'till lunch'. Now the little tyrant is back, in the new form of 'The Grumbler'.

He's the jaundiced lovechild of the Crazy Frog and Evel Kneivel, chasing some surfers down a Cornish coast road and distracting the driver with some stunts.

But this isn't an ad for Shreddies. As our hero stops for a showdown, he pulls out… a Danio yoghurt. It looks tasty, and the matey voiceover sells it as a high-protein, low-fat snack suitable for active surfer dudes.

Fair play to Danio for pushing yoghurts to men for a change, but what bloke takes one (and remembers the metal spoon) on a long, hot car journey? Swallow that, you'll believe the sub-tropical shoot really did take place in Cornwall.