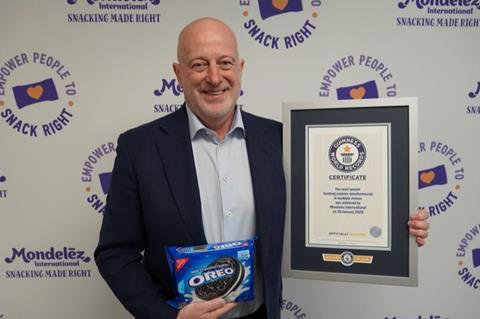 Congrats to Mondelez chairman, CEO and chief certificate holder Dirk Van de Put, pictured here proudly posing with his latest accolade.

The source of DVdP's pride? Oreo's role in claiming the Guinness World Records title for 'the most people dunking cookies across multiple venues'.

The title was claimed by 5,066 Mondelez employees from 55 locations across 32 countries, who had been 'invited' by their employer to twist, lick and dunk Oreos simultaneously, as part of a live streaming event.

No news on how this was verified, or indeed into what said Oreos were dunked (Guinness, maybe?) – but like the 'most Jelly Babies shoved up one's nose' award (Bogof is stuck on four), it seems unlikely to be a particularly hotly contested category.

Unless you fancy a punt, Maryland? At the cookies thing, we mean.