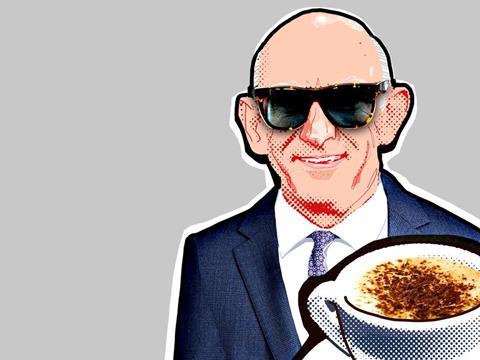 I've not had any job applications from Marcus Wareing or Michel Roux yet but it can only be a matter of time. Sorry boys, these days I only deal with the top players - and besides, I thought Michelin Two Star was something you put in your moped.

Yes, as Greggs' astronomical sales numbers showed this week, my drive to create a gastronomic powerhouse out of a gastroenteritic piepit is paying dividends.

Not only have we abandoned the boring old baking function of our bakeries, we have also started introducing some elements of food into our product ranges. Confidentiality prevents me from disclosing sales figures of our Falafel and Houmous Salad in Cumbernauld or our Teriyaki Chicken Noodles in Merthyr Tydfil, or our Flat White coffee in Ealing, but suffice to say I'm excited by the upside potential.

Some will no doubt mourn the passing of time-honoured (and I'm not just talking about the two-week shelf-life) products such as our Mortuary Steak Bakes and those Sausage and Bean Melts the USAF rebranded as 'Agent Orange'. But fear not. If there's one thing I learned at M&S and Ocado it's that the Great British public has an endless appetite for the new and exotic, as long as this refers exclusively to the branding and doesn't actually change their WWII-style diets.

So I can announce that Greggs will be rebranded Greggorios Trattoria, and the menu will take on a Mediterranean feel. Alongside the various industrial frothy coffees, watch out for our exotic Rotolo di Salsiccia (Sausage Roll) and our daringly piquant Pasticceria della Cornovaglia (Cornish Pasty).

As the Italians would say: Ah sole mio!