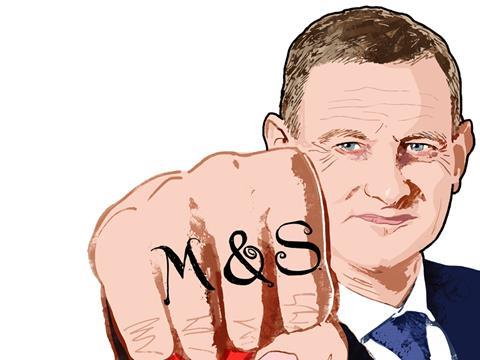 I've worked at M&S since I was 14. Man and boy. I've seen a few changes, let me tell you. And I've been called a few names too. 'Nails' is one, on account of my toughness. 'Trader' Rowe is another, thanks to my Croydon-bred love of a deal, and being able to flog overpriced lace knickers to lonely middle-aged customers. Ha ha.

Now it's 'Boss'. But you can call me 'Guvnor' on account of my cheekie chappie persona. And the fact I'm a Millwall suppor-ta. And no. Before you say it. I didn't kneecap John Dixon. Whatever happened to JD, eh?

Right. Before I go for a smoke let me tell you my agenda. Item one. Understand the handover notes Marco Van Bolland is preparing for me. They're a rewritten version of the Double Dutch Vandevelde came up with, which he half-inched from Lord Rose. I wonder what "Niet fokken op" means?

Item two. GM. I was the genius who introduced tellies in M&S. But I won't be making that mistake twice. I'm on it. And I do love to trade. Little bit 'werr', little bit 'weyy', little bit 'sharpen up your clothing offer or you'll be deputy sales assistant at Sports Direct in zero hours flat'.

Do I know we've got a job to do? Yes. Doing my customer research on the terraces at The Den reveals an almost complete ignorance of M&S's market positioning, value proposition, ranging or in fact anything at all. Other than how to create undetectable weapons out of rolled-up newspaper, but I'll leave that kind of tactic to Mike Ashley.

Me, I'll be plotting my own strategy for the GM business, based on my reinvigoration of M&S Food. I'm kicking off by introducing market stalls on the sales floor. C'mon ladies, five for a paahnd!