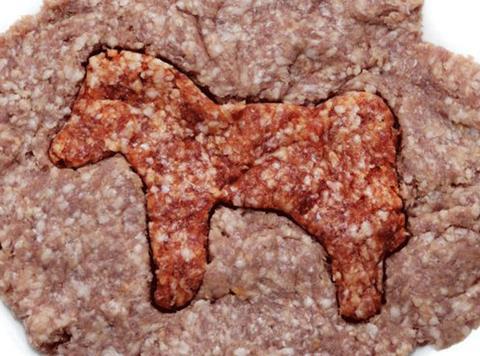 Can it really be five years since Horsegate, readers? For a few short weeks, customers fled Tesco, Asda, and Iceland to the haven of their friendly local store where they knew exactly what they would be getting in their frozen processed burgers.

Pat's Mart hadn't seen sales like that since the Curried eggs of '88 or the BSE scandal of '91. Ah, happy memories. I sold out of macerated meat products before you could say 'Shergar', and as any retailer will tell you, empty shelves cost lives. Something like that. Unless you're a discounter, in which case it's called 'merchandising,' so I understand.

I'll always remember Horsegate because it was just after Pavlina had arrived in Blighty and she only had a vocabulary of about a dozen English words (to her credit, five years later she's almost doubled that). The poor dear had a bit of a sore throat, but I had no choice but to pack her off to the wholesalers.

Anyway, 45 minutes later she was back with a minicab boot full of prime… well, meat. She must still have been poorly, bless her: I remember all she could say was 'a little hoarse'. Something like that. So I gave her a Fisherman's Friend (3x25g/£3) and told her to get packing. And pack she did: 20 minutes to get 50kg of prime offal into polystyrene trays is still a house record.

Ah, those were the days, eh? Customer service was regarded as good business. But Aldi and Lidl are doing so well that perhaps the future lies elsewhere. The 'treat 'em mean and keep 'em keen' approach. Mind you, Fortnums did well too. So maybe the answer is to get customers to do everything themselves, but in a posh voice. Maybe.
Pat Smart
Exploits of a Westminster c-store owner