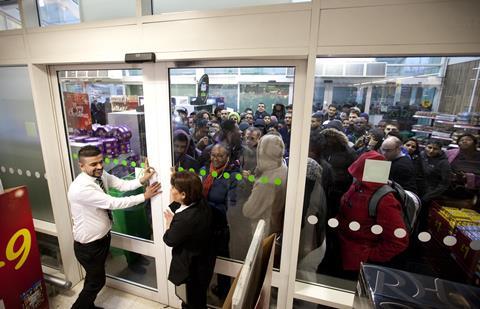 When I was a kid my mum used to take me down to the Nearly New Shop if ever I needed anything really special, like a coat without any obvious external damage or, one special Christmas, a Mouse Trap game with almost all of the pieces intact.

This is the kind of make do and mend philosophy I've tried to bring to Pat's Mart over the years, and it's why I've had Pavlina carefully changing 2015 date codes on last year's Toblerone Full Strength Advent Calendars (£3.99) to 2016. It doesn't take more than a deft flick of a biro, and lovely they are too. The chocolate tastes a bit grim, but then it is sourced from America.

We've also scribbled 'Black Friday Extravaganza' across the window in fake snow and put a huge pyramid of tins of HP London Grill of dubious age and provenance just inside the door with a giant '99p' sign, down from, well, 99p. But we've made that bit quite a lot smaller and it's the thought that counts.

I suppose my naughty secret is this: my Black Friday promotions aren't really costing me anything extra at all! Obviously that's not the sort of trick the big retailers would try on. Just imagine! That would expose Black Friday as just another contrived import from the US, or a cynical way of rebadging what we used to call Christmas sales when they were at Christmas.

And that would never do. Trust is very important to us retailers. I haven't seen old Mr Clarke from Tesco for a while, but now he's been found innocent maybe he'll visit me again with his friends. I'll make sure they form a queue.

As to Cyber Monday, I didn't go in for that as I don't know any robots - other than Mrs May, of course. Maybe next year, if there is one.