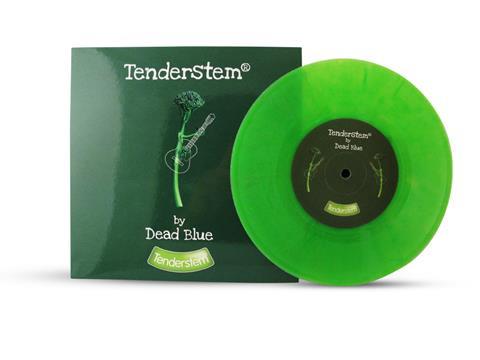 The lure of the advertising dollar puts pressure on musicians. Sure, they get money and exposure, but they also risk being branded sell-outs.

Manc rockers Dead Blue have made an unusual (and unusually healthy) decision about who to partner with. They've teamed up with broccoli brand Tenderstem to record a song dedicated to the vegetable that apparently "caught their eye across a crowded supermarket".

They sent a copy of the record (on fashionable seven-inch, in a rather fetching shade of green) to Grocer HQ, where as you can imagine we were quick to gather round the office record player.

And it's… surprisingly not bad. A chugging 1990s-style guitar rock track backs some unnervingly sincere lyrics. "Saw you in the supermarket vegetable aisle / Supposed to pick up onions but I picked out your smile," it begins, following up with the irresistible "You look so lovely with green bushy hair / you made me stop and stare / I dropped my conference pear."

An indisputably catchy chorus - "Tenderstem, sha la la la, Tenderstem" makes the point clear. Whether or not you agree with a band shilling for Big Broccoli, the passion feels real.

And - bonus! - it sounds even more sincere (sexy, even, like Barry White is singing) if you do a John Peel and play it at the wrong - 33rpm - speed.