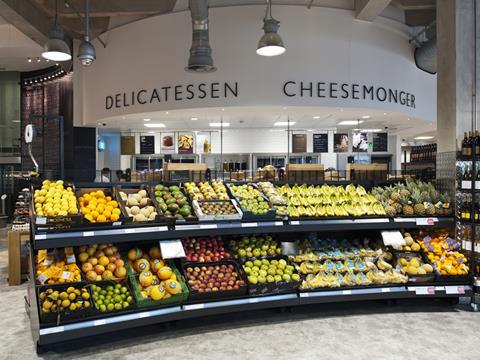 Booths is set to roll out new market-style fruit & veg fixtures as part of a wider push to remove plastic from its stores.

The supermarket introduced the market-style concept in its Carnforth, Lancashire store, which was refurbished in June and July. The majority of the fresh produce is ranged loose in wooden boxes and the retailer said it had significantly reduced the amount of pre-packed fruit & veg.

A spokeswoman told The Grocer the concept would also be introduced at its Ulverston branch in Cumbria later this year, and at other stores after that.

"We are currently reviewing the success of the fixture but initial indications are that customers like it, and sales are indicative of this," the spokeswoman said.

The Carnforth branch refurbishment also includes a new fish counter, bakery fixture with expanded range, new chillers and freezers running on CO2, and LED lighting throughout to help reduce its carbon footprint.
The refit also ties in with the retailer's other sustainability endeavours, including phasing out plastic produce bags and replacing them with compostable net versions by September. These net bags are already available at the Carnforth store.

Other initiatives include phasing out plastic straws with a view to introducing paper straws from September, removing single-use plastic bags from stores, and ending complimentary hot drinks for Booths cardholders who do not bring a reusable cup.

"Reduction of plastics is a priority for all our teams, informing buying and packaging choices at all levels of the business. Reducing plastics in Booths isn't a one-off initiative, it's a continuous range of changes we're making to help reduce the reliance on plastic," said Booths health, safety and environment manager Chris Stoves. "Booths is really proud of the progress we've made to reduce the use of plastic in our business, but this is a long-term initiative to make informed decisions and work with our suppliers to ensure we're making the most sustainable choices for the environment, and our customers."