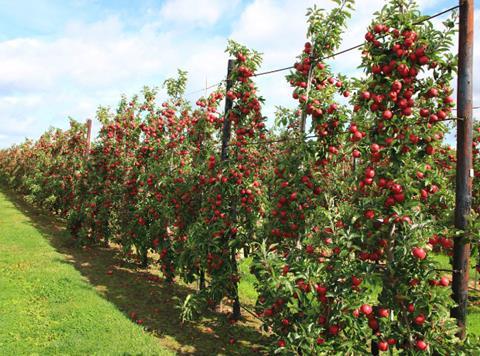 Uncertainty over Brexit has led to an average fall in labour levels across the UK apple sector of 20%, according to grower body English Apples & Pears.
With the sector entering its crucial harvesting season this week, EAP chief executive Steven Munday said many growers had big concerns over future labour availability, with the topic top of its lobbying agenda.
"All British apples are picked by hand," said Munday, "which means that the harvest is highly labour intensive".
Many growers were not experiencing any issues over labour, he added. However, for some, labour shortages were a distinct possibility.
"We're working hard with the National Farmers Union and other bodies to lobby for access to the required seasonal labour after Brexit."
Munday's concerns echo those of the soft fruit sector. British Summer Fruits chairman Laurence Olins said in August the sector was already struggling for numbers, with Brexit uncertainty "having a negative impact on our industry".
The FDF's recent Breaking the Chain survey revealed some 47% of business said EU nationals were considering leaving the UK due to uncertainty surrounding their future. Meanwhile, grower Barfoots has warned it may have to abandon labour intensive crops such as broad beans from next year unless the labour situation improves.
"I've been in the horticulture industry for thirty years, and this is the first time I've had to confront this," Barfoots farm director Nathan Delicott, told the Financial Times today (13 September). "They're just not coming."
It comes as English Apples & Pears gears up to launch a new marketing campaign for the sector next month, which will see it add stickers carrying a new great British Apples logo on millions of apples and packs nationwide.
"Our apples are obviously from Great Britain, but they are also great quality, added Munday. "So our new campaign will be reinforcing this message."
Activity will include an attention-grabbing campaign for the first Great British Apples Day on 19 October, a pop-up apples store in the heart of London, and an in-store campaign with leading retailers.