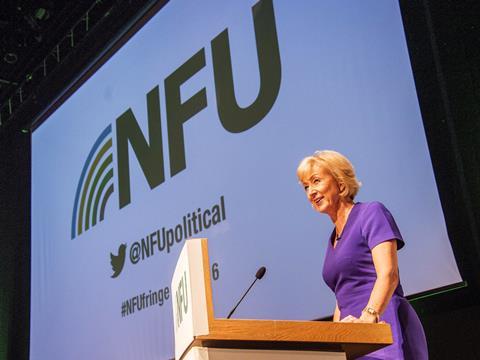 I don't think you'll find anyone in this room who is more optimistic about British food and farming than I am," Andrea Leadsom said as she faced the audience at an NFU fringe event at the Conservative Conference.

"We have the highest standards of animal welfare, food security and food traceability, and these are the things we really want to focus on so we can grow, compete, innovate and export more." It was a message the Defra secretary of state would revisit time and again during her appearance, and which had already featured heavily in her keynote speech to conference earlier that day: Brexit is going to bring great things for UK food.

Beyond reassuring sentiments, however, there was little detail to guide UK food producers as to what to expect from life post-Brexit. While the party conference season brought clarity on one important point - the timing of when Article 50 will be triggered - other key policy areas remain undecided. Will the UK remain part of the single market? What will happen to subsidies? How will British producers be protected from cheap imports produced to lower standards once the UK strikes new free-trade deals?

As NFU director general Terry Jones puts it in an opinion piece for The Grocer this week, "the nation is still none the wiser as to what government will push for in Brexit policy negotiations".

Having said this, there were small clues. Leadsom clarified it would be Defra and not David Davis' Department for Exiting the EU that would be leading on Brexit agriculture issues, and said she was "banging the drum" for food and farming at every Cabinet meeting - a well-received reassurance in light of growing farmer concern their sector could be "sacrificed for the City of London" during trade negotiations (though one senior industry source was quick to point out that what the industry needs right now is a capable facilitator, not a "cheerleader", adding: "What she is saying is all very woolly, and I fear that agriculture and food could be a sacrificial lamb in the wider context of industrial exports and financial passports.")

She also revealed farmer payments under the CAP were likely to be excluded from the "nationalisation" of EU farm and animal laws set to occur under the Great Repeal Bill.

This is one of several signs that the government is serious about a radical new approach to subsidies once its commitment to keeping payments at current levels (about £3bn a year) runs out in 2020. One of May's special advisers also told the Telegraph some farming subsidies could end up going to the NHS in future.

Indeed Leadsom (and her colleague at Defra, George Eustice) spent a surprising amount of time talking about the environment as opposed to day-to-day food production. The message seemed clear: subsidies, in future, will be handed out not for the day job, but in return for specific outcomes.

"I was surprised by the emphasis on the environment and the apparent lack of a link between the environment and food and farming, and a lack of emphasis on food in particular," says one industry source.

Others were more encouraged. "I thought it was quite brave, especially as this was an NFU event," says David Bowles, head of public affairs at the RSPCA. "She was clearly saying to farmers it won't be business as usual. There will be no more blank cheques. We're going to be rewarding farmers who are good - not rewarding farmers for just being farmers."

Bowles says the RSPCA hopes this will open the door to incentivise not just environmental outcomes but also higher animal welfare standards through subsidies - a practice already in place in Scotland but barely used in England under the current CAP system. "It's a fantastic opportunity for British farming," he says.

Farmers faced with the prospect of losing a big chunk of public payments, however, are likely to feel rather less optimistic.