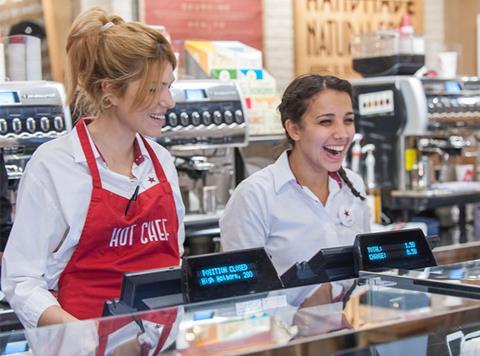 Top story
Consumers will "pay the price" unless the UK "provides certainty" for people from the EU working in retail in the UK and agrees an immigrations system "fit for future", according to the British Retail Consortium.
The BRC has produced a report published today in its "A Fair Brexit for Consumers" series, that shows 170,000 people from the EU work directly in retail, accounting for 6% of the industry's workforce – a proportion that is higher in different locations and parts of the industry, such as warehousing and distribution.
The BRC found 56% of retailers revealed that their EU colleagues are concerned about their right to remain in the UK.
Some 22% reported that people from the EU have already left their UK workforce.
The BRC warns that the knock-on impact of a potential reduction in availability of skills and workers, and higher costs of employment could hit consumers.
Helen Dickinson, chief executive of the BRC, said: "The UK's decision to leave the EU has created uncertainty, not only for business, but for the people from the EU they employ. These are real people with families, livelihoods and homes in this country. It is not right that 16 months after the referendum these people still don't have the security they need to continue their lives. And from our data it is clear that unless we have the right structures in place to support retailers attract, recruit and retain workers, consumers will soon start to see and feel an impact as they shop.
"First and foremost, the Government must provide certainty for the people from the EU who are already living and working here. The offer of settled status is positive but colleagues need to know the practicalities of acquiring this: how you apply, what it costs and when the cut-off date is.
"Secondly, we recognise that free movement from the EU is coming to an end, and that this is a reset moment. So, at a time when the retail industry is in the midst of a transformation that is changing the very nature of retail jobs, we need a demand-led and simple alternative. Simple for employees and employers alike and based on consumer need not political rhetoric.
"And thirdly, looking at our domestic workforce; the government should work with our industry to invest in the skills and talent for the future. In particular, for the Apprenticeship system to be part of that investment, retailers need additional flexibility to target Levy funds into ongoing high levels of customer service, rather than it being written off as just another tax."
Morning update
UK consumer spending rose 1.4% in September after a 0.4% month-on-month decline in August, according to Visa.
The monthly jump was the biggest monthly rise since November 2016, but overall spending remains 0.3% down on an year-on-year basis.
Visa has found that spending has fallen year-on-year for four of the past five months, which is the longest series of annual spending declines since April 2013.
Visa predicted that consumer spending trends are set to remain "relatively muted for the rest of the year".
Kevin Jenkins, MD of Visa UK and Ireland, said: "Despite a slight uptick in UK consumer spending in August, the story of the past few months has been one of wariness in household spending. September saw another decline in overall expenditure, continuing the recent trend of belt-tightening, as the landscape of financial uncertainty takes its toll."
It's all quiet on the markets this morning, in terms of scheduled company announcements.
The FTSE 100 has opened flat after the gains of last week, edging down less than 0.1% to 7,519.1pts.
Some early risers include Premier Foods (PFD), back up 1.1% to 39.4p, Carr's Group (CARR), up 1% to 146.4p and Finsbury Food Group (FIF), up 0.8% to 107.9p.
Fallers so far this morning include McColl's Retail Group (MCLS), down 3.6% to 266p, McBride (MCB), down 1.4% to 218.2p, Cranswick (CWK), down 1.3% to 2,994p and Nichols (NICL), down 1.2% to 1,749.5p.
Booker (BOK) is down 0.9% to 206.6p ahead of its half year results later this week and its potential buyer Tesco (TSCO), is down 0.7% to 187p.
This week in the City
It is set to be a relatively quiet week for City news before the quarterly earnings season kicks off later in October.
The week begins with a trading update from brewer and pub operator Marston's (MARS) tomorrow morning.
Of most interest this week is the half year results from Booker Group (BOK) which will be released first thing on Thursday. A preliminary decision on the future of Booker and its £3.7bn sale to Tesco is expected from the Competition and Markets Authority before the end of the month.
Also on Thursday WH Smith (SMWH) will issue its full-year results.
The big story brewing in the US is around Procter & Gamble's (PG) annual general meeting in Cincinnati tomorrow where shareholders will vote on whether activist investor Nelson Peltz will take a seat on the company's board against the current board's wishes.
Away from company news, the BRC-KPMG Retail Sales data for September is released tomorrow morning.