Time is almost up. With no answers in sight, logistics operators are hoping for the best, but planning for the worst
The etymology of the word 'logistics' could hardly be more apt right now. Its origins lie in a branch of 19th century French military science, dedicated to how best to co-ordinate all the moving parts required for battle. And heading into arguably the most complex challenge British logistics has ever faced - the possibility of a no-deal Brexit - fmcg operators are returning to their roots, adopting a siege mentality as they prepare for political war.

Planning for the worst-case scenario is undoubtedly prudent. Though parliament has voted to reject a no-deal exit and extend Article 50, crashing out of the EU next week remains, at the time of writing, the default legal position and therefore still entirely possible. It's an ongoing uncertainty that will serve as the ultimate test of the supply chain's agility and resilience.

But if there is a profession best placed to navigate Brexit then surely it is logistics. Advanced planning and executing effective outcomes for tricky and otherwise impossible situations is the sector's raison d'être.

"At this late stage, the most effective mitigating tool is adopting a 'peak mindset' to safeguard businesses against short-term losses and longer-term reputational damage," says Paul Harvey, head of grocery at Newton.
"At this late stage, the most effective mitigating tool is to adopt a 'peak mindset' to safeguard businesses"
The responsibility to get it right is immense. With an annual turnover of £1tn, the logistics sector underpins all segments of economic activity and contributes over £121bn gross value added (GVA) to the UK economy - 11% of the UK non-financial business economy. Newton has calculated the UK grocery retail industry could suffer a £4.5bn revenue loss in the three months after a no-deal Brexit if adequate preparations aren't in place.
One of the biggest brands in logistics, DHL, when approached for this article, initially replied that so hard-pressed was it with these preparations that it didn't have time to discuss them beyond expressing its disappointment over the continued uncertainty. However, when pushed, a spokeswoman was a little more forthcoming:

"As a global business, Deutsche Post DHL Group is used to adapting to changing conditions in cross-border trade. Over the past 14 months, we have been working on various contingency plans and have made a number of investments to mitigate potential challenges.

"We are working closely with our customers, and remain fully committed to supporting their cross-border trade post-Brexit to minimise disruption where possible. We urgently need a resolution that will allow all businesses to move forward."
Any resolution remains elusive, though, despite lobbying for clarity from the sector. "We have regular meetings with ministers and senior officials in Defra, DExEU, the Home Office, DfE and other departments, both individually and providing opportunities for members to speak directly to decision makers," says Federation of Wholesale Distributors CEO James Bielby. "We are also part of the critical infrastructure no-deal planning group within Defra, which is working to ensure the food sector is ready as we approach 29 March."

So far, though, these efforts appear in vain. "Our pleas for clarity have been constant - yet none has been forthcoming," says Road Haulage Association CEO Richard Burnett. "We have strongly voiced our concerns to government, specifically to DfT minister Chris Grayling. But each time our concerns were met with the same response: that UK international hauliers had nothing to worry about."

Indeed, a DfT spokesman told The Grocer that "contingency regulations which mean UK hauliers will continue to have access to the EU, whatever the outcome, are shortly to be agreed.

"While we do not expect there to be significant road traffic disruption outside Kent, we are working with the UK and EU haulage industry, Local Resilience Forums and port authorities to help them prepare for any potential impacts arising from Brexit."
12 ways to prepare for a no-deal Brexit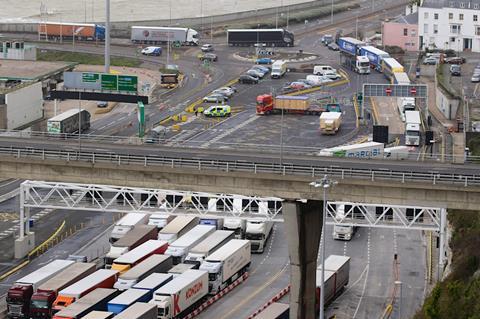 1. Register for a UK Economic Operator Registration and Identification (EORI) number - a vital document required to submit customs declarations and/or safety and security declarations.
2. Decide whether you wish to use customs simplifications such as special procedures, transit or Authorised Economic Operation (AEO) accreditation.
3. Invest in software that interacts with HMRC's systems if you want to submit declarations yourself.
4. Ensure that the entity responsible for transporting your products has secured appropriate market access. For road haulage, you should ensure the operator has applied for a valid ECMT permit.
5. If in doubt, get an agent to file your import and/or export, and safety and security declarations.
6. Ensure drivers with a UK driving licence have applied for an IDP (international driver permit) and have a valid passport with six-month validity, and that you have a 'green card' from your vehicle insurer.
7. Ensure that all your trailers are registered by 28 March 2019. This applies to all commercial-use trailers travelling internationally that weigh over 750kg in gross weight.
8. Take into account changes to rules of origin when calculating what tariffs might be due when exporting to third countries.
9. Factor in any tariffs and possible restrictions/quotas applying to products, source material, ingredients and parts, and check if duty or VAT is required and possible duty relief.
10. Be aware of any regulatory requirements for imports and exports of your products, parts and ingredients, especially agri-food products of animal origin for human or animal consumption.
11. Assess the impact of regulatory restrictions in terms of access points for agri-food products, and factor in possible border delays.
12. Encourage EU staff to apply for settled status as soon as the scheme opens on 30 March 2019.


A closer look at the journey of food and drink in and out of the UK demonstrates how important that preparation could be. Hauliers from the UK and the EU bloc are the supply chain's workhorses and those most exposed to the immediate implications of a no-deal exit. Loaded with eight million units of freight annually, they criss-cross through the EU, currently free of hard borders or lengthy customs checks.

Even now, with the UK inside the customs union, the collective cargo produces 55 million pieces of required paperwork, including customs applications requirements, safety and security declarations, and food, animals, plants and other controlled goods certificates.

That will spiral to around 300 million declarations if the UK leaves the EU's customs union without a deal.

Sarah Laouadi, the FTA's European policy manager, says any increase in checks would cause huge disruption. "It can take 15 minutes to check just the ID and health certificates of one batch of goods in a single consignment. On top of these are customs requirements and checks of driving permits and so on. Depending on how strictly enforced all these checks are, your company can expect heavy delays at all the ports, even if all the required paperwork is in order," she warns.
Laouadi cites the recent strike action at Calais, when French customs and health inspectors - protesting over post-Brexit working arrangement proposals - worked to rule, checking paperwork 'to show' how Brexit will likely gridlock the port and delay goods vehicles travelling to Britain. France's CGT union official, Philippe Bollengier, warned that if and when the UK becomes a third country, checks will become even more in-depth.

"It was not an official dry run for Brexit, but it gave a good indication of what happens when just a few trucks are checked for some of the rules," says Laouadi.

The Port of Dover warns that such is the level of traffic through its docks that a delay of only two minutes for each truck would create a 17-mile tailback. As a result, the RTA is advising members to take alternative cross-Channel routes to avoid where the heaviest disruption is expected. But, admits Laouadi, those ports might in turn struggle with capacity.

"There are so many things you have to think about - especially the capacity crunch. If you have had no previous experience of trading with non-EU countries and therefore with customs requirements, then you should get in touch with customs agents and outsource this part of their supply chain logistics," she advises.

But there's the rub, says Simply Supply Chain's director Jonathan Kittow. "There are just a few customs experts available and able to advise on Brexit. Most companies will have to organise their own data requirements and understand the legal and practical implications themselves, because they are ultimately liable for an error in the documentation."
Technology
Technology is being heralded by some as the panacea to cure all Brexit border ills. And it's true that most, if not all, paperwork required to move goods between the EU and UK - from EORIs to MRNs - already exists online. The government has also announced transitional simplified procedures to make it easier for UK traders to comply with customs requirements, while HMRC intends to phase in entry summary declarations, ensuring that additional controls at the UK borders will not cause disruption.

But the scanners needed for true frictionless trade post-Brexit are not yet in place. In the first few months after the UK's exit, paperwork checks will have to be waived, says customs and exercise expert Robert Hardy, operations director of food distributor at Oakland International. "Eighty five per cent of the trucks crossing the Channel are from the EU," he says. "Are the French going to stop French cheese getting to the UK? No. And are the French authorities going to stop a French haulier getting to the UK? No," he says. "They might politicise the border because of Brexit but that would be an act of self-harm to EU member countries. Why would you delay your own country's exports? Why would you have your own country's produce rotting in a lay-by in France or Spain or Italy?"

Fears of massive disruption are unfounded, and any hold-ups will be self-inflicted by logistic companies who have failed to get their paperwork accreditation up to speed, he asserts. "Any friction at the borders in a no-deal Brexit will be self-imposed. It will not be due to customs - it will be down to logistics companies not doing as they were advised," he says.
The human component of the supply chain is another area that logistics companies must address. Fourteen per cent of HGV drivers, 12% of van drivers, 25% of warehouse workers and 19% of forklift drivers in the UK are EU nationals, according to the RTA.

But a so-called 'Brexodus' of European workers, sparked by the falling pound and uncertainly of residential and work status post-Brexit, has seen many EU workers leave the UK and fewer arrive. In Northern Ireland - in the political spotlight due to the backstop - the once-reliable supply of lorry and warehouse workers from the EU has all but dried up.

Latest figures from the country's Department for Economy reveal there were 14,000 fewer EU nationals working in Northern Ireland by the end of March 2018, a 26% drop compared with prior to the referendum.

"We expect the drop to have worsened when new figures are released in the coming quarter," says Christopher Morrow of Northern Ireland's Chamber of Commerce.
Reassuring EU nationals
Talking to and reassuring EU staff is crucial to allay their fears, says Wincanton's transformation and risk director, Marcos Hart. Wincanton is taking part in the EU Settlement Scheme public pilot and is providing staff with the information on how to successfully settle in the UK. "Fifteen per cent of our colleagues are EU nationals and our focus has been on ensuring they and their families feel supported and valued," Hart explains.

Against this backdrop of both a looming labour gap and delays at the border, many of logistics' biggest clients in food and drink have opted to stockpile supplies. "In the run-up to 29 March, wholesalers have ordered extra core products based on volume, assessed according to risk of availability and cost perspective, estimated tariff impact, and sales," says the FWD's Bielby. "There are between one and eight weeks of supply available, depending on the product, at a cost of millions in stock and storage."
"Our focus has been on ensuring our EU national employees feel supported and valued"
Businesses need to be clear on their objective for stockpiling, though, advises Newton's Harvey. "There will be a temptation to flood stores with stock, but it is always better to hold it in separate distribution centres. Retailers will typically pay 15% to 25% of the cost of the stock per year if products are kept in store. This approach also means they face additional labour costs as stock constantly needs to be moved around. Availability is affected as stock can get lost in the back room and staff struggle to replenish shelves and manage their stock file," he adds.

It isn't only food and drink being stocked up on, though. Wincanton has advance-modelled the company's vehicle spare parts and consumables volumes for 2019/20, and "are close to completing the stockpiling of those items", says Hart. "We maintain a significant fuel bunkering capability throughout the UK. Wincanton procures over 100 million litres of fuel per annum. In the event of any fuel supply constraints we will be able to use our contingency stocks," he says.
Transparency
Collaboration and transparency between all elements of the supply chain is essential as companies brace for no deal. "It is important that suppliers self-assess where issues are likely to arise, ensuring plans can be put in place to minimise disruption to supplies," says Harvey. "Both sides being open during this period will lead to stronger relationships, which will last well beyond the immediate pressure. Retailers and manufacturers will then be able to fully understand their objectives and evaluate what is required to fulfil them."
"Many of our clients are hanging out for a deal. Yet there are some things you can take control of and that is quite empowering"
Wincanton's Hart agrees that dialogue with customers is crucial to minimise risk. "Our customers are dealing with unprecedented levels of uncertainty and we are staying close to them to ensure we manage that demand, regardless of what it looks like," he says. "We stay close to our customers and are employing the same approach we do over the Christmas peak, when we see significant fluctuations in demand. So we're treating Brexit in this type of 'business as usual' way, just over a longer period," he adds.

Brian Kelly, a regulatory lawyer who heads up the food and beverage practice at international law firm Covington, says calls asking for advice on regulations have increased exponentially since the start of the month amid the unfolding political crisis."It seems many of our clients and others in the industry are hanging out for a deal. Yet there are some things you can take control of and that is quite empowering," he adds.

In the absence of facts and political visibility, those elements that can be controlled might be limited. But logistics is a sector that has built its reputation on finding a way through. And "in the absence of any political clarity, the supply chain has no choice but to continue to plan for the worst and hope for the best", says Kittow. In other words, prepare for battle but pray for peace.
What is the EU Settlement Scheme?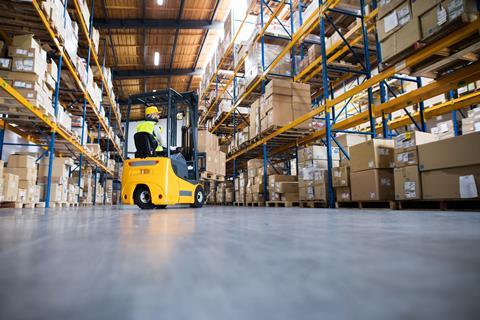 A Home Office £3.75m advertising blitz encouraging EU nationals to secure post-Brexit residential status will be rolled out within the next few days. The online, broadcast, printed media and billboard campaign will appear "a few days before" the UK's scheduled 29 March exit.
"The European settlement scheme will be fully launched on 30 March," confirmed a Home Office spokesman.
More than 150,000 EU nationals had by the end of last month made an application during the pilot scheme, of which 135,000 had been concluded. Seventy-five per cent were granted settled status with the rest given pre-settled status, with none refused, the spokesman said.
Applicants are asked to prove their identity, prove they reside in the UK, declare any criminal convictions and upload a facial photograph.
Immigration officials then check employment and benefits data to confirm proof of residence.
Between 3.5 million and four million European Economic Area citizens are eligible for the scheme, and 1,500 caseworkers have been recruited to help cope with the expected application rush. The deadline for applying will be 30 June 2021 - or if the UK leaves the EU without a deal, 31 December 2020.
The online process has been designed to make the identification process easy and to avoid a 'Windrush-type' scandal, which involved wrongful detentions and deportations of some members of the Caribbean community. "We have already rolled out the employer toolkit, which has been sent out and is accessible online, so companies can help inform their employees," said the HO spokesman.
The settlement scheme applies to EU citizens already residing in the UK, and is designed to be a quick and easy way to secure the rights they need to stay. "We've always been clear we want them to stay, and have made a unilateral offer whether there is a deal or no deal," added the spokesman. The government's Immigration White Paper proposes a 12-month temporary work visa to "fill up labour shortages until 2025". Unlike the proposed Tier 2 work visas, which demand specific skills, employees under the temporary scheme will not require sponsorship from an employer.
However, some businesses claim the temporary scheme is restrictive and unappealing at best, because applicants would only be eligible to work in the UK for 12 months - during which they cannot bring any family members, switch visa routes or seek permanent settlement. After a year, migrants must then leave the UK and cannot return for 12 months.
While the requirements suit short-term and seasonal workers, for logistics and other supply chain businesses that rely on stable, reliable and skilled workers, the scheme is seen as falling short and will likely add costs from the constant recruitment and retraining of staff.
Where are the hotspots in the food and drink supply chain?
1. Holyhead
The UK's second-largest ferry port in the UK after Dover, sees over 423,000 Ireland-bound lorries and trailers pass through the port on their way to Dublin, many of them heading to, or coming back from, the Continent. Almost 80% of Irish-registered HGVs heading for the EU pass through Welsh ports, the vast majority via Holyhead.
2. Eurotunnel
Twenty-six per cent of trade in goods between the UK and Continental Europe goes through the Channel Tunnel near Folkestone, representing a total value of £120bn per year. It takes 24 minutes to turn around a Eurotunnel freight train full of imports from Europe before it leaves full of lorries heading for the Continent - six trains an hour, 24 hours a day, seven days a week. Eurotunnel has seen major disruption during a French customs work-to-rule protest against post-Brexit wages and conditions recently.
3. Immingham
Offers roro and lolo freight services to Northern Europe, Scandinavia, and the Baltic, and handles 16 million tonnes of roro freight per year.
4. Dover
Europe's busiest roll-on roll-off ferry port, handling 2.6 million lorries in 2017 - up on the previous record by almost 10,000 units. Over half of what the UK eats comes via the port, as does up to 17% of the UK's entire trade in goods, estimated at £122bn last year. There remains no substitutable capacity elsewhere in the UK to handle its trade volumes. The DfT intends to introduce 'Project Brock' to deal with lorry queues on roads to Dover for cross-Channel journeys in the event of any no deal disruptions, holding coast-bound lorries on the M20 so traffic not heading for the port can carry on moving.
5. Calais, 6. Dunkirk, 7. Zeebrugge
All served by Dover. Calais has seen major disruption during a recent French customs strike against post-Brexit wages and conditions. "Any disruption on the other side of the Channel is mirrored at UK ports within in a matter of hours," says the British Ports Association.