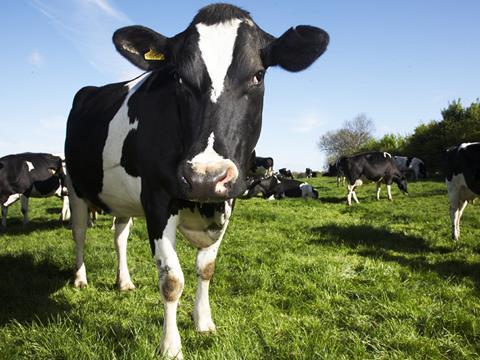 Dairy products could become a luxury after Brexit as non-tariff barriers to trade and restricted access to labour force up the price of butter, cheese and yoghurt, a new study by Arla has warned.
Research commissioned by the dairy co-op and undertaken by the London School of Economics claimed even the slightest delay to supply chains after Brexit would mean UK consumers paid the price through less choice, higher prices, and potentially lower food standards.
The study, titled The Impact of Brexit on the UK dairy sector, is due to be published later today, and warns suppliers face a "dairy dilemma" scenario, which could make it much more difficult to import dairy products from Europe.
This could lead to a shortage of both dairy staples and products such as speciality cheeses, where domestic supply is constrained by limited production capacity, while prices could rise on a host of goods.
Domestic farmers would also be forced to ramp up production and cut farm costs, potentially leading to a fall in standards, "something neither farmers nor consumers would accept", the report warned.
Published less than a week after prime minister Theresa May published her Brexit white paper, the study warned initial analyst calculations that customs related trade costs would increase by 2.5% were significantly lower than suppliers should expect.
Even without the introduction of trade tariffs, costs could spiral as every extra seven minutes of port check times due to customs procedures added a minimum of £111 per container based on labour alone.
Trade barriers
Each seven minutes would also add 10 hours of transportation time, the report warned, with further costs added on in the form of loss of life for perishable goods, lorry maintenance and fuel.
Congestion could ultimately mean companies might have to "move away from just-in-time production, incurring high fixed costs of setting up additional storing facilities".
Both dairy staples and premium items such as speciality cheeses are set to be among those affected, with lower value goods, particularly butter, experiencing the largest rise in costs.
An overstretched Customs Declaration Service, which is designed to handle 150 million declarations per year – but is set to be inundated by more than 250 million post-Brexit – would also amplify risk of delays, the report warned.
Meanwhile, shortages could also be exacerbated from a near quadrupling in demand for veterinary checks at the border, while the number of vets could decrease significantly as a result of around half of the UK's newly graduated vets coming from the EU.
"There's no margin to play with here in the value chain," said Arla UK MD Ash Amirahmadi. "Any disruption means that if we don't get the practicalities of Brexit right we will face a choice between shortages, extra costs that will inevitably have to be passed on to the consumer or undermining the world-class standards we have worked so hard to achieve."
The UK's dependence on imported dairy products meant disruption to the supply chain would have a "big impact", he added.
"Most likely we would see shortages of products and a sharp rise in prices, turning every day staples, like butter, yoghurts, cheese and infant formula, into occasional luxuries," Amirahmadi warned.
"Brexit might bring opportunities to expand the UK industry in the long term, but in the short and medium term we cannot just switch milk production on and off. Increasing the UK's milk pool and building the infrastructure for us to be self-sufficient in dairy will take years."