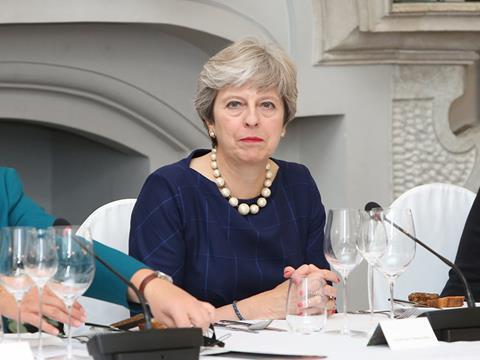 Oh dear, oh dear, oh dear. Just as it looked like PM Theresa May was finally making some progress towards Brexit after getting the Cabinet to "collectively" agree on the UK's vision for our future relationship with the EU, David Davis has thrown everything into chaos by handing in his resignation.
His departure prompted his deputy Steve Baker – and, this afternoon, foreign secretary Boris Johnson – to do the same, plunging May's government back into turmoil.
Davis' exit was hardly a surprise – he's made no secret of his dissatisfaction at May's Brexit direction, and has threatened to quit several times before. In his sternly worded resignation letter to the PM, Davis said he believed the government's newly agreed vision to create a free trade area for industrial and agricultural goods with the EU based on a "common rule book" would hand "large swathes of our economy to the EU" and make control over our laws by parliament "illusory rather than real".
Johnson, meanwhile, is reported to have compared backing the prime minister's Brexit plan to 'polishing a turd', so it wasn't a huge surprise when he handed in his letter of resignation, either.
The PM has so far remained stoic, appointing Brexiteer Dominic Raab to replace Davis following a swift Cabinet reshuffle, with Downing Street claiming Johnson's replacement would be announced "shortly".
But commentators warn the crisis is deepening around May, who is set to address her backbench MPs this afternoon. If 48 MPs write letters of no confidence to the chair of the backbench 1922 Committee she could face a vote of no confidence, and even a leadership challenge.
The resignations have also cast big doubts over May's ability to deliver her Brexit plan, which was welcomed by FDF CEO Ian Wright on Friday for acknowledging the importance of seamless trade and common regulatory standards with the EU for the UK's agri-food industry.
It's hard to predict what will happen next, but no matter what happens, it's yet another setback for the UK's Brexit talks with the EU – which we can ill afford.
As Wright pointed out on Friday, the "negotiation clock continues to count down" and the UK and EU27 have a very short time left to find common ground. If they can't do that, we face a 'no deal' scenario that could have devastating consequences for the UK food and drink industry, and consumers.