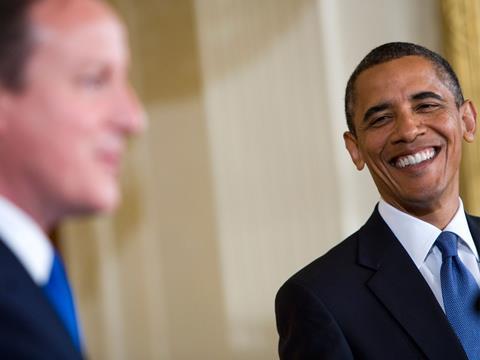 It's not just Barack Obama who has been stepping up the pro-European rhetoric of late.
In the food and drink sector, even organisations that had been expected to sit on the fence have begun ratcheting up the case against Brexit.
Interestingly, today the BRC – which has risked splinters in painful places on more than one major issue in the past few years, and especially on the thorny subject of Europe – stressed the growing importance of a close trading relationship with our EU cousins.
As she spoke out about the power of 'Brand Britain' in driving digital revenue, the BRC's Helen Dickinson used new figures (produced with help from that other great US export, Google) showing a 100% growth in searches from mobile devices.
Expenditure from smartphones in EU countries such as the Czech Republic was powering the growth in online investment, which was benefiting everything from British beauty companies to department stores, she said (though such good news, sadly, came too late for one of them in particular).
So it's not just farmers and traditional food suppliers who rely so much on Europe, but new and increasingly important strands of innovation, too.
"Not only is interest in UK retail growing steadily on the Continent, EU consumers are also far more likely to be experiencing the British retail offer through their smartphones," says Dickinson.
Having said it would remain neutral on Brexit, that's about as outspoken as the BRC is likely to get. But other food and drink organisations also appear to have plenty of evidence to back Obama's claim that Britain will be at "the back of the queue" in trading terms, including any treaty with the US, if it votes to quit on 23 June.
The Food and Drink Federation, despite failing to achieve backing from its executive committee for a fully fledged campaign against Brexit, has set up a site loaded with information about the implications of a vote to exit the EU, much of it setting out the general world of pain a Brexit would bring.
From a reduction in farm incomes to a loss of consumer protection and the threat to environmental policies safeguarded by EU regulation, there is plenty here to back Obama's warning that, in business terms, Brits would be taking a huge risk by going solo.
And if trade bodies are still having their hands somewhat tied behind their backs, the same is not true for academics who will today take the case against Brexit to a cross-party event at Westminster.
Professor Tim Lang, chair of Food Research Collaboration and who produced a report last month warning there would be "profound implications for UK food" from Brexit, claims the issue of how food and drink would be affected has been "largely ignored" in the debate so far. His report suggests there will be "volatility, disruption and uncertainty" in a post-Brexit trade world. "The UK should wake up to the significance of our and the EU's food role in this changed world," says Lang. "The public isn't yet interested, seeing it as a matter of farming. This is dangerously wrong."
Which is why it's so frustrating that major industry organisations have not felt able to take a firm position on the matter.
I can't help thinking that whatever your view on Brexit it's far too important to let the public sleepwalk into a decision without hearing the arguments made loud and clear.
Agree with him or not: it's time to follow the President's lead and speak out.