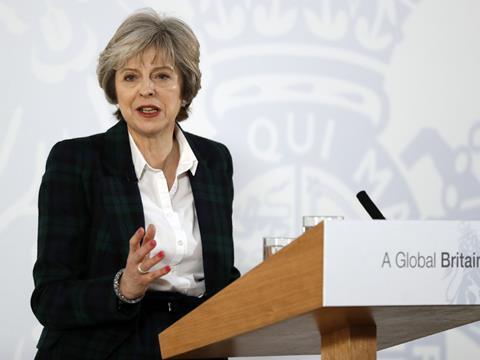 Food and drink companies have reacted with dismay to Theresa May's pledge to take the UK out of the European single market, with many voicing grave concerns over the implications for trade and access to labour.

The prime minister this week gave her most detailed speech yet on the UK's approach to Brexit, and confirmed the government would not seek membership of the single market because "it would to all intents and purposes mean not leaving the EU at all".

She also laid out 12 key ambitions for the UK's Brexit negotiations, which included pursuing a "bold and ambitious" free trade agreement with the EU alongside separate deals with non-EU countries.

Many industry leaders welcomed the greater "clarity" on Brexit provided by May and praised her decision to implement Brexit using a phased approach. FDF DG Ian Wright said this would give companies "time to prepare and plan as opposed to a potentially fatal jump from the cliff edge".

But there were also deep concerns about the UK's ability to trade post-Brexit. Arla UK said it was worried about the implications of exiting the single market "given the uncertainties this would likely bring", while Typhoo Tea head of international sales Rahul Kale said it was "extremely important" that Britain retained tariff-free EU access.

One supplier CEO went so far as to say May's proposals were a "tragedy" for retailers and manufacturers and questioned whether free trade agreements with countries outside the union would fill the gap left by a "hard Brexit.

"We are supposed to be pleased about a deal with New Zealand worth £75m/week versus £14bn/week in Europe," he said. "It's a phoney war this government is fighting. This deal in the end will look awful."

The shape of the labour market post-Brexit also featured prominently among companies' concerns. The British Growers Association, PTF and several livestock bodies all warned that continued access to labour - including unskilled migrant labour - as well as skills and investment, and the best possible access to the widest range of markets would be vital for the future of the food sector post-Brexit.

But not all food companies were unhappy with the PM's stance. "Whatever the impact exiting the single market will have on our business it will be much smaller than the opportunity we will have once the UK has control over its trade policy," said Tate & Lyle Sugar's senior VP Gerald Mason.