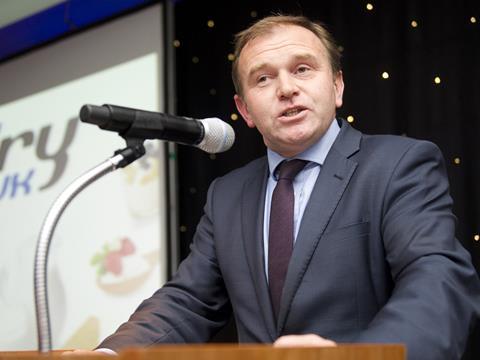 Farming minister George Eustice has resigned from the government in protest at the prime minister's promise to allow MPs a vote to delay Brexit.
Theresa May this week said she would allow MPs a vote to take no-deal off the table or to delay Brexit altogether, if her Brexit deal was rejected in a vote due to held before 12 March.
However, the move, which followed the threat of a revolt by remain-supporting ministers, was condemned by Eustice in his resignation letter to May today, as he bemoaned supporting the government "through a series of rather undignified retreats".
He warned this week's developments could "lead to a sequence of events culminating in the EU dictating the terms of any extension requested, and the final humiliation of our country".
Since parliament was "now in direct control of events", he added he wanted to "be free to participate in the critical debate that will take place in the weeks ahead".
Eustice, who is the 14th member of Theresa May's government to resign over Brexit, also pointed out he had been open to the UK remaining in the European Economic Area as an exit mechanism.
But given the European Commission's intransigence over an exit deal, he warned the UK "cannot negotiate a successful Brexit unless we are prepared to walk through the door".
A longstanding Brexiteer, Eustice was appointed as a minister of state at Defra in October 2013, and previously served as a head of press for ex Tory leader Michael Howard and as part of David Cameron's leadership campaign team. He also stood unsuccessfully for the European Parliament for UKIP in 1999.
On his departure, environment secretary Michael Gove said he was "sorry to see George go", however, Eustice would also leave "an outstanding legacy, with the agriculture and fisheries bills setting domestic policy for the first time in nearly 50 years", he claimed.
An NFU spokesman said: "With agriculture one of the most affected sectors by Brexit and the agriculture bill currently going through parliament, it is imperative the Defra ministerial team is returned to full strength as soon as possible.
"The NFU will be seeking a meeting with the new farming minister once they are appointed as a matter of priority."