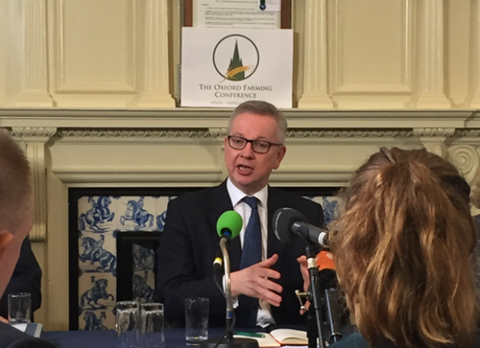 Environment secretary Michael Gove has pledged to continue paying farmers the same level of subsidies they receive from the EU until 2024, while also developing a new "gold standard" label for British food after Brexit.

Speaking at the annual Oxford Farm Conference today (4 January), Gove said he envisaged paying farm subsidies based on the land farmers own under the regulations of the Common Agriculture Policy for an additional two years in England up to 2024.

He then planned to introduce a new agricultural subsidy system which would move away from the focus on yield as seen under the CAP and towards improved biodiversity, provision for wildlife and better environmental stewardship.

"The ways in which we provide financial support to farmers have been far too bureaucratic - not helped by the ludicrous rules and red tape of the CAP that Defra must try to enforce," Gove said, adding that Defra would look to reduce farm inspections, and become more efficient in how it regulated the sector, while also championing British food.

Gove added it was "critical" the role of farming was considered in any future food policy, along with recognising the "economic, health and environmental forces shaping the future of food".

The success of the sector post-Brexit would also be built on a reputation for quality and provenance, he added. "And government can help in that process by underwriting that reputation for quality."

Defra was already in discussions with industry about developing "new approaches to food labelling" outside the confines of the EU. "Not just badging food properly as British, but also creating a new gold standard metric for food and farming quality," he suggested.

And while recognising the benefits of standards such as Red Tractor, he noted there was "still no single, scaled measure of how a farmer or food producer performs against a sensible basket of indicators, taking into account such things as soil health, control of pollution, contribution to water quality as well as animal welfare."

He added that his department had been in discussions with a number of farmers and food producers "about how we might advance such a scheme and I think that, outside the EU, we could establish a measure of farm and food quality which would be world-leading".

The secretary of state also renewed his pledge to uphold animal welfare and environmental standards regarding post-Brexit trade deals, adding it would be "foolish for us to lower animal welfare or environmental standards in trade deals, and in so doing undercut our own reputation for quality".

Gove's speech was largely welcomed by delegates, with NFU president Meurig Raymond stating the announcement of the extension of the transitional period for subsidies between 2022 and 2024 would allow the sector time "to prepare properly for the introduction of a new agricultural policy".

However, Gove's former cabinet colleague and now Evening Standard editor George Osborne sniped that extending the life of subsidies into the mid-2020s did not amount to "taking back control".

And in a nod to potentially difficult trade negotiations with the US, Ted McKinney, under secretary of state at the US Department of Agriculture, asked "will the UK be the trade partner we want to see? Or will there be roadblocks?".