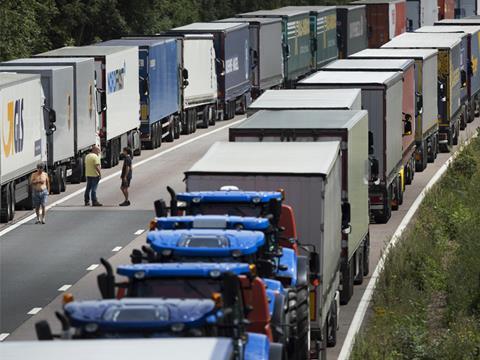 The government is facing a growing backlash over its handling of the postponement of physical checks to products from the EU, with the situation being described as "an utter shambles".
In talks with Defra officials this morning, industry bodies and port authorities demanded answers from officials over the future of staff hired to enforce the checks, who will now no longer be needed until at least the end of next year.
Officials from one border facility, in Sevington, near Ashford in Kent, are understood to have asked whether they should "just bulldoze" the facilities they have built to handle a raft of checks, which were due to include health certificate requirements and inspections of cargo.
Last week, Brexit opportunities minister Jacob Rees-Mogg said imposing the checks and paperwork in July as planned would be "wrong", as businesses were being "hit by rising costs caused by Russia's war in Ukraine and in energy prices".
While many viewed the decision to postpone the checks with relief, given the backdrop of supply chain shortages, companies have been left fuming at the huge costs of preparing for checks to come in, only for them to be put back for a fourth time.
"The situation is just ludicrous," said Richard Harrow, CEO of the British Frozen Food Federation.
"Once again the industry has been led up the hill only for the government to say we're not going ahead.
"If they had come up with a detailed explanation of what is to happen next and solution for those companies who have invested in staffing up for these checks, then fair enough. But it is apparent that there is just no plan at all.
"There is now talk that there just may never be any physical checks. To get absolutely no detail of how it will work is shocking."
Another source told The Grocer: "An utter shambles would be the polite way of putting it.
"We now have a situation where organisations such as the port health authorities have taken on large number of extra staff to deal with these checks. Are these people still going to have jobs?
"For the government to dress this up as if it's some well thought-out masterplan just adds insult to injury."
However, Federation of Wholesale Distributors CEO James Bielby described the government's move as "the right decision, albeit taken for the wrong reasons".
"Businesses will have spent time and money planning for something which isn't now going to happen," he said.
"But with all of the pressures on cost of food, fuel and energy and the supply chain challenges we are facing, an extra layer of burden on importers in July would have caused further unnecessary strain. It's not risk-free but it's a pragmatic policy at a time of great stress."
FDF head of international trade Dominic Goudie said: "The pandemic, and now the war in Ukraine, have caused significant supply chain disruption for UK food and drink and are at the root of current inflationary pressures.

"In this context, while businesses have already spent a good deal of time and money preparing for the new border regime, we welcome the clarity the announcement brings.
"The UK government must now work with industry to design a new, modern and innovative border system which brings genuine benefits to businesses and consumers. As part of this, it's critical that real changes are made to the way sanitary and phytosanitary (SPS) certification is completed, rewarding trusted and high standard traders and making groupage far easier."
BRC direcor for food, Andrew Opie, said: "Retailers have been working with their European suppliers for many months to help prepare them for the incoming border checks in July. The staggered introduction of checks proposed was workable, provided UK ports were ready, and exporting suppliers received the support needed to complete the required checks.
"Our members welcome the delay given the added costs to the supply chain and the level of friction anticipated. However, the postponement of border checks will only prolong the inevitable. We hope that when these checks are introduced, they will move away from the current proposals to ones that are simplified and recognise controls in the supply chain to reduce cost and bureaucracy."