Far from the political dogfight in Westminster, port officials on the frontline of Britain's border are bracing themselves for the 'no deal' fallout
Laurence Dettman doesn't look like a man on the frontline of Brexit. He's sat in his cosy office, cup of tea in hand, surrounded by nautical paraphernalia. Yet come 11pm on 29 March next year, Dettman and his small team of Hull & Goole port health officers will be central to the task of ensuring the UK's food supply continues to flow freely, and consumers can trust that the food they eat is still safe.
Dettman, who is far from bearish about the UK's future prospects outside the EU ("I'm a glass half-full man"), is nevertheless frank: his assessment is that, if the UK were to crash out with no-deal and require the checks and controls on food safety required for third country imports, Hull would not be able to cope.

The reason is the single market and the infrastructure that has evolved over 25 years to support free and frictionless trade. Every month around 150 million kilos of food passes through the Port of Hull on its way to distribution centres and ultimately retailers the length and breadth of the UK, sometimes even beyond. But what's striking as we tour the port on a cold, dark Thursday morning at the start of November is that food is nowhere to be seen.
Any administration is largely done by computer. Dettman receives a ship's manifest every morning that contains details of the contents of each consignment. His first task is to scan the list and check that none requires his specific attention. This morning's manifest contains the usual mix of meat, fruit and vegetables along with non-food consignments of machinery, metals and pharmaceuticals, all of EU origin and therefore of little concern to Dettman and his team. It consists of one full-time port health officer and three part-time staff, including Dettman himself, who now works a three-day week after a career spanning 50 years in port health.Hidden behind the hundreds of trucks and shipping containers that move in and out of the port on a daily basis, the product itself is invisible. This, as Dettman explains, is the reality of the regulatory harmonisation that has enabled just-in-time supply chains to function so effectively within the single market - by removing the need for physical inspection.

Because of its location on the north east coast of England, almost all of Hull's food trade is with the EU, predominantly Belgium and the Netherlands. Containers are carried off ships by cranes, put on to trailers and within minutes are gone.
The Hull & Goole Port Health Authority, which as chief port health officer Dettman oversees, performs a range of environmental health duties within the port health district, which includes Hull Docks, River Hull, Saltend, Goole, River Trent, River Ouse and all port facilities on the south bank of the Humber up to Immingham Dock.

The majority of the team's work involves taking water samples from ships to test for contamination; checking catch certificates as part of the authority's role in policing illegal, unreported and unregulated (IUU) fishery products; and ensuring food hygiene standards are met on premises that serve food within its jurisdiction, including ferries.

Although its statutory functions still include imported food controls, including examination and sampling, the reality is that because food trade is almost exclusively with the EU, there is no need for physical checks and inspections to ensure product safety.
"There's me here, there's one other person in the office and two on leave. Who is going to do those checks? I wouldn't have a clue"
The infrastructure has evolved to reflect this. Hull used to be a registered border inspection post for meat products entering the UK, with an official veterinarian stationed on site to carry out the necessary checks. "But they had nothing to do," says Dettman, and consequently Hull has joined the likes of Dover in not being a viable entry route for third-country meat exporters.

Hull does remain a designated point of entry for high-risk food not of animal origin, but because no EU food is classified as high-risk, in practice this doesn't affect Dettman's day-to-day work.

A complete absence of infrastructure

The point is demonstrated when we visit a shiny new temperature-controlled Portakabin added to the port complex around 12 months ago. During that time it has been used just twice, on both occasions because border force officials had contacted their port health colleagues to involve them in an investigation. In one case, 13 illegal immigrants were found inside a trailer containing fresh fruit & veg. Dettman's team examined the cargo under the Food Safety Act and though the damage was only superficial they deemed it unfit for human consumption and destroyed its contents.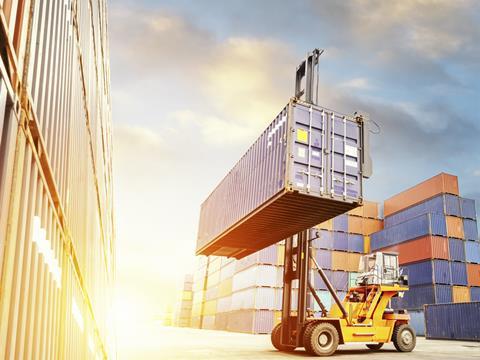 What are the opportunities of Brexit for our ports?
For all the logistical challenges Brexit poses for the UK's border posts, port owners are sensing opportunities too. Associated British Ports (ABP), which owns the Humber Ports complex, is so confident in the so-called Brexit dividend it is investing £50m to improve infrastructure.
Last month, former Brexit secretary David Davis cited Hull as one of the ports that stood to benefit from a 'no deal' Brexit. He reportedly said that a "spectacularly large proportion" of trade between Dover and Calais could be transferred to the Humber with minimal disruption.
The Humber complex, which also includes ports at Goole, Grimsby and Immingham, is already the UK's largest port complex by volume, handling around 17% of all its seaborne trade. ABP has reported an increase in container traffic as shipping companies seek alternatives to Dover amid fears of lengthy delays on both sides of the channel post-Brexit.
In Hull, a £14m investment by ABP in upgrading container terminal facilities has led to a boom in container services. Already additional services have been established between Hull and the European ports of Ghent and Amsterdam, representing an extra 60,000 containers a year. In October, logistics company Samskip opened up a twice-weekly route between Hull and Antwerp, Belgium's largest port, which is due to add a further 15,000 containers a year.
"With the current Brexit uncertainty, we believe that our spread of dedicated short sea services can offer robust options for companies wanting to de-risk supply chains in preparing for Brexit," says ABP Humber director Simon Bird.
ABP also believes it can meet demand for new commercial units on the Humber ports. Around 350 hectares of development land is currently available for new warehousing and food factories, taking advantage of the large number of regional distribution centres located across the M1/M62 corridor.
The fishing trade, once the largest employer in Hull, is also enjoying a renaissance. Fish were recently landed in Hull for the first time in more than a decade following the deployment of a new multimillion-pound vessel owned by UK Fisheries. It will supply around 300 fish & chip shops with a total of 700 tonnes of cod and haddock from the North Atlantic every four to six weeks.

On the other occasion, border force detected a smell of rotting eggs while examining a load. Again, the produce was deemed unfit for human consumption and destroyed. On both occasions, Dettman concedes that without the intervention of border force officials doing checks for non-hygiene reasons, "we wouldn't have known anything about it".

The week after we meet, the FSA is due to visit to assess the port's Brexit readiness. What it finds might scare it - not in the professionalism of Dettman and his team, but in the complete absence of infrastructure and human resource needed to enforce food safety laws if EU member states assume third country status after Brexit. The EU has already indicated this will happen to the UK. "When you come here and see it for yourself I hope that makes sense," says Dettman. "There's me here, there's one other person in the office and two on leave. Who is going to do those checks today? How we would cope with that I wouldn't have a clue."

Perhaps this explains why the UK government has already said it is planning to waive checks and controls on EU imported food in a no-deal scenario. Defra's planning assumption is that risks at the border will not change immediately and that overall patterns and volumes of border crossings will initially remain the same. HMRC, meanwhile, expects that most traders will be compliant and declare the duties they owe.

Dettman supports this as a pragmatic position for a limited period after Brexit, but worries that waving food through is not a sustainable long-term solution. "I think there are opportunities for food fraud, including food that is not fit for human consumption," he says. "If there are fraudsters out there that know consignments wouldn't be checked they could see that as an opportunity. That's the risk."

There is also a question mark over food that has passed through the EU in transit en route to the UK from a third country. Currently, checks and controls would be carried out at the first port of entry to the EU, but there is no guarantee EU countries would continue checking high-risk consignments destined for the UK. For meat products, border inspection posts such as Southampton and Liverpool will receive notifications of transit items on a new electronic system that is being developed to replace the EU's TRACES system. The same system will be used for other high-risk third country food and feed products entering the UK via the EU through dedicated entry points such as Hull. These products would require risk-based checks ranging from verification of paperwork to taking samples and sending them to a laboratory for testing.

The frontline of Brexit

According to the government's own guidance, the frequency of physical checks should be 20% for meat and 50% for honey and dairy products. For certain high-risk non-meat products the requirements are even more exacting: for instance, 20% of peanuts imported from Egypt should be subject to physical checks, as should 100% of brazil nuts from Brazil and pistachios from Iran. All of these checks take time and cost money.

Dettman says that any requirement to carry out new controls would require investment not just of cash but of the time needed to train up staff. "We're not doing food sampling on a daily basis. Some of my younger officers have never done food inspections. I'd be asking them [the authorities] what the plan is. I couldn't do it with current resources."

Hull could potentially seek re-approval as a border inspection post to ensure meat continues to arrive at the port if controls on EU products are required, but Dettman estimates it could cost in the region of £1m-£2m to build the necessary capability. Moreover, local authorities such as Hull's can't be expected to make this kind of investment before Brexit negotiations are complete. "We can't prepare for the unknown," says Dettman. "It would be stupid to take on environmental health officers who we then have to let go."

On a grey November day, a port like Hull feels a world away from the political dogfight going on in Westminster and Brussels. But make no mistake, come Brexit day, it's at the border where the impact of those negotiations will most keenly be felt.
Brexit - A Movable Feast: The Grocer to host free webinar
With Brexit negotiations hanging in the balance and the continued uncertainty over whether we are facing a 'deal or no-deal' scenario, The Grocer is looking to do what we can to help food and drink companies prepare - whatever the outcome.

Next month we are hosting a free webinar, titled Brexit - A Movable Feast, in conjunction with headline sponsor PwC