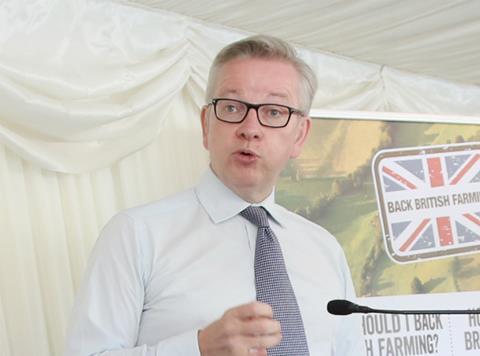 Key members of the government are at odds over a potential trade deal with the US after environment secretary Michael Gove said he would not accept the prospect of chlorine-washed chicken imports after Brexit.
Responding to a question on Radio 4's Today programme this morning over whether chlorinated chickens would be allowed, Gove replied: "No. I've made it perfectly clear, and indeed this is something on which all members of the government are agreed on – that we are not going to dilute our high animal welfare standards, or our environmental standards in pursuit of any trade deal."
His comments are in stark contrast to those of international trade secretary Liam Fox, who is currently in the US on a trade mission and has so far refused to dismiss the prospect of allowing products such as US poultry into the UK as part of a free trade deal.
US poultry is treated in a chlorine wash to reduce the chance of contamination with pathogens such as salmonella and campylobacter. However, the process is banned in the EU, much to the chagrin of the US, which cites scientific evidence of its safety.
The matter has become a microcosm of the power struggles at the top of government, with Fox understood to be relaxed over the prospect of importing US poultry.
A source close to Fox told the Telegraph at the weekend the minister believed Americans had been "eating it perfectly safely for years", and that any "meaningful" trade deal with the US would have to include agriculture - potentially giving giant US farms access to the UK market.
In a speech earlier this week, he hit out at the UK media for obsessing over chlorine-washed chickens: "A detail of the very end stage of one sector of a potential free trade agreement. I'll say no more than that." Fox reinforced his point on the BBC's Newsnight on Tuesday night, insisting "there is no health issue with that".
Power struggle
However, Gove is clearly at odds with this opinion, and insisted access to the UK market for such products would be a red line for him.
"Critically, we need to ensure we do not compromise [on the UK's existing] standards… We need to be in a position, as we leave the EU, to be leaders in environmental and in animal welfare standards."
The British Poultry Council this week bemoaned Liam Fox's comments and rejected the notion of importing chlorine-washed chickens as part of a makeweight in trade negotiations with the US, with CEO Richard Griffiths warning any compromise on standards "will not be tolerated".
Think tank the Adam Smith Institute has suggested allowing the US to export its poultry products to the UK could potentially speed up a free trade deal. "If we want a quick and profitable deal with the US, we need to put chlorine-washed chicken on the table," said head of research Ben Southwood.
Tory backbencher and leading Brexiteer Jacob Rees-Mogg echoed these comments yesterday and suggested the British people "decide for themselves".
"And as long as it says when you go into the supermarket: chlorinated chicken and unchlorinated chicken. We'll see what people do," he told the Express. "You might decide to not buy chlorinated chicken but other people might make a different decision."