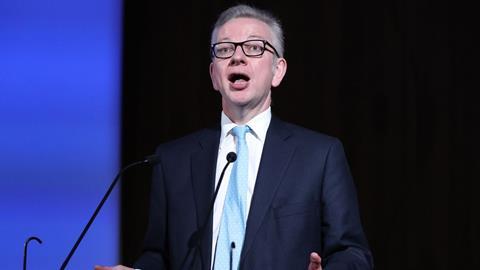 Defra Secretary of State Michael Gove warned of "significant challenges" facing the UK food & drink sector in the event of a no-deal Brexit.
Speaking at the Food & Drink Federation annual parliamentary reception, Gove said the Government was clear on the importance of securing a good deal with the European Union ahead of the upcoming Halloween deadline "whoever the new Prime Minister is".
The former Tory leadership hopeful noted that leaving the EU will open up opportunities for the sector, such as securing new trade deals and making the most of the UK marine environment by leaving the common fisheries policies.
However, he stressed that a no-deal scenario would result in challenging times for food & drink manufacturers with the impact of tariffs, regulation and disruption taking a toll on the industry.
"There are both challenges and opportunities ahead for our whole sector," Gove told member of the FDF at the reception.
"But we also acknowledge in Government that we emphatically do not want a no-deal exit, we absolutely want to secure a good deal because we know that, in the event of no-deal, tariffs, currency depreciation, additional regulation and other factors will put a strain on a highly successful industry.
"Of course, we are a great country, food & drink is an amazing sector. We would get through it. But it is absolutely clear that we as a Government need to make sure that we get the best possible arrangement with Europe in the future."
Gove's comments potentially put him at odds with Boris Johnson – favourite in current Conservative Party membership vote to become Prime Minister – who repeatedly said the UK must leave the EU on 31 October "with or without a deal".
Also speaking at the event, FDF President Gavin Darby described a no-deal exit as the "worst case outcome" for the industry, with both short and long-term implications - including redundancies, shortages and ports disruption.
In a recently conducted FDF survey, Darby continued, nearly half of the body's members said that in the event of no-deal they would be forced to cut staff.
Meanwhile, shadow secretary of state for Defra Sue Hayman said leaving the EU without a deal would be "absolutely catastrophic" for food manufacturers.
The Labour Party MP added: "The longer the uncertainty continues, the longer the sector suffers.
"Businesses have to prepare for all eventualities and investors are not going to commit when they do not know what will be happening.
"It is really important that we move on either with a good deal or by staying in the EU."