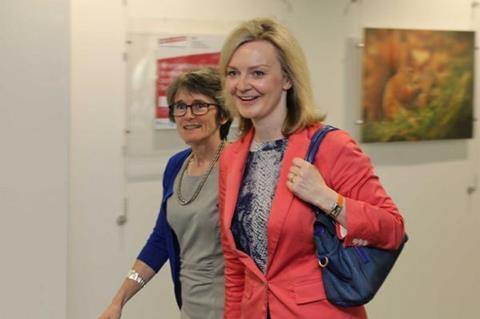 The government's new agri-food trade advisory group is under fire for failing to reflect the food industry's broad range of interests.
The group is one of 11 new sector-specific advisory forums launched last week by trade secretary Liz Truss to facilitate technical policy discussions during the UK's ongoing trade negotiations.
The agri-food group consists of 31 members from both trade bodies and business. However, there are concerns that several key sectors are seemingly omitted from the list.
"It's a very weird bunch which does not represent the food industry," said one industry source, highlighting poultry and flour processors as two key sectors overlooked.
With a UK-Japan deal reportedly held up by British demands on blue cheese, the membership includes Ashley Reek, MD of stilton producer Long Clawson, as well as Richard Hampton of the organic cheese cooperative Omsco.
But vast sections of the £4.5bn dairy market remained excluded, said the source. "Butter, yoghurt, various forms of milk powders… all those things have no coverage whatsoever."
The issue was raised at a meeting of trade associations last week with some of the newly formed TAG members sharing the concerns.
"For cereals you've got the farmers and you've got the manufacturers, but for all the processors I think there is probably a gap," said one committee member, also citing Scotland's salmon producers as potentially under-represented.
But the diverse interests of the food and drink industry arguably left DIT with a "thankless task" in assembling the group, said the member. NGOs and labour unions have also expressed their frustration at being excluded.
"From what I understand [DIT] had a very long list of people they wanted on there and had to work it down to what they thought was manageable."
Food is already the biggest TAG with 31 members and some fear it could quickly become overgrown. "I guess there's a balance to be struck between representation and having a manageable group," said a second committee member.
"It's fairly sizeable already and might be said to be quite unwieldy. If you have a two- or three-hour meeting and you've got 31 people all wanting to give their views, that's quite a large number. There is a balance to be struck there."
A DIT spokesperson said the trade advisory groups "are just one part of the government's external engagement on international trade."
"We are committed to drawing on a range of expertise as we develop our trade policy positions."