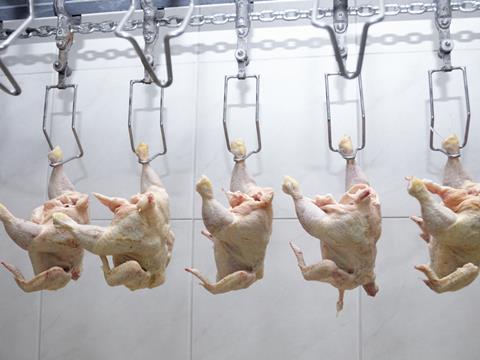 Opening the UK up to meat imports from countries such as the US could ultimately reduce demand for domestic meat, new research by the AHDB has suggested.
Allowing imports of products such as chlorine-washed chicken and hormone-treated beef after Brexit could negatively affect the UK meat sector, the research showed, with four out of five shoppers claiming they would change the way they shopped.
More than half of the 1,007 people polled by YouGov for the AHDB stated they would buy less chicken and beef if these products hit UK supermarket shelves. Just 28% of respondents said there would be no change at all to the amount of chicken they bought, with the figure at 29% for beef.
Some 83% of those surveyed said they would pay more attention to labelling, while 81% would be concerned about quality and look more closely at the product, the research found. Meanwhile, more than three quarters of shoppers would also look more closely at production methods.
Commenting on the results, AHDB head of strategic insight David Swales added more than half of shoppers were also unclear over what current assurance marks actually mean.
"There is a danger that rather than try to fathom the labels, shoppers may lose confidence in the whole category," he said. "There's also the added complication that if we did import these products, domestically produced meat would likely be at a disadvantage on price."
Washing chicken in chlorine and feeding growth hormones to beef are both legal in the US, but currently banned in the EU. However, the US government has continually stressed the practices and its wider food standards are safe.
The survey's findings were welcomed by British Poultry Council CEO Richard Griffiths, who said it was "encouraging" consumers "place importance on provenance and quality, both of which British poultrymeat can provide".
Scare stories
He added: "We have to look past the scare stories and this survey suggests consumers would take a sensible approach by asking what's behind the need for using a chemical wash in US chicken production. UK producers must support consumers with clear information, and above all high-quality poultrymeat they can trust."
It follows calls by the Commons Efra Committee last month for the government to ensure imported food products are held to current British standards as part of any future trade deal. In an amendment to Defra's agriculture bill, the Committee said the import of "poor-quality produce with low animal welfare and environmental standards poses a fundamental risk to UK agriculture".
Committee chair Neil Parish added: "Without sufficient safeguards we could see British farmers significantly undermined while turning a blind eye to environmental degradation and poor animal welfare standards abroad. "Our suggested amendment calls for agricultural goods to be imported into the UK only if the standards to which those goods were produced are as high as, or higher than, current UK standards."