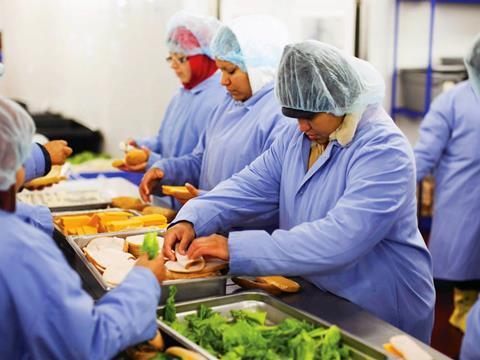 Food and drink leaders have warned of a barrage of new red tape after immigration minister Caroline Nokes announced employers will be expected to check whether EU nationals have the right to work in the UK in the event of a no-deal Brexit.

Nokes told MPs yesterday (30 October) the onus would be on companies to carry out checks despite businesses warning of a "huge additional burden".

They said the bombshell threatened to scupper previous reassurances over manpower issues in the event of no-deal.

"If somebody hasn't been here prior to the end of March next year, employers will have to make sure they go through adequately rigorous checks to evidence somebody's right to work," Nokes told the home affairs committee.

"In the intervening period of any transition period, it will be incredibly difficult to differentiate between an EU citizen coming here for the first time, for example, and somebody who has been here for a significant period of time and hasn't yet applied for their settled status but would be perfectly entitled to it if they were to," she added.
Asked by committee chair Yvette Cooper if that meant companies would be expected to carry out checks to verify workers' rights to stay, Nokes said: "As part of the right to work check, we expect employers to make sure that they are not employing people who do not have the right to work here."
A BRC spokesman said: "Retailers need urgent clarification over the statement suggesting employers will need to carry out additional right to work checks for EEA nationals in the event of no-deal. The retail industry employs 170,000 EEA nationals and such a requirement would place a huge additional burden on retail as well as across their supply chains, particularly in food.

"This highlights the need for a deal, but ministers also need a plan for a no-deal scenario that reduces such burdensome measures on businesses."

A spokeswoman for the FDF added: "We urge the Home Office to clarify these comments; whilst the FDF is supportive of the Home Office settled status programme which has been well communicated, we ask the government to provide clarity on this process regardless of whether an exit deal is achieved with the EU.

"Ambiguity will cause huge anxiety for food and drink manufacturers and EU nationals already working in the food and drink sector. Specifically, there is an urgent need to know what employers will need to do to legally recruit and retain EU staff in the event of no-deal.

"We urge the government to ensure EU nationals have sufficient time to register for settled status in the event of no-deal, and that food and drink manufacturers have sufficient time to prepare for the change of system."