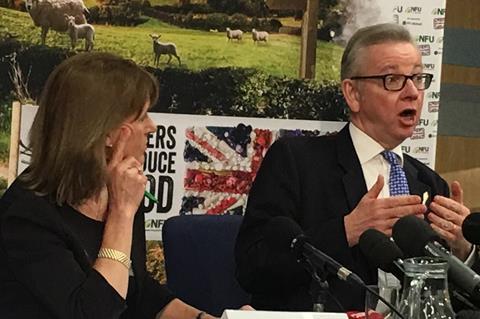 Meat exports due to leave British ports next week may not be accepted at their destination markets, NFU president Minette Batters has warned.
With the UK struggling to "roll-over" EU trade deals with third countries ahead of Brexit Day on 29 March, products such as lamb could be rejected on arrival in the event of a no-deal Brexit, said Batters in her opening address at today's NFU Conference in Birmingham.
"In a no-deal scenario, we will fail to roll over many of the trade deals the EU currently has with third countries," she said. "So a no-deal isn't just 'no deal' with the EU but with many other countries too."
In a speech often critical of the government's Brexit preparations and its "unfulfilled promises" on the delivery of a plan for food production, Batters also called for the launch of a new "high-level" trade and food commission to uphold British production standards post-Brexit.
This would bring together government officials, industry representatives, civil society groups and experts in food and farming, Batters said. She also reiterated calls for a commitment that food imports after Brexit were produced to the same standards legally required of British farmers.
"And when I say standards, I mean all of the high standards British farmers observe – often at considerable expense – in protecting the environment, safeguarding animal welfare and providing safe food," she added.
Following on from Batters' speech, environment secretary Michael Gove promised a suite of import tariffs on foreign food imports to protect British farmers, as part of a host of protections for UK food production.
The full details were due to be announced later this week, he said, and would protect agriculture ahead of any other area of the UK economy.
"Tariff protection in the event of a no-deal Brexit would be a temporary measure until we are able to implement desirable trading architecture both with the EU and third party countries," he said.
Those tariffs would also protect equivalence of standards, he told delegates.
"In the event of no deal, there will be some sectors that will face more challenges than other. It's not just tariffs that are at our disposal, but I must be clear that no deal would not be good for British farming.
"Australia and New Zealand have tariff-free access to EU markets for a certain amount of sheepmeat. If we lose that market share, it would be extremely difficult to restore it. That is why we need strong tariff protection for British farming, in fact stronger protection than any other sector of the economy."