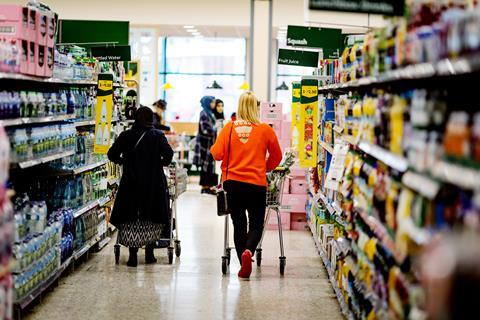 Brits have less faith in the supermarkets to keep shelves stocked and prices low after Brexit than any other grocery retail channel, new research has revealed.

Instead, they will put their trust in discounters and online retailers to mitigate the impact of Brexit on their finances and shopping.

Supermarkets are seen as the most likely sources of food price inflation. Over two thirds (68%) believe prices will rise in supermarkets after Brexit, compared with just 46% who expect prices to go up in the discounters and 53% for online retailers. Even convenience stores (60%) are thought less likely to pass on price rises.

Supermarkets are also most at risk of having empty shelves and reduced choice after Brexit, a poll of 1,000 shoppers carried out this month by Him found.

By contrast, online is seen as the best bet for grocery availability post-Brexit, with 74% of shoppers expecting no reduction in choice and availability, whereas 44% expect emptier shelves at the supermarkets and 41% in convenience stores.
"Shoppers are relatively pessimistic about the impact Brexit will have," said Him senior insights manager Blonnie Walsh. "Supermarkets will have a challenge mitigating the current perceptions consumers hold."

Despite these concerns, the Him survey suggests most shoppers have not changed their grocery shopping behaviour so far.

Overall, 64% of shoppers do not plan to make any changes to their shopping habits ahead of Brexit, with just 13% planning to "stock up" on foods. This is, however, a small increase on a poll for The Grocer by Consumer Intelligence in early February, which suggested 10% of consumers were stockpiling food and drink.

And while 15.5% say they are planning to buy more food and drink produced in the UK, just 11% have started buying more UK fare at this stage.

It comes as events in Westminster this week seemingly pushed the UK closer to a no-deal scenario on 29 March.

"With a week to go and little clarity how or when the UK will leave the UK, this ongoing fiasco is impacting manufacturers and the public alike," said an FDF spokeswoman. "Our own business confidence survey supports these findings - with 93% expecting higher input prices on ingredients, packaging, energy and labour costs. These will ultimately mean higher food prices for consumers.
"Many food and drink manufacturers have been preparing for a 'no-deal' scenario; we will not run out of food and drink. However, there is potential for serious disruption to supplies and this will have implications for product availability, consumer choice, and price."

Andrew Opie, the BRC director of Food and Sustainability added: "Parliamentarians must coalesce around a solution which provides certainty to consumers and businesses and ensures a disastrous no-deal Brexit is avoided.

"While an extension may be needed to pass necessary legislation for a deal, it is imperative that any additional time does not simply kick the can down the road - prolonging the uncertainty that is harming our high streets and the people who shop on them."