I've just returned from one of the largest (and best) food science conferences in the world: Recent Advances in Food Analysis in Prague. I would say that as I'm on the organising committee. As at most conferences, the best information is picked up over dinner and a beer.

We noticed an absence of senior European Commission officials. Normally we have quite a few and often get very useful presentations on future policy. But not this time, at least much fewer. Why, we wondered. The reasons seemed to lie with two different causes.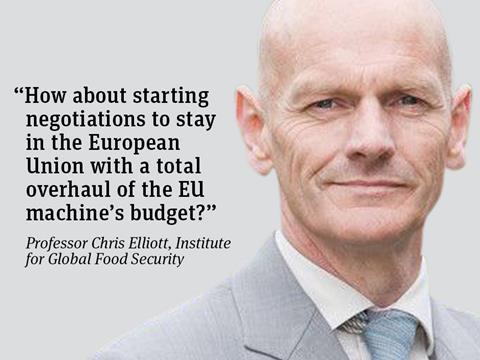 The first is embarrassment as the scale of the dual food system in Europe is becoming politically bigger by the day. It appears that some of Europe's largest food companies produce food to two different standards; one for Western countries and another for the East, the latter's quality being much lower. Hardly what the 'European Project' is all about. This fairly recent breaking scandal is now being referred to as food apartheid and probably has a long way to run.
The second reason seemed to be Brexit. I readily admit to being no fan of this national plunging into the unknown and I do regularly comment on the scale of the issues the UK faces with its food system going forward.

Yet I admit to being intrigued with the tales of panic going on quietly within the big European machine. They are working out what to do if there is 'no deal' and it does not sound pretty. It seems they are actually starting to calculate what the different bits of the machine cost to run. The scale of the machine is simply enormous. It also appears those who work inside it are more than amply paid for their services to the 'project'.

Cost per square metre is being frantically calculated to see how costs can be cut. It will be quite surprising to many, at least to me, that this isn't known already.

One of the main things David Cameron sought was for the machine to cut its costs, and virtually nothing was forthcoming. So how about starting negotiations to stay in the EU to bring about a total overhaul of the machine's budget? You never know, they may be a bit more receptive this time.

Professor Chris Elliott is director of the Institute for Global Food Security at Queen's University Belfast