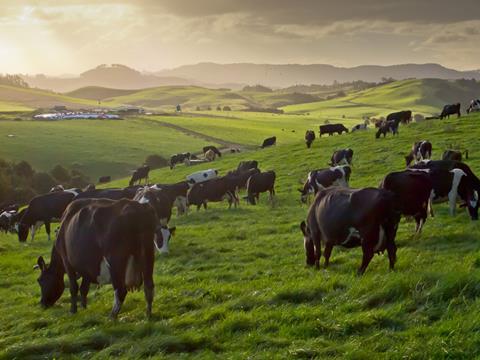 UK farming leaders have called for an "agricultural revolution" as they set out priorities for the next phase of Brexit.

Minette Batters, Andrew McCornick, John Davies and Barclay Bell, the leaders of NFU, NFU Scotland, NFU Cymru and the Ulster Farmers Union respectively, met in Belfast on Friday to discuss their approach to Brexit.

In a joint statement following the meeting, they called on the government to ensure the outcome of Brexit allows UK farmers to deliver high quality and affordable food for consumers, including those on a budget.

"Our farming and food sector has some of the best standards of food safety, animal welfare and traceability in the world," said the presidents of the unions. "Brexit should celebrate these standards and new third country trade agreements must not undermine them.

"The farming ministers in all four regions must collaborate, as the UK farming unions are doing. We want to see policy changes that are fair to all farms irrespective of size or system, with sufficient time for farm businesses to adapt. Alongside, better regulation with support and promotion of UK farming standards that protect the single UK market from competitive distortions."

Chief among concerns was the need to maintain frictionless access to EU markets and labour as the farming sector undergoes "fundamental change", they added. "Replacing the Common Agricultural Policy with domestic farm policy measures alone will be insufficient to see farming thrive. We also need a comprehensive approach with all parts of Government across the UK contributing, including delivering fair trade deals, continued access to labour and improved application of new technology."

It comes as the NFUS today (28 March) released a report outlining recommendations for a new agricultural policy in Scotland.

Steps To Change: A New Agricutural Policy for Scotland was unveiled in front of the Scottish Parliament in Holyrood. The document sets out ambitions for an overhaul of Scottish agriculture and farming, covering financial stability, productivity and the environment.

The measures would combine to make Scottish agriculture more competitive, resilient and profitable, the union said, although over time the weighting of financial stability support would shift to productivity and environmental measures.

"That rate of transition should be dependent upon emerging trade deals and improvements in the food and drink supply chain. Better and stable market returns, then faster transition. Poorer or volatile market returns, then transition is paused," the report suggested.

Efficient food production and public benefits should be at the forefront of any new agricultural policy, it added, outlining benefits to the Scottish economy of £5.30 return for every pound of investment from the government.