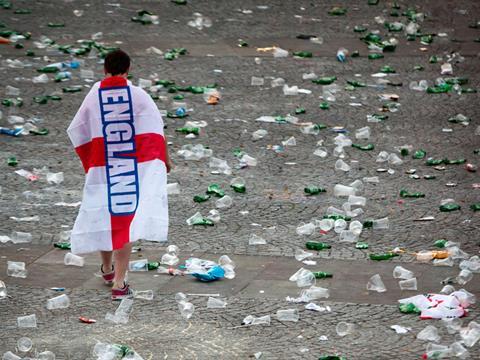 So that's that, then. Back to reality. It was a lovely dream, wasn't it? Guess it's time to put the waistcoat away and stop coming into work stinking of lager. Stiff upper lip – football is categorically not coming home.
Unfortunately, the end of England's flailing stab at greatness does mean we finally have to get on with dealing with the mounting omnishambles of Brexit and the increasing inefficacy of our current troupe of politicians. No hilarious floating Trump/baby hybrids can shelter us from that.
But it's not all bad news. Especially for the drinks industry.
Exactly how big a boost the World Cup has been to booze sales is yet to be revealed, but the early omens are very good indeed: the latest IRI data shows tremendous sales spikes for beer, cider and perry over the most recent weeks of the tournament.
For the week of 30 June, when England played Panama, for instance, unit sales of beer rose by a whopping 47.1% year on year, with an even bigger (60.7%) rise for cider & perry. Over the week leading up to and encompassing the quarter final (ending 7 July), beer and cider & perry jumped 27.5% and 24.9% respectively.
Indeed, it would not be unreasonable to assume (having myself consumed what some might call a 'heroic' amount of beer over the course of England's defeat last night) that this week could see drinks retailers pull in a similar windfall.
All of which is good news, considering the drinks industry has a smorgasbord of mounting challenges. Many booze producers face high ingredient costs thanks to the weakened pound. And with competition fierce, and many drinks still on sale below the unit price in England, Wales and Northern Ireland, there's a real fear that MUP will spread across the land.
Yet amid these challenges, drinks brands, retailers and distributors alike who have dared to experiment are still reaping serious rewards.
Hence our list of the 10 most influential people in alcohol in this issue of The Grocer is not just a lineup of buyers and category directors, but individuals we believe are setting the agenda for the industry – both commercially and culturally. Or those who have taken small or floundering businesses and either turned them around or transformed them into potent players.
Then, there's this year's Britain's Biggest Alcohol Brands report. This time last year, mainstream booze was locked in a heated battle with smaller craft players for space, as the supers ruthlessly cut lines from their shelves faster than you could scream 'Foster's'. Now the dust has well and truly settled, and a new generation of brands have surged up the top 100 list. There are some serious surprises in store as we enter a new generation of British booze.
It may well take some time to recover from the horror of that second Croatian goal. But for the drinks industry, there are still many reasons to raise a toast. And here's a final one: the continuing heatwave. That particular dream is still alive, at least.