Weetabix has delivered growth of £6.9m, shifting an extra 1.9 million packs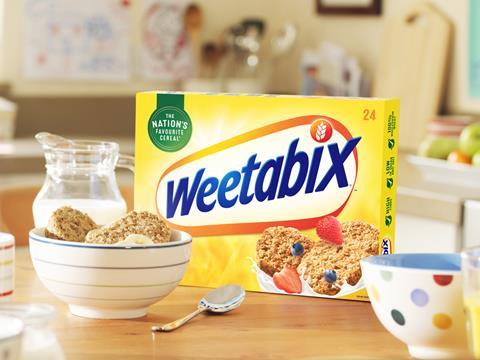 Last year's ranking: 36
Sales: £188.8m (+3.8%)
Defying the downturn in traditional breakfast cereals, Weetabix has delivered growth of £6.9m, shifting an extra 1.9 million packs. That's a rise of 2.3%. To put that in context, Kellogg's (9) has seen sales fall by 25.8 million packs in the past year, a fall of 8.9%. How has Weetabix done it?

"We have used the Weetabix masterbrand to add credibility to emerging trends, such as protein and breakfast drinks," says head of brand Kevin Verbruggen. "Weetabix was the first mainstream brand to launch in these sectors, helping Weetabix Protein and Weetabix On The Go make a big sales impact upon launch and add incremental value to the category."

Meanwhile, the cereal was backed up by big spend on marketing, with the brand bringing back its 'Have you had your Weetabix' strapline for TV, in store and on-pack activity. And 2017 saw the unveiling of the new Additions range, which includes coconut & raisin, apple & raisin and red berries variants.

"Retailers want reassurance that new trends will be worth the space on shelf and when big brands launch trend-driven innovation, they can be assured big brands add support, awareness & credibility," adds Verbruggen. "Weetabix On The Go is now a £20m brand, selling 18 million bottles last year."

On The Go's growth after four years on sale is testament to the power of the Weetabix masterbrand. That Australian breakfast drink newcomer Up & Go only achieved sales of £1.8m in the year to 9 September 2017 seems to suggest retailers would rather back a proven entity.