Here's the 2020 rundown of Britain's Biggest Brands. From 100 to number one, the leading brands in UK grocery are ranked by absolute value – featuring the year's biggest winners, fastest fallers and everyone in between.
Brand values are the sum of value sales of all products across multiple categories trading under one name, specified on the front of pack. Data is for 52 w/e 31 December 2019, taken from Nielsen's Scantrack service.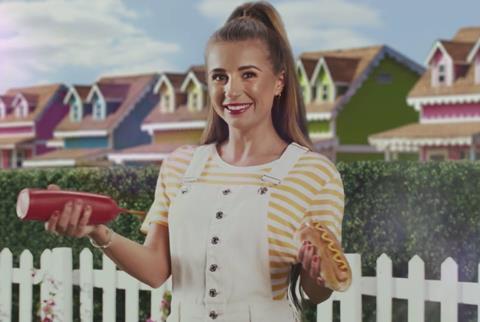 100 (96) Surf
Sales: £92.8m (–6.6%)
Surf is on the verge of dropping from the top 100, having shed £6.5m of value and 4.7% of volumes in its ongoing battle with own label. That's in spite of the success of its Coconut Bliss variant launched last January, and its partnership with Love Island winner Dani Dyer.
99 (95) Bold
Sales: £93.7m (–3.7%)
Like its Unilever rival Surf, Bold is hanging on to the top 100 by a thread. It's lost £3.6m – which is entirely down to a 5.7% fall in average pack price. Owner P&G hopes to drive up cost per wash over the coming year by steering shoppers towards pricier liquid tabs and pods.
98 (99) Naked
Sales: £94m (+3.5%)
Naked fattened its takings by £3.2m after slimming down on sugar. The May launch of Naked Lean, touted as the first lower-sugar smoothie range, is attracting "previous smoothie rejectors" says PepsiCo marketing manager Charlotte Ashburner, with 40% of buyers new to the category.
97 (95) Dr Oetker
Sales: £95.9m (–1.2%)
Dr Oetker's pizza has had sales cannibalised by its frozen stablemate Chicago Town, which marketed hard in 2019. But the Doc fought back with Momenti, a range of pizzas for one with Italian deli-style toppings. In home-baking, the brand's NPD included Traybake Kits.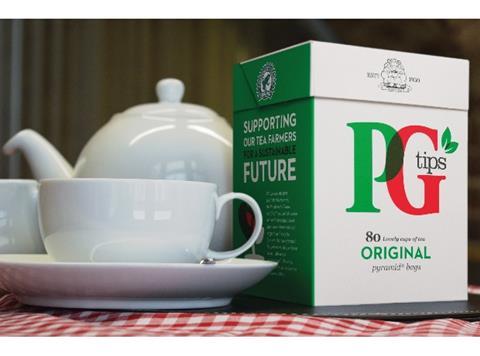 96 (89) PG Tips
Sales: £96.8m (–5.1%)
A £5.2m slump leaves PG Tips perilously close to crashing out of the top 100. Volumes fell 6.1% – equating to 2.2 million fewer units – as consumers veered away from black tea in favour of trendier brews.
The decline of PG Tips has been a long-running affair. So it wasn't too surprising when owner Unilever announced a strategic review of its global tea business in January. The signs suggest the PG Tips brand could be in line for a sell-off. At the time, Unilever CEO Alan Jope said the business had a "disproportionately large footprint in black tea".
For now, though, Unilever is keen to emphasise the positives. On the sustainability front, it has already produced five billion biodegradable teabags and trialled the removal of the plastic overwrap from its boxes, which was a "huge success". Unilever says more environmental initiatives are set to follow in 2020.
In terms of marketing, it has continued the theme of togetherness by partnering with The Eden Project on 'The Big Lunch'. The brand is set to build on that by expanding its 'Cuppas Taste Better' campaign this year.
The question is: can this positive activity save PG Tips from a sell-off?
95 (96) Vimto
Sales: £97.7m (+1.8%)
With a £1.8m gain, Vimto clams to be "significantly outperforming" the market as the fastest-growing squash brand in the UK. It puts its success largely down to its 'I See Vimto in You' push. The brand is now found in 6.7 million households, it adds, having shifted an extra 2.8 million packs
94 (82) Finish
Sales: £98.1m (–9.9%)
Finish has taken one heck of a battering. The P&G household brand lost a bruising £10.7m as volume sales fell by 6.5%. That's in spite of domestic dishwasher use becoming more popular. A 3.5% fall in average price – the equivalent of 20p per pack – just added insult to injury.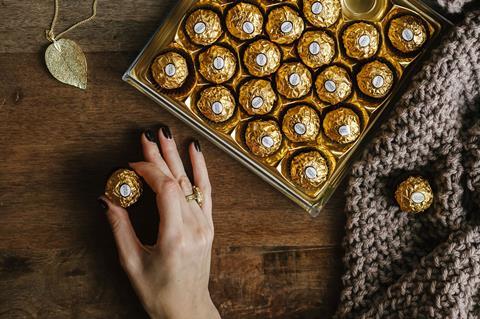 93 (91) Ferrero
Sales: £98.2m (–2.2%)
Ferrero has got pricier. Its average pack price has edged up 1.9% (equivalent to 8p), saving the brand some blushes in the face of a 4% fall in volumes. It comes after Ferrero was accused by human rights campaigners in the autumn of using hazelnuts picked by children on farms in Turkey.
92 (90) Old El Paso
Sales: £100.4m (–1.6%)
Old El Paso entreated shoppers this summer to 'Make Some Noise'. But the £6m push was too late to prevent a 4.7% slide in volume sales as spice-seeking Brits looked beyond Mexican fare. A 3.3% rise in average pack price helped to prevent value sales from dropping by more than £1.6m.92
91 (86) Mars
Sales: £100.9m (–3.8%)
Not usually known for innovation, Mars added an on-trend More Protein bar in early 2019 (supported by a partnership with Tough Mudder). But that failed to reverse – or even slow – the 88-year-old chocolate brand's ongoing decline. Its value is down by £4m, having sold three million fewer packs.
90 (100) Cushelle
Sales: £100.1m (+24.2%)
Cushelle owner Essity attributes the brand's £19.7m rise to distribution gains and a relaunch of its "super-premium tier" to satisfy shoppers' appetite for luxury. In January 2019, two-ply Cushelle Quilted was replaced with three-ply Ultra Quilted. Average price per unit is up 5.9%.
89 (98) Rustlers
Sales: £101.1m (+ 9.7%)
An £8.9m jump for Kepak's Rustlers shows it is continuing to correctly gauge the needs of time-poor shoppers.
The brand's focus for 2019 was convincing consumers its microwaveable sandwiches were a convenient option for all occasions.
And it was successful – at least, if the extra 7.5 million units going through the tills is anything to go by.
Rustlers ran heavyweight campaigns pushing its snacks as ideal not only for lunch but also breakfast – following the 2018 launch of its All Day Breakfast Sausage Muffin.
Plus, two products launched in a new 'Cook in Box' format designed to make on-the-go eating easier: an All Day Breakfast Double Sausage Muffin with Cheese & Brown Sauce, and a Classic Cheeseburger.
These were quickly followed by Rustlers' veggie debut with Moroccan Vegetarian Burger, made with chickpea, grated carrot and coriander, and backed by a push across PR and social media.
"Our customers are looking for convenience but they are not prepared to compromise on taste and quality," says Adrian Lawlor, marketing & business development director at Kepak Convenience Foods.
88 (87) Hellmann's
Sales: £102.1m (–2.5%)
Its vegan mayo may be proving popular, but other Hellmann's variants continue to struggle under pressure from Heinz's mayonnaise. The Unilever brand shed a further 6% in volumes – though the launch of a premium mayo range helped push up average pack price by 3.7%.
87 (97) Yorkshire Tea
Sales: £103.0m (+8.1%)
Despite the ongoing decline of black tea (and that unfortunate Rishi Sunak photo), Yorkshire Tea has delivered yet another year of impressive growth. The brand attributes its extra £7.8m to a focus on quality products, celeb-packed TV ads and its growing Speciality Brews range.
86 (80) Dolmio
Sales: £105.1m (–4%)
When it comes to cooking sauces, Brits are looking beyond the humble spag bol. Combined with the rise of cheaper own-label alternatives, this led to yet another year of decline for Dolmio. It's lost £4.4m, having seen 5.9 million fewer packs rung through grocery tills.
85 (92) M&M's
Sales: £106.8m (+6.5%)
A glut of innovation helped M&M's scoop an extra £6.5m in 2019. Chief among the NPD was the Block quartet with anticipated first year sales of £23m. It was joined by a take on Mini Eggs and a Salted Caramel variant for the brand's core range.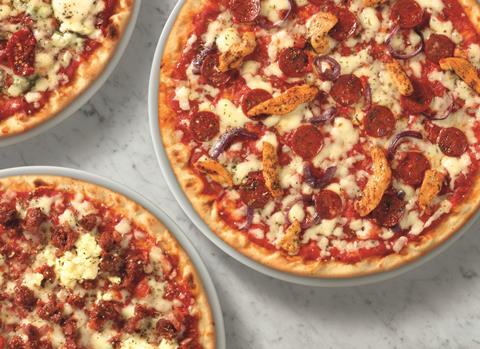 84 (88) Pizza Express
Sales: £107.1m (+2.8%)
Its estate of 470 restaurants may be deeply in the red, but Pizza Express's grocery range is doing alright. It's added £3m and upped its volumes by 1.8%. That's in part down to listings across the mults for its new Leggera dressings – and in spite of its pizzas being delisted by Iceland in early 2019.
83 (85) Dr Pepper
Sales: £108.9m (+3.0%)
Dr Pepper's up £3.2m. A considerable part of that is down to a 1.9% increase in average pack price. CCEP's Simon Harrison says the brand also benefited from greater visibility after being included in Coca-Cola's on-pack Premier League push, backed by "high-profile" TV spots.
82 (84) Twinings
Sales: £109.1m (+2.3%)
The UK's biggest tea brand is going from strength to strength. Last year, it overtook PG Tips. This year, it has built on that lead with a £2.4m gain. The extra revenue came entirely from a 2.6% rise in average prices, boosted by premium innovations such as Twinings Cold In'fuse.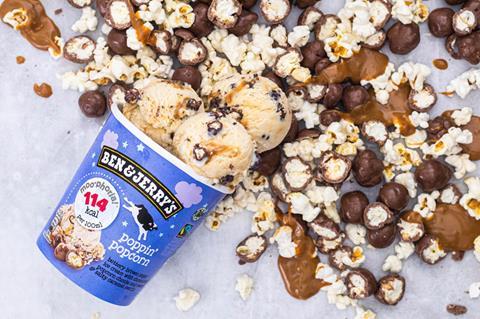 81 (83) Ben & Jerry's
Sales: £109.4m (+1.1%)
Lower-cal options have been "flying out of freezers" says Unilever VP for ice cream Andre Burger. Ben & Jerry's tapped the trend by doubling its 129kcals-per-100ml Moo-phoria range. However, brand volumes were more or less stagnant, with modest value growth coming via inflation.
80 (81) Pot Noodle
Sales: £112.2m (+2.7%)
The launch of an on-trend Asian Street Style range was Pot Noodle's big move of 2019. The innovation helped add £3m and shift an extra 7.5 million packs, with owner Unilever claiming it satisfies hunger for healthier convenient snacking by offering fewer than 250 calories a pot.
79 (73) Duracell
Sales: £112.7m (–4.2%)
Duracell has maintained its "strong market leader position" it insists. But it's lost £5m and sold two million fewer packs. That's despite its multi-channel 'Power On' push – which saw the Duracell Bunny saving the world from aliens – and new child-safe packaging for its lithium batteries.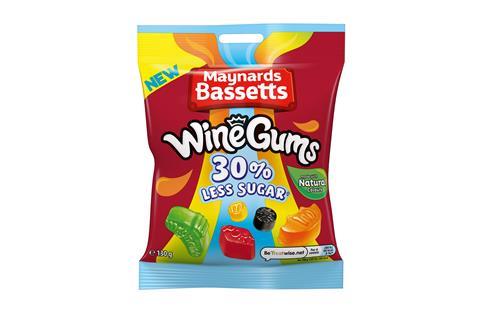 78 (75) Maynards Bassetts
Sales: £113.1m (–3.1%)
A £3.6m drop represents the fourth year of decline for Maynards Bassetts. The Mondelez brand is now doubling down on sugar reduction with the launch of Wine Gums 30% Less Sugar in June, and hopes to attract a younger audience with the launch of Super Fruit Jellies in February.
77 (72) Richmond
Sales: £113.4m (–4.2%)
The "nation's favourite sausage" has continued its years-long slide with a £5m decline. But it's fighting back with the launch of reduced-calorie chicken thins in May and a plant-based SKU in September. It also ran a£1.5m ad push during ITV's The Chase and Love Island.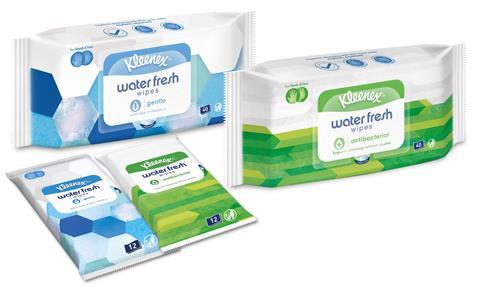 76 (78) Kleenex
Sales: £114.2m (+3.3%)
Kleenex's £3.6m gain is entirely down to a price increase of 7.1% per unit. It's not just bigger packs. Like sister brand Andrex, it has pursued premiumisation with the launch of Water Fresh Wipes that are "soft enough for faces and strong enough for cleansing hands".
75 (63) Flora
Sales: £114.9m (–10.5%)
Owner Upfield has spent many months pushing the plant-based credentials of Flora, following a big revamp in March. However, its efforts are yet to help arrest a decline in sales, which has accelerated over the past year. Value is down £13.5m, while volume sales have dived by 21.3%.
74 (79) Rowntree's
Sales: £115.3m (+4.9%)
Growth slowed, but Rowntree's still added a respectable £5.4m to its value in 2019 – the year it relaunched Randoms. A redesign unveiled in April brought "fun and vibrancy" back to the range, says brand manager Meg Miller. It was followed by the 'Let your random side out' push.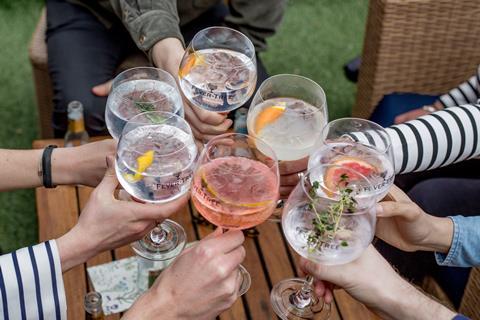 73 (71) Fever-Tree
Sales: £115.6m (–2.8%)
Has the UK reached peak G&T? Fever-Tree's performance in 2019 suggests so. After the previous year's jaw-dropping sales growth, the premium mixers maker's value has made a volte-face. It's shed £3.3m.
Investors trembled late last year after the brand, once a City darling, released not one but two profit warnings as its UK growth ground to a halt.
It's worth noting that the comparatives aren't in Fever-Tree's favour; 2018 had a lot going for it, with a royal wedding, World Cup and a record-breaking heatwave.
The brand points out that 2019 was challenging for the whole mixers category, and that Fever-Tree "once again ended the year as clear category leader". (But tonic water rival Schweppes is £35m in front in retail.)
In a bid to return sparkle to sales, Fever-Tree has added the likes of Spiced Orange Ginger Ale to mix with dark spirits, and "low-calorie spritz" lineup Soda.
"While our tonic range remains at the centre of our offering, reflecting the ongoing and evolving popularity of gin, our wider range of new launches provides exciting opportunities for the year ahead," says Fever-Tree.
72 (74) Anchor
Sales: £120.5m (+3.2%)
As inflation in butter calmed down, Anchor enjoyed a more stable 12 months, with value up £3.8m and volumes growing by 3.5%. The brand unveiled a raucous ad push last May to celebrate its Britishness, and added Anchor Softest – a "convenient, natural and tasty" offer.
71 (57) Ribena
Sales: £121.4m (–16.9%)
Sugar concerns are the "biggest trend affecting juices" says Charlotte Flook, head of Ribena at owner LRS. Despite reformulation, the brand has shed £24.7m, the fourth-largest absolute loss in this list. One consolation is low-cal Ribena Frusion made almost £4m in less than a year.
70 (67) Irn Bru
Sales: £123.7m (–0.3%)
Irn-Bru is still feeling the backlash against its reformulation with a 5.5% dip in volumes. But value has struggled less, mainly due to the successful rollout of the pricier Energy range – first across Scotland and then the rest of the UK last October. A major marketing push will follow this year.
69 (62) Batchelors
Sales: £124.3m (–3.5%)
Batchelors is getting a battering as Britain's taste in instant meals gets fancier. The brand has shifted 5.6 million fewer packs, a fall of 2.9%. That's resulted in a £4.5m hit – despite a TV push for Super Noodles. The decline comes as rivals' premium noodle lines enjoy strong sales growth.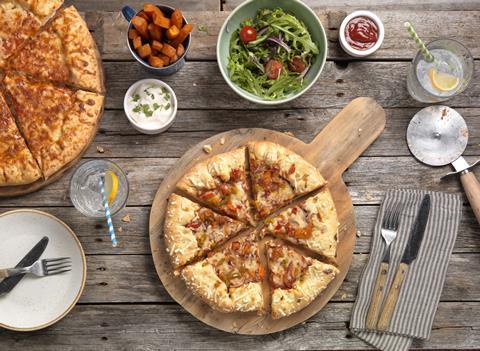 68 (76) Chicago Town
Sales: £124.6m (+6.9%)
Last spring's £5m masterbrand push and new-look packs have paid off for Chicago Town. It's grown its value by £8m, while volumes are up 5%. Its autumn move beyond frozen into the pricier chilled category will have helped too. That's driven up average price, albeit by a modest 1.8%.
67 (68) Lenor
Sales: £125.3m (+1.8%)
Laundry is struggling. But not Lenor, which is worth £2.2m more than last year. A social media push for In-Wash Scent Booster resulted in a 22% share of the laundry beads category, says Ian Morley, group sales director at owner P&G. "We see this as a big opportunity to delight shoppers."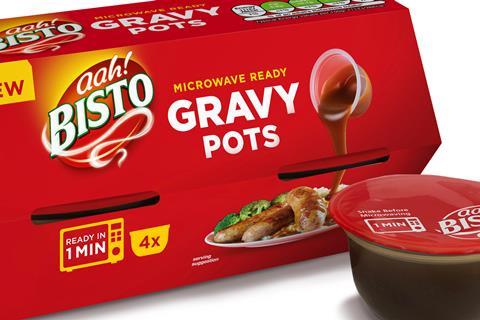 66 (69) Bisto
Sales: £126.7m (+3.1%)
The £3.8m growth of Britain's biggest gravy brand is impressive given the 2.9% decline in roast dinner consumption. This is partly due to the July launch of Microwave Ready Gravy Pots – which are "perfectly suited to mid-week mealtimes of all types" says brand manager Kate McGrath.
65 (66) Dairylea
Sales: £126.8m (+1.8%)
Like Babybel, Dairylea is benefiting from the rise of snacking cheese. It gained £2.2m thanks to NPD aimed at school lunchboxes and "successful" Cheesy Cones and Lunchables Streetfood Pizza. A team-up with Cadbury's Giant Buttons on a Snackers SKU also contributed £1.4m.
64 (65) McCoy's
Sales: £132.1m (+3.4%)
Last year's potato shortage hit value sales of McCoy's multipacks. "There were limited volumes coming out of the fields," says KP's Andy Riddle. "So there were shallower deals on multipacks to soften demand." But overall value grew £4.3m, due in part to continuing success in c-stores.
63 (55) Aunt Bessie's
Sales: £134.2m (–11.5%)
Poor ol' Bessie has lost significant freezer space as retailers try to drive value into their frozen food aisles. It's down £17.5m with 13 million (12.8%) fewer packs sold.
"Retail space across the industry is becoming more premium than ever," says head of marketing Sam Dolan. "This has led to a number of changes to our distribution mix. The changes vary by retailers and category, and we always work with our retailer partners in a collaborative way to deliver against their strategic growth plans."
The brand is also looking to trumpet the practicality and quality of its products, as well as frozen food's green credentials, she adds. "Frozen food has a key role to play in driving the growth of the industry, thanks to its strong credentials around convenience and sustainability, with long shelf lives reducing food wastage."
62 (61) Napolina
Sales: £135.0m (+1.8%)
Brits rustled up Italian dishes at home on an extra 91 million occasions in 2019, says Napolina. This helped the brand shift an extra 2.4 million packs. Most growth came from passata. The range is up 15.2% in value, with its 690g jar adding £867k to the brand's overall £2.4m rise.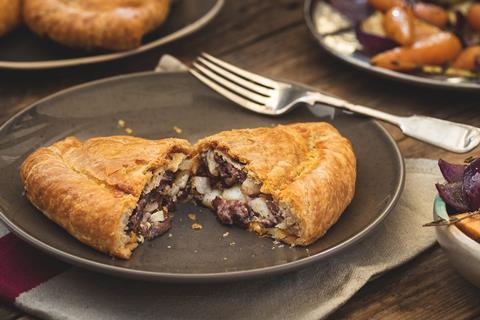 61 (77) Ginsters
Sales: £137.2.m (+18.4%)
What a year for Ginsters! The brand made the second-largest percentage gain in the top 100, adding £21.4m as it sold 7.2 million extra packs. A deluge of NPD was key. It included the brand's first frozen lines, a posh Handcrafted range, and – most notably – a team-up with Quorn on a vegan pasty.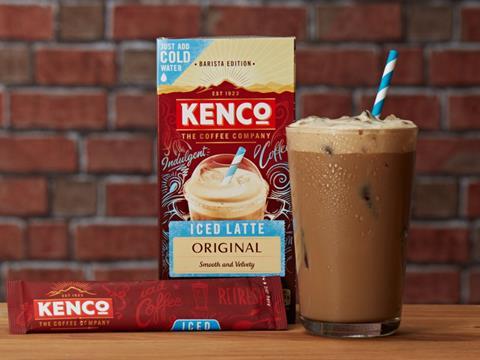 60 (60) Kenco
Sales: £139.5m (0.0%)
Kenco is flatlining. But volumes are up by 6.7%, and there are some encouraging pockets of value growth for the brand. Its Iced Lattes have more than quadrupled in value. And its Duo range made nearly £1m in less than a year. Both ranges were supported by multimedia campaigns.
59 (56) Princes
Sales: £141.6m (–4.5%)
Raw material cost increases and fluctuating exchange rates were behind a 6.3% rise in Princes' average pack price, which went some way to mitigate a 10.2% volume decline. But Princes says it is "highly confident" in its future, following a £5m refresh of its entire portfolio last spring.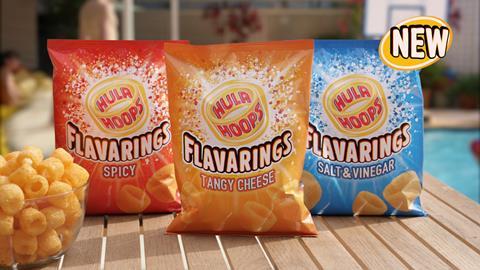 58 (70) Hula Hoops
Sales: £141.6m (+17.5%)
Hula Hoops is on a roll. With sales up £21.1m, it's the fastest-growing bagged snack brand in the top 100, and the eighth-fastest grower overall. The supermarkets have shifted an extra 12.9 million packs in the past year, a rise of 11.1%.
"The convenience market is really important for Hula Hoops, with 44% of sales going through this retail format," says Andy Riddle, sales director at brand owner KP Snacks. "Big Hoops grab bags (50g) are seeing phenomenal growth in this area, with the BBQ and Original flavours two of the eight star performers in Tesco Express's meal deals."
Riddle points to the rollout of the £1 price-marked 87.5g grab bag for the independent channel as another driver of growth in convenience, where Hula Hoops has seen overall value sales grow by 23%. A shift to larger packs is also taking place in bigger stores, with 12-bag and 18-bag multipacks in strong growth.
As concerns grow over Brits' ever widening waistlines, Riddle says retailers are also getting behind lower-calorie spin-off Hula Hoops Puft. "That's grown 10% to become a £19m brand," he says. "It's the fastest-growing product in Tesco's under 100-calorie snack range."
57 (64) Highland Spring
Sales: £143.2m (+12.1%)
Bucking the decline in bottled water is Highland Spring, which has netted an extra £15.4m. It attributes that to investment in green initiatives, product and pack innovations, and marketing. Plus, a £1m relaunch of its sparkling water resulted in 14.3% growth of the 500ml format.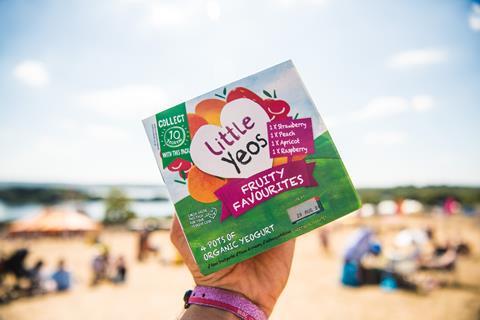 56 (58) Yeo Valley
Sales: £145.3m (+0.1%)
After a big fall in 2018, Yeo Valley is showing signs of recovery. Value has climbed by a little under £180k and volumes are up 0.2%, after the brand opened its first café in London last May, renewed its sponsorship of Bristol City Women, and extended its Little Yeos range for kids.
55 (53) Evian
Sales: £148.4m (–5.9%)
Evian sold 13.5 million fewer units in 2019 – a 10% decline that translated to a £9.3m loss. Nevertheless, the brand stresses its 12th year sponsoring Wimbledon generated "substantial" social media coverage, with the key summer season seeing a 45% increase in shoppers.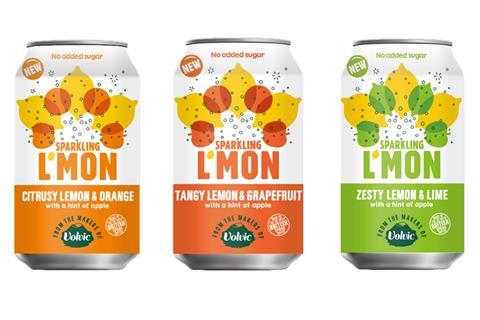 54 (59) Volvic
Sales: £148.9m (–16.5%)
Volvic sold 32 million fewer bottles as the overall still water market declined. In an effort to make up for the shortfall, the brand launched the low-cal L'mon range in May. The canned fizzy drinks, made with "at least 25% real fruit juice", were supported by a £1.5m campaign.
53 (43) Schweppes
Sales: £150.5m (+4.1%)
The tables have turned. Schweppes has grown by £6m, while its rival Fever-Tree is in decline. CCEP's Simon Harrison says Schweppes "added more value to the mixer segment than any other brand in 2019" thanks in part to a repositioning around posh food and cocktail events.
52 (51) Ariel
Sales: £153.8m (–2.9%)
The discounters continue to hold great sway over household, says Ian Morley, group sales director at P&G. So brands are struggling in this data, which excludes Aldi and Lidl. Ariel is no exception, though its small (1.1%) rise in average price prevented a larger value slump.
51 (50) Whiskas
Sales: £157.1m (–4.0%)
The first half of 2019 was "challenging for Whiskas", says Mars Petcare's Arthur Renault. The second half was better thanks to a focus on the new Pure Delight pouches, he adds. The move "had a positive impact on the brand's performance in the last quarter of 2019, and early this year".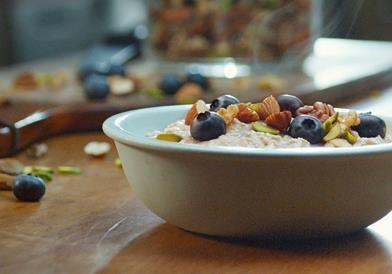 50 (54) Quaker
Sales: £160.3m (+4.5%)
"Quaker has a 58% share of the hot cereals segment and has experienced solid value growth, in line with the cereals category." So says Corrine Chant, marketing director for grains at Quaker owner PepsiCo.
The brand fought off competition from cheaper own label lines to sell 4.3 million extra packs, resulting in a £6.9m gain. This was largely down to a growing number of Brits turning to oats as a healthy brekkie option.
Shoppers are "recognising the health benefits of oats, and are willing to pay more for products that are delivering against health and taste" says Chant. Partnerships also played a key role in boosting Quaker's nutrition credentials, she adds, highlighting tie-ups with the likes of Nuffield Health and Fitbit.
This helped support NPD such as Quaker Kids Oatie Mix Up, a 40% less sugar, granola-style cereal, which rolled out in August, marking the long-awaited debut of the brand's Kids lineup.
But its success wasn't all about health. Convenience played an important part, too.
Although its breakfast drinks didn't hit the mark – they were axed last year due to disappointing sales – other handy formats are flying. Quaker's sachets and pot formats were its main growth drivers, Chant says.
Next up, Quaker wants to "convert those that don't normally think of porridge as their go-to for breakfast" with 'Go Forridge', a push that kicked off in January. Its posh wholegrain Perfect Blends porridge, added in November, was designed for the same purpose.
49 (47) Uncle Ben's
Sales: £160.3m (-5.5%)
Uncle Ben's has lost £9.3m with volumes down 6.9% (9.8 million packs) in the face of cheaper own-label rivals and worries about the environmental impact of microwave rice's plastic pouches.
To combat its decline, the brand unveiled a refresh in August, adding lines such as Chicken Fried Rice and Onion Bhaji Rice, as well as a one-pot rice kit range designed to take Uncle Ben's into what owner Mars dubbed "a new and under-developed part of the category".
48 (49) Kinder
Sales £164.7m (–0.9%)
Although volumes are down 4.7 million units, Kinder has slowed last year's value decline. That's in part due to its debut in the kids' chilled snacking market with pricier products. Kinder Milk Slice and Kinder Pingui are aimed at after-school snacking, containing 118 calories and 135 calories respectively.
The brand also looked to drive its revival with £3.3m 'A Little, A Lot' push. It kicked off in September, celebrating the fact that "the little things can mean a lot".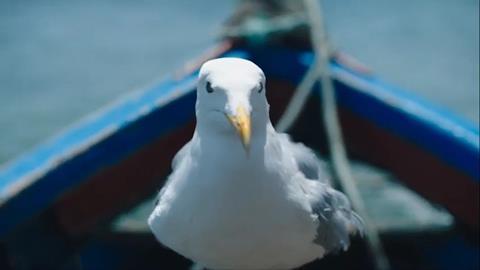 47 (48) John West
Sales: £165.1m (–1.4%)
John West's average price went up for yet another year – this time by 3.1% – as volumes once again went the other way (albeit at a slower rate than the previous year). The 4.4% decline in units resulted in a £2.4m hit to value.
In a bid for buoyancy, the Thai Union-owned brand enlisted Olympic medallist Rebecca Adlington for its 'Get Yourself Shipshape' campaign, which kicked off in March 2020– and it's returned to TV screens to push its No Drain Fridge Pots.
46 (45) Comfort
Sales: £167.1m (–5.4%)
The pressure's rising for Comfort. While rival Lenor is back on the up – despite a higher average price – Comfort has lost £9.5m and sold 4.3 million fewer units.
Owner Unilever remains composed. "Fabric conditioners are well loved by our fragrance-obsessed consumers, with a quarter of this range now offering full-on fragrance in ultra-concentrated formats," says home care VP Charlie Beevor. This year will see a push to highlight the merits of fabric conditioner.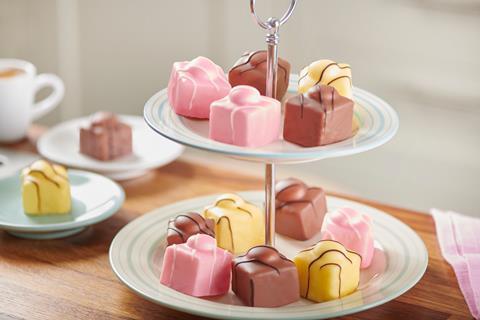 45 (52) Mr Kipling
Sales: £167.3m (+5.8%)
"Strategic launches" were the driving force behind the £9.1m gains made by Mr Kipling, says owner Premier Foods. Key NPD included the posh Signature Collection, lower-sugar versions of its Slices, and the Miniature Selection.
The Signature Collection, developed to target the "after-dinner evening treat occasion", delivered £1m in retail value sales in its first 12 weeks, says Mathew Bird, brand director for sweet treats at Premier. The launch put Mr Kipling into "a more premium space" and helped drive a 3.4% rise in average pack price too.
The brand also capitalised on the healthier eating movement (and government sugar reduction targets) with reduced sugar versions of its popular Angel Slices and Chocolate Slices. They delivered £1.7m in their first year, Bird says. This led Premier to extend the range in January 2020 with Mr Kipling 30% Less Sugar Lemon Slices.
The brand – which has sold an extra 3.1 million packs –has also continued to innovate at key seasons to "keep consumers engaged with the cake category throughout the year".
It launched limited edition products for Valentine's Day, Easter, Halloween and Christmas, as well as bringing back its popular Roald Dahl lineup in the summer.
"Our partnership with the Roald Dahl Company in summer appealed to families and helped to maintain category sales at a time of year when they tend to slow," says Bird.
"A pack takeover across the whole Mr Kipling range, along with the Roald Dahl limited editions, delivered £3.5m retail sales value."
44 (44) Pedigree
Sales: £171.1m (–3.8%)
Mars Petfood's flagship brand for dogs has had yet another bad year. It's lost £6.7m as the UK's static number of pet owners look to trendier, costlier options for their pups. And that's in spite of having shifted an extra 1.4 million packs.
Pedigree continues to pin its hopes of value revival on higher-priced formats such as single-serve pouches.
And it's aiming to capitalise on the popularity of snacks with a "strong innovation pipeline" for its Ranchos lineup.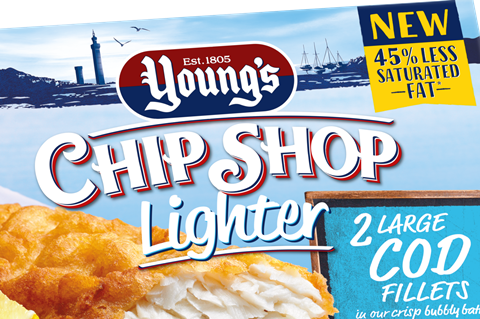 43 (42) Young's Seafood
Sales: £173.4m (–3.7%)
Young's future is no longer in doubt thanks to its acquisition by CapVest-owned Karro and subsequent assimilation into Eight Fifty Food Group.
Its sales, however, have suffered of late. It has shed £6.6m in value, and volumes are down by 6.4 million packs.
"In the early part of the year, we experienced some unprecedented supply challenges and, as a result, ran fewer price promotions," says marketing director Jason Manley. "The business then closed the year with good momentum."
42 (39) Persil
Sales: £177.5m (–5.2%)
The long-running woes of Persil continued this year as it faced a £9.8m loss – despite a £6m push that kicked off in January 2019.
Still, Persil is hoping to add value over cheaper own-label options with its capsule formats. They're increasingly popular with time-poor shoppers, says Unilever VP for home care Charlie Beevor. "We are investing in our capsules range with the ambition to grow our share of the market through a multimillion-pound marketing ATL campaign."
41 (40) Weetabix
Sales: £180.9m (–2.3%)
Unit sales may have dropped 10.4%, but an average pack price increase of 9% saved Weetabix from losing any more than £4.2m.
It admits "some brands in our portfolio experienced volume declines" but insists the value of its core line "increased by 10% to £105.4m with unit sales down just 1%".
And Oatibix grew in volume (7%) and value (9%) thanks to growing consumer "desire for oats" according to Weetabix marketing director Francesca Theokli.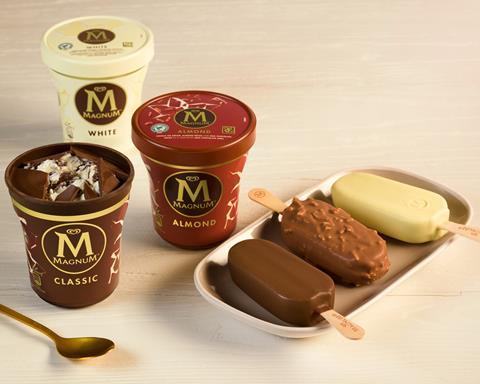 40 (36) Magnum
Sales: £186.1m (–4.9%)
A £9.5m loss may seem drastic. But put it into context: handheld ice cream was a major casualty of last year's mediocre summer, so the brand's decline could have been far worse.
It has diversified its portfolio to "become less reliant on weather" says Unilever ice cream VP Andre Burger. See the expansion of its "playful yet decadent" White Chocolate & Cookies lolly into tub form in February to capitalise on consumers' growing fondness for white chocolate.
39 (46) Quorn
Sales: £188.3m (+7.3%)
Quorn consolidated its position as meat-free's leader in 2019 – and added £12.9m – with a deluge of NPD. It began with a range of seafood alternatives, followed by a debut in ambient via grain-based snack pots and shelf-stable meat alternatives. Then came the likes of Quorn's first branded sandwich and wrap range, and Mexican-style 'chicken'.
This year, the brand says it will spend £40m to avoid a repeat of the shortages it suffered in Veganuary due to "unprecedented" demand.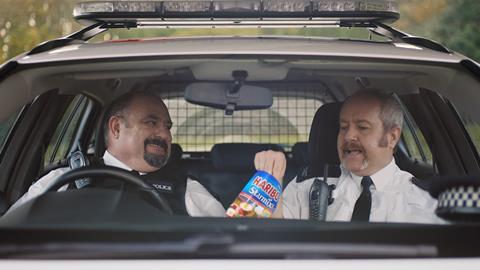 38 (41) Haribo
Sales: £188.5m (+3.6%)
Haribo kicked off 2019 being voted Britain's top sweeties brand by Channel 5 viewers. But that love wasn't backed by action, as shoppers put 14 million fewer packs in their baskets. Only a 10.5% rise in average pack price kept value in the black.
Nevertheless, Haribo MD Jon Hughes believes UK consumers still have "trust in the Haribo brand".
In July, it revealed plans to increase production at its West Yorkshire site to satisfy demand from the US.
37 (38) Jacob's
Sales: £191.2m (+1.0%)
Jacob's is back in growth for the first time in three years – but only thanks to a hefty increase in average pack price. That's up 5.1%.
Volumes, however, have dropped 3.9%, with 6.4 million fewer packs flying off the shelves as Brits traded up to posher rival brands.
But Jacob's is sticking to its guns. In 2020, NPD will continue to be "at the heart" of the brand's activity to "liven up Jacob's ranges" says its customer marketing director Stuart Graham.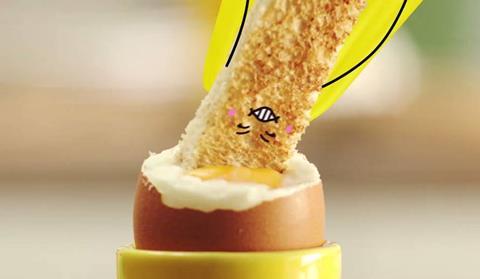 36 (29) Kingsmill
Sales: £194.2m (–17.4%)
Kingsmill has endured the top 100's steepest percentage decline and the second greatest absolute loss in this report of £40.9m. Brand owner Allied Bakeries wastes no time in pointing out the cause.
"The past few years have been marked by strong growth in own label, which has grown market share by 5.5 percentage points since 2018, as retailers have looked to differentiate themselves from each other generally and from the discounters in particular," says a spokeswoman.
Kingsmill has certainly fallen from a great height. In this report's 2015 edition, it was valued at over £370m and was Britain's second-biggest bread brand after Warburtons. Hovis was third.
But it would be too easy to paint Kingsmill as a hapless victim of own label's growth. Earning a crust in the wrapped bread market is no mean feat for anyone right now, and Allied has been working hard to return to profit after making losses for a number of years.
The baker announced in February that it had reduced losses by agreeing price rises with some customers. It also decided to close its Cardiff plant after losing a key Tesco own-label supply deal (which forced Allied last April to make a £65m impairment charge against its income).
So the company is cutting its losses where it can. At the same time, it is growing its focus on value-added lines such as the Kingsmill 50/50 Vitamin Boost Loaf and Buttermilk Pancakes, which carry a higher margin. The brand might be smaller, but it should be on its way to becoming profitable too.
35 (37) Doritos
Sales: £204.9m (+5.7%)
Doritos is up £11m thanks to Brits' hunger for bolder crisp flavours (and a 4% rise in average price). It started 2019 by adding Flame Grilled Steak, and recently followed up with Flamin' Hot Tangy Cheese.
"Bold flavours are contributing to growth within the savoury snacks category," says marketing director Fernando Kahane. "Meat and spicy flavours, in particular, have experienced double-digit growth over the past year, and we are meeting shopper demand with latest launches."
34 (32) Tropicana
Sales: £208.8m (–2.4%)
Tropicana's recovery has gone into reverse. It's lost £5.1m and sold 4.8 million fewer units. This time last year, it had returned to the black after a calamitous 2017.
Still, PepsiCo marketing manager Stephen Hind insists Tropicana's juices haven't lost share despite the backlash against sugar. "If you look across soft drinks for products that provide great taste, nutritional benefits, no artificial ingredients and coming from nature, these are as relevant as they ever have been."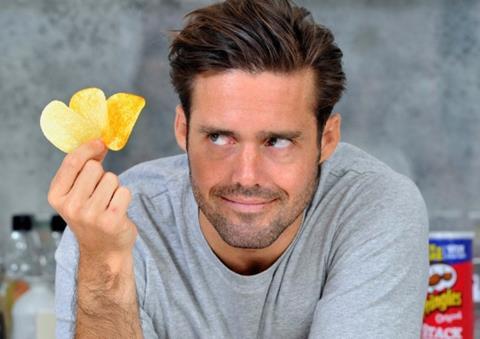 33 (35) Pringles
Sales: £216.9m (+10.2%)
Pringles sales are popping. Kellogg's crisps in a tube added £20m last year, having shifted an extra 11.2 million units.
"2019 was a strong year across the Pringles portfolio," says Ben Simpson, Kellogg's commercial strategy leader.
"Pringles continues to be the number one crisps brand for the sharing occasion, with a 21% value share of the sharing crisps segment."
He attributes this success to "high-impact brand activity focused around occasions", such as the 'Take a Bite & Win a Flight' campaign that gave away summer breaks.
Then there was the brand's first link-up with gaming, the Pringles Battle Couch event. It saw 100 PS4 players from around the globe gather at Printworks London to go head to head – while all seated on a massive sofa the colour of a Pringles Original tube.
The run-up to Christmas was big, too. "Pringles again had two SKUs in the top five fastest-selling grocery SKUs in the week ending 21 December," Simpson says.
When it comes to crisps, shoppers can't stop filling their baskets with sharing formats, he adds. In fact, they formed "the fastest-growing crisps segment in 2019".
Such speed was driven by the February launch of the four-strong Rice Fusion range, insists Simpson, calling it "Pringles' biggest innovation for four years".
Created to tap demand for healthier snacks, Rice Fusion provides around 2.6g of satfat per 100g. "This new sub-brand was worth £13.5m in 2019."
Pringles kicked off this year by teaming up with Made in Chelsea's Spencer Matthews.
32 (34) Fanta
Sales: £218.1m (+9.7%)
Like Coke, Fanta's been cranking out hip NPD to great success. Case in point: Fanta Grape Zero, which rolled out in February 2019, has already racked up more than £11m, according to owner CCEP. "Consumers are responding well to the popular, on-trend zero-sugar flavours we're bringing to market," says VP for business development Simon Harrison.
Fanta also stepped up its efforts to own Halloween with the launch of a limited-edition Dark Orange flavour.
31 (31) Maltesers
Sales: £220.6m (+2.2%)
Maltesers puts its £4.8m increase down to its 2018 innovations Buttons and Truffles, which have continued to grow through distribution gains.
The pricier NPD has also helped to boost average pack price by 6.7% to £1.29, which mitigated the volume sales drop of 4.2%.
As well as the launch of White Maltesers Truffles, last year saw the 'Someone Gets It' push focused on the importance of female friendship in building resilience among younger women.
30 (33) Alpro
Sales: £221.7m (+4.6%)
Having secured the services of the world's fastest man, Usain Bolt, Alpro has experienced a slowdown. Despite an autumn TV push featuring the star, its value rose £9.8m in 2019 – which although impressive, is far less than the previous year's gain.
The TV ad was part of a bid to drive the "next wave of growth", which also included a packaging makeover and a slew of NPD, such as a soya-based alternative to low-cal ice cream and a lineup of drinks for use in tea and coffee.
29 (27) Wrigley
Sales: £245.8m (–0.6%)
A Mars Wrigley spokeswoman says its Extra range is the "driving force behind the overall gum category's current growth in volume sales".
Maybe so, but Wrigley has shifted 15.3 million fewer packs. Having had a TV ad banned in March won't have helped. It showed a couple kissing on a bed, which the ASA ruled was "sexually suggestive" and "distasteful for general viewing".
Value sales are down only a little thanks to a 4.6% increase in average pack price.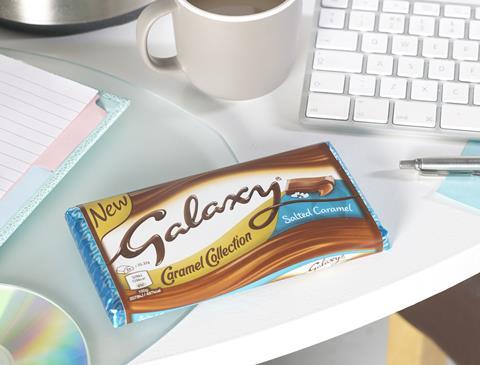 28 (28) Galaxy
Sales: £250.0m (+3.5%)
A deluge of pricier NPD helped boost sales for Galaxy – Mars' best performer after M&M's.
It kicked off 2019 by putting former Celebrations star Galaxy Truffles on the market as a standalone for the first time. Later in the year, it added Darker Milk bars and made headlines with its three-strong Vegan lineup.
The brand also launched its 'Sorry, Not Sorry' podcast, hosted by Gemma Cairney, to reflect Galaxy's new "confident, -unapologetic" voice.
27 (25) Robinsons
Sales: £254.8m (–2.9%)
A £7.6m loss for Britain's top squash brand belies a much steeper fall in volumes. Robinsons has shifted 28.3 million fewer bottles, a decline of 14.3%. That's partly down to a shift in product mix in favour of double-strength squashes and larger formats aimed at cost-sensitive shoppers.
Not that the brand's cheap. A 13.4% rise in the average price of a bottle has been driven by a push towards posher squash with Fruit Creations and glass-bottled Cordials ranges.
26 (30) Monster
Sales: £259.2m (+14.3%)
Monster's £32.5m gain is the fifth-largest in the top 100, and the second-largest in the thriving energy drink market.
"The energy sector has grown by £139m over the past two years, half of which has been delivered by the Monster portfolio," says CCEP VP for commercial development Simon Harrison.
The success was partly down to "our investment in impactful marketing campaigns to support the core Monster range", he says.
Then there was "focus on flavour innovation and range expansion including zero-calorie options". Because, like its sister brand Coke, Monster has been busy broadening its repertoire. "We built on the success of our core range by entering new segments such as RTD coffee and performance energy, whilst also expanding our best-selling Juiced and Ultra ranges," Harrison says.
Premium launches – such as sporty sub-brand Reign, which arrived from the US in October – are helping to drive value over volume growth as they typically command a higher price per litre, he adds. They are also aligning the Monster brand with fast-growing trends in the energy space: coffee and functional.
In the case of Reign, which is designed to fuel workout performance, Harrison cites "untapped potential" in the UK given the success of 'performance' drinks in the US, where the category is worth around $400m.
"While it's still early days to share any robust performance data, we can say the range is tapping into a new drinking occasion," he says.
25 (23) Cathedral City
Sales: £271.4m (–0.1%)
Flatlining sales mask an eventful year for the UK's biggest cheese brand. It landed a new owner last year following Dairy Crest's £1bn acquisition by Canada's Saputo.
Since then, it has focused on major promotional activity, which resulted in a 2.5% boost to volumes at the expense of average price.
The brand's NPD highlight was low-calorie Cathedral City 82 in June. Made with lower-fat milk, it boasts half the fat and 33% fewer calories than standard cheddar.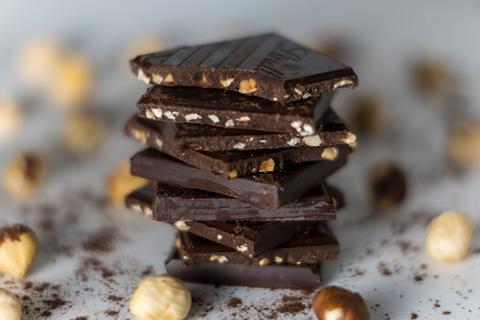 24 (26) Lindt
Sales £277.6m (+7.5%)
There's no stopping Lindt. The fancy chocolate brand has been on the rise for at least six years running. And though its pace of growth has slowed, it's still managed to rustle up a £19.3m gain on the back of a 10.1% surge in volume sales.
That was driven not only by Brits' love of posher and giftable chocolate, but also by seasonal innovations.
Plus, there was the Swiss chocolatier's major foray into trendy high-cocoa options with a three-strong range of bars, launched in August.
22 (22) Danone
Sales: £286.2m (–3.1%)
With gut health all the rage, Danone updated Activia's packaging (for the third time in three years) and added a Live Culture Smoothie range in August. But it wasn't in time to prevent a 5% fall in both value and volume for the sub-brand.
Activia's belly-friendly stablemate Actimel didn't fare much better, shedding 2.3% of value. In fact, of Danone's leading sub-brands – those with value in the millions of pounds – only Oykos grew. It's up by 5.1% to £28.4m.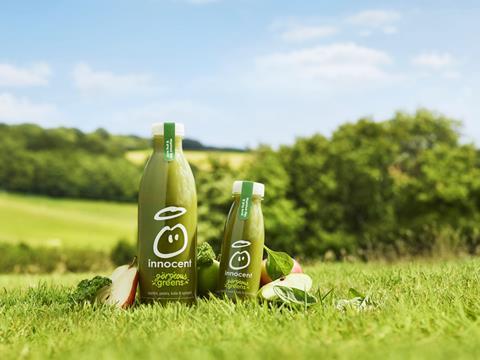 23 (24) Innocent
Sales: £282.9m (+7.0%)
Bog-standard juice doesn't cut it any more. Today, drinkers want juice with benefits.
So says Innocent, which last summer relaunched its Super Juices as Innocent Plus. It doubled the amount of vitamins the drinks contain and added a new variant,Bolt from the Blue, flavoured (and coloured) with guava, lime, apple, coconut water & blue spirulina.
"In relaunching our Super Juice range as Innocent Plus, improving the recipes and introducing new colours to the range, we were able to more than double sales," says Innocent European MD Nick Canney. "The relaunch focused on health, by far the most pressing issue for drinkers, and so resonated with drinkers looking for extra health benefits."
Boosted by the Plus launch, Innocent's juice portfolio delivered two thirds of the brand's £18.5m growth, which saw an extra nine million packs go through grocery tills.
It's hoping for more of the same with the March 2020 relaunch of the Super Smoothies range and the unveiling of Shots, a trio of intensely flavoured fruit & veg blends: Ginger Kick with vitamin D, Power Sour with vitamins B2 and B12, and Blazing Greens with B1 and B3.
"We're uniquely placed to talk to drinkers in the category, and to help cut through the confusion that exists today," Canney adds.
"Today, the world out there is more confused than ever about what is good for you, and at Innocent our balanced, straightforward approach to health, with the emphasis on common sense over myths and sensationalism, is starting to cut through."
21 (20) Hovis
Sales: £298.0m (–3.4%)
It's been an uphill struggle for Hovis, which is down £10.4m after shifting 19.9 million fewer loaves. That's despite the brand dusting off its iconic 'Boy on Bike' ad, first aired in 1973, for a return to screens last summer.
Still, the figures for Britain's second-biggest bread brand are an improvement on its even larger losses last year.
Hovis says products such as its premium Seeded Batch and White Bloomer loaves, launched in 2018, are helping to stem losses to own label.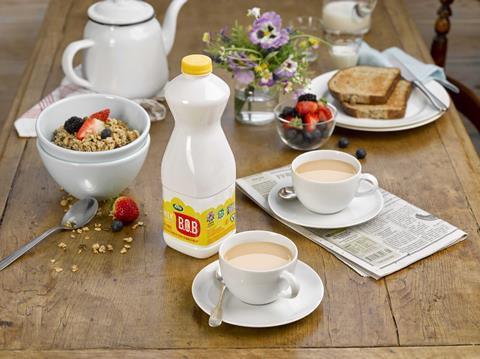 20 (21) Arla
Sales: £307.8m (+2.6%)
While Arla's own label milk business has suffered, the dairy co-op's performance has been bolstered by its Arla masterbrand.
Standout results include a 40% value increase for B.O.B to £23.4m and a 3.9% rise in Lactofree sales to £66.5m. Given grocery's declining milk sales, a drop of just 0.6% in value for Cravendale is a pretty solid performance.
"We've been brilliant on brands," Arla UK MD Ash Amirahmadi told The Grocer in February.
19 (19) Fairy
Sales: £316.4m (–1.5%)
Discounters and bargain stores continue to stymie household's growth in the traditional grocers. No wonder Fairy's volumes are down by 7% (or 8.6 million units) in Nielsen's read of the market, which excludes Aldi and Lidl.
That slump was mitigated by a 5.9% rise in average price – driven in part by the growth of costlier dishwasher tablets.
P&G group sales director Ian Morley says Fairy is "offering product superiority that encourages frequent consumption".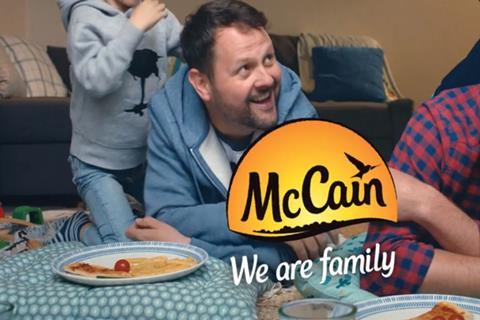 18 (18) McCain
Sales: £341.9m (+5.5%)
Thanks to McCain, health-conscious chips are no longer simply a wonderful fantasy.
In January 2019, the brand unveiled Lighter Home Chips – a lower-fat alternative of its regular Home Chips, the nation's number one frozen chip product.
Since launch, Lighter Home Chips – the result of more than three years' development – has racked up £12m in sales, McCain says. That's the lion's share of the extra £17.9m McCain made last year.
The brand is building on that with its latest healthy NPD, Naked Oven Chips, made with just potato and sunflower oil to tap both the gluten-free and vegan trends.
It's not just about health though. On the complete flip side, McCain has thrown its marketing behind "chips for breakfast", which has seen strong sales of its Hash Browns products, it says.
Key to the brand's strategy is offering products that mimic the out-of-home experience. See its Peri Peri Fries, Skin On Fries and Gastro Chips for proof. "Consumers are continually looking for new experiences to enjoy at home, often taking inspiration from the foods they choose when eating out," says McCain category controller Naomi Tinkler.
"This has been a key focus for McCain in NPD as we look to give consumers restaurant-quality taste in the comfort of their own home."
Its most high-profile launch along this vein was Brew City last August. While not included in this data, the range was a seriously big step. The nine sharing SKUs, which are "specifically developed to pair perfectly with craft beer", were backed by a £6m push.
17 (17) Lurpak
Sales: £342.3m (+1.2%)
Lurpak is up £4.1m thanks to demand for indulgent spread.
Almost all its full-fat lines grew in value and volume, with Softest Slightly Salted, Garlic Butter and the brand's plain block butter seeing double-digit growth (albeit from small bases).
On the flip side, it seems consumers aren't too fussed about its healthier variants, which lost a combined £2.8m. Lighter Spreadable and Lighter Spreadable Slightly Salted fell by 8.5% and 2.4% in value respectively.
16 (15) Andrex
Sales: £362.3m (+1.7%)
A 7.9% increase in average price helped Andrex achieve modest value growth, despite six million fewer packs going through the tills.
It's the mark of larger packs and the brand's continued premuimisation, as it seeks to create a point of difference from burgeoning own label rivals.
October saw Andrex build on its 'Supreme Clean' messaging – which encourages the use of posh tissues and washlets – with the "first of its kind" Skin Kind range containing a prebiotic lotion.
15 (16) Red Bull
Sales: £382.9m (+10.5%)
Energy doyen Red Bull has grown by £36.4m, despite Coca-Cola entering the fray. In fact, Red Bull has netted the fourth-largest absolute gain of any brand thanks to strong performances from both its core (up £27.0m) and sugar-free (up £10.4m) ranges.
It says big, sports-focused campaigns helped boost penetration during 2019.
Its foray into posh mixers is reaping dividends, too. The Organics quartet, launched in 2018, last year grew value sales by 20.9%.
14 (14) Lucozade
Sales: £436.5m (+2.9%)
TV ads starring England's Lionesses and boxer Anthony Joshua helped Lucozade grow £12.4m in a year absent of big sporting events – a key driver for soft drinks.
Low-sugar spin-off Zero lost 16.7%, but the brand's core Energy range was buoyed to the tune of £18.8m – in part thanks to new flavour Watermelon & Strawberry.
However, format was the real driver of value. There was strong growth in "drink later" SKUs such as multipacks, says owner LRS.
13 (12) Nescafé
Sales: £439.2m (–3.5%)
Nescafé has shed £15.8m, driven primarily by a £7.2m slump in its flagship instant coffee. Nescafé Gold Blend has also suffered a £3.3m decline.
But the Nestlé brand is remaining positive. It says there's plenty of growth in areas such as organic, frothy coffee, roast & ground, and super premium. Indeed, the posh Nescafé Gold Origins is up £1.2m.
The brand has also made sure it's on trend by launching a trio of plant-based lattes last August.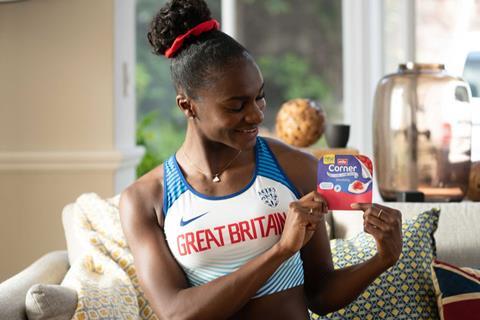 12 (9) Müller
Sales: £441.1m (–12.1%)
For the second year running, Müller has posted the top 100's biggest fall in absolute value. It lost £60.6m, and sold 82.3 million fewer units.
It comes after the German dairy brand's owner posted combined losses of more than £230m during the 2017 and 2018 financial years as it faced shrinking margins – in its own label liquid milk business in particular.
While the outgoing CEO of Müller Milk & Ingredients, Patrick Müller, says the processor is on track to arrest those losses, its branded portfolio is suffering.
Once the UK's bestselling yoghurt range, Müller Light put in another poor performance in 2019. It haemorrhaged £26.2m – 16.9% of its value – despite reformulating to reduce its sugar content. Volumes plummeted 22.5% as shoppers and retailers switched to yoghurts perceived as more natural – although Müller believes the decline was largely "because Müller Light consumers reduced their overall category consumption or exited the category".
Meanwhile, sales of stablemate Müller Corner have also suffered, with values down 4.5% to £144.4m and volumes down 7.3%. Meanwhile, Frijj saw sales plummet in the dairy drinks segment by 16.2% to £32.2m.
But there are some rays of light. Sales of Müller branded milk are more or less flat, (down just 0.2% to £61m) and Müller's Bliss range has successfully tapped the trend for indulgent yoghurt. Its value is up 15.4% to £21.7m.
Other positives for Müller include the completion of a £50m expansion to its Telford factory in a move to boost capacity and increase UK production, and the renewal of the brand's sponsorship deal with British Athletics for a further three years.
11 (13) McVitie's
Sales: £459.6m (+1.2%)
McVitie's has made a hasty recovery from the previous year's losses, with a £5.4m gain. The biscuit brand puts its revival down to a refocus on its "best-loved products", plus new launches.
Favourites like Digestives rose 3.1% in value, while Hobnobs increased 2.7% and Jaffa Cakes saw a 5.6% uplift. Jaffa Cakes Nibbles were the biggest NPD, raking in £6.5m.
"Finally, an overall growth in snacking (0.6%) contributed to growth across the biscuit category," says McVitie's.
10 (11) Kellogg's
Sales: £470.3m (+0.4%)
Kellogg's is back in the black. After years of decline, it's added £2m to its value.
WK Kellogg, the burgeoning vegan granola, is the standout range. It's up 33.6% to £7.1m, having last year axed added sugar and introduced a vegetable-based variant. But other healthier lines are struggling. Corn Flakes and Rice Krispies – two of Kellogg's lowest-sugar big hitters – are down 6.3% and 0.3% respectively.
Sugary offers, meanwhile are soaring. Crunchy Nut and Frosties – which each provide 11g of sugar per 30g portion – added £10.7m in total.
"This is Crunchy Nut's third consecutive year of growth, which shows shoppers still value taste within their breakfast choices," says Kellogg's Ben Simpson.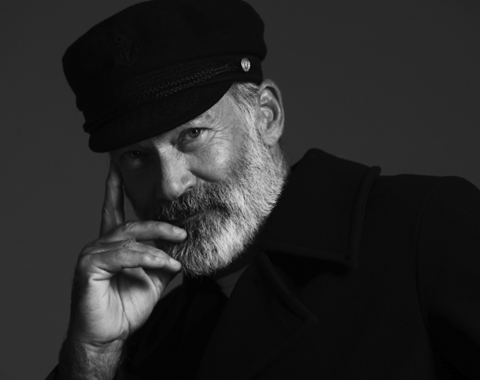 9 (10) Birds Eye
Sales: £497.8m (+1.1%)
Captain Birdseye made headlines in December with the unlikely launch of limited-edition eau de toilette Ahoy. While the "rugged and handsome" seaman raised eyebrows, it was poultry and ready meals that helped raise Birds Eye's value in frozen. They're up 3.3% and 5.7% respectively – largely due to rises in average prices.
Frozen veg, meanwhile, enjoyed a 1.2% value increase for much the same reason. But the £6m push for the range calling on shoppers to 'Eat in Full Colour' failed to sell more units; volumes are down 5.5%.
Potato products, however, have shifted an extra 1.3 million units. And Green Cuisine, Birds Eye's dive into plant-based, has generated £2.3m since launch last March.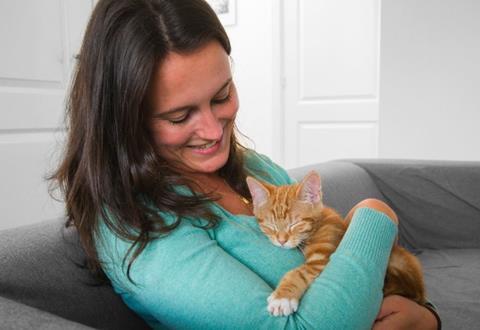 8 (7) Purina
Sales: £551.2m (–0.5%)
Like the number of UK pet owners, Purina's value is more or less static. A £2.8m loss comes after grocery's leading petfood brand sold 2.1 million fewer packs in 2019.
That's not bad given the "increasingly competitive and dynamic category" insists Ben Duncan, northern region director for Purina's market development organisation.
He highlights Felix, Bakers and DentaLife as "key brands that have driven success".
Catfood leader Felix has slowed its recent decline to 1.4% mainly through its As Good As It Looks range, Duncan says. Bakers (up 1.6%) has "benefited from a successful repositioning", while DentaLife's 16.5% growth has been driven by marketing and the launch of DentaLife Cat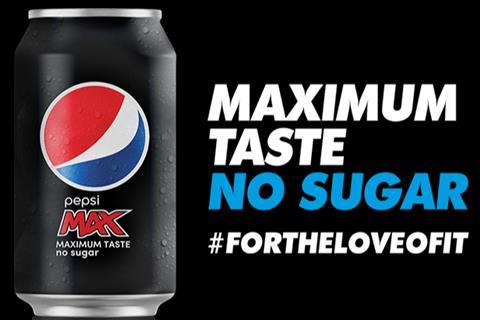 7 (8) Pepsi
Sales: £599.2m (+9.0%)
It may be less than half the size of arch rival Coke in grocery, but Pepsi has added considerably more to its value. It's grown £49.4m, which is the second-largest gain of any brand in the top 100, and the largest of any soft drink.
Almost the entirety of growth came from the sugar-free Pepsi Max, which added £69.3m (an 18.8% increase), while core Pepsi Cola and Diet Pepsi fell £15.1m and £5m respectively.
"Consumers are becoming more demanding in what they expect from a cola, with taste but also health driving their choice," says Ben Parker, home commercial director at Britvic, Pepsi's UK manufacturing and bottling partner. Pepsi Max is "challenging misconceptions around low-sugar drinks" he adds.
Indeed, the stellar performance of Pepsi Max was largely down to shoppers buying more – 27.6 million units more, to be precise. But it was also down to a near 7% rise in average price, as the sugar tax pushed up prices across the board, even among carbonates exempt from the levy.
It may be some time before Pepsi's scale in UK grocery rivals Coke's, but Pepsi Max's momentum shouldn't be underestimated. A 2019 YouGov BrandIndex poll of 'buzz' around fmcg brands ranked Pepsi Max above Coke Zero Sugar, Fanta and Schweppes.
So it's no surprise Pepsi is sharpening its focus –at least when it comes to NPD – on flavour innovation for Pepsi Max.
Its recent brand extensions are going down a treat, according to Parker. Pepsi Max's Ginger, Cherry and Raspberry variants make up more than half of the UK's total flavoured cola sales, he says.
In fact, the Raspberry flavour, which made its UK debut in early 2019, has already racked up £17.6m in value sales [Nielsen 52 w/e 25 January 2020].
6 (5) Heinz
Sales: £646.0m (–0.5%)
Ketchup and Baked Beanz may be Heinz's established stars, but Seriously Good Mayonnaise is the one to watch. The fledgling mayo brand recorded a 19.9% rise in value to close in on arch rival Hellmann's. Meanwhile, Ketchup remained flat despite the backing of an Ed Sheeran PR campaign.
Indeed, the fastest growth is coming from its smaller sauces. BBQ is up 9.4% while Salad Cream – threatened in 2018 with extinction – has grown by 4.6%. Heinz "also saw growth in traditional meal solutions of pasta and soup" it says. This was due to "understanding customer needs".
Nevertheless, the brand lost £3.2m due to under-performers such as its Beanz fridge pack (down 12.6%).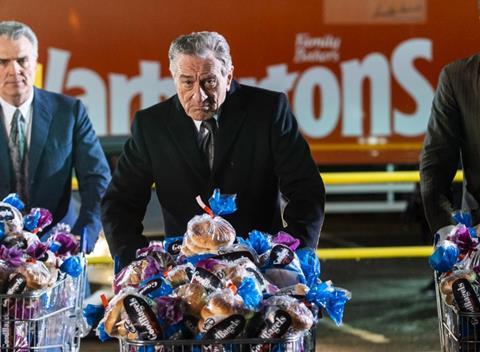 5 (6) Warburtons
Sales: £656.2m (+3.4%)
The baked goods category has passed a key milestone. Bread no longer makes up the bulk of sales for Warburtons, says its category & product strategy controller, Duncan Tyrrell. There's a new boss in town, as Robert De Niro (who starred in Warbies' TV advert last year) might say. Or, rather, bosses. "It's essential to be present in growing bakery segments, such as bagels and crumpets," Tyrrell says.
"We're number one in rolls, crumpets, thins, teacakes and others. Other non-bread wrapped bakery has shifted from 50% to 52% of total unit sales. The proportion in our portfolio is not as high, but it's growing faster than the market average."
In fact, take Warbies' non-bread lines out of the equation and it's actually in decline by 2.6% (£11.5m).
The Bolton bakery's strength in non-bread products, such as the New York-style bagels De Niro pushed in 2019's ad, are key to its share gains over Hovis and Kingsmill, which suffered the second and ninth greatest losses in this report respectively.
What separates Warburtons from closest rival Hovis is the diversity of their portfolios. More than a third of Warburtons' value sales come from products defined by Nielsen as morning goods: speciality breads, rolls, baguettes and pancakes, while less than 2% of Hovis' sales come from such lines.
Warburtons, therefore, has been less exposed than competitor brands to the rise of cheaper own label in standard sliced bread.
Not that the only attraction of bread is low prices, adds Tyrrell, pointing to Warbies' artisanal and sourdough loaves. "Consumers are demanding more premium varieties of wrapped bread, and we're seeing growth in our premium top-tier and speciality ranges."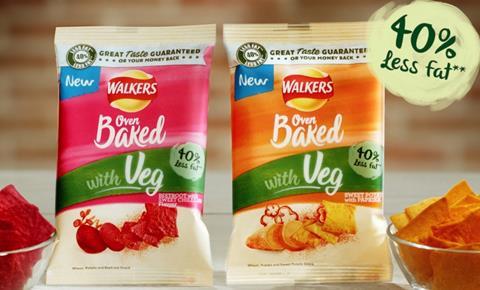 4 (4) Walkers
Sales: £995.8m (–0.7%)
Brits are trading up for fancier flavours and healthier options.
Which is why Walkers' Sensations, Oven Baked, Max and Poppable snacks added a combined £30m in 2019.
Walkers Snacks marketing director Fernando Kahane says the brand is "disproportionately investing in this area" with NPD.
Meanwhile, the snacking giant's standard crisps have lost £25m, with volume sales down 12%. However, it has avoided a fall in average price by rationalising its multipacks to steer shoppers towards pricier single bags.
Kahane insists the brand has "a powerful core range", adding 2020 will be its "strongest calendar in years, with a drumbeat of activations and innovation".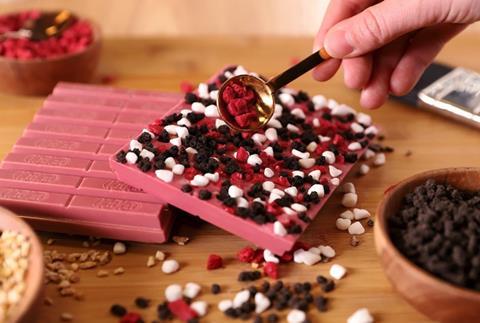 3 (3) Nestlé
Sales: £1,079.3m (+0.9%)
Here's proof that even well-established brands can make massive gains. Kit Kat and Milkybar, Nestlé's two biggest sellers, gained an extra 12.3 million units between them thanks to flavour and format innovation (and in spite of poor sales of the now-axed Milkybar Wowsomes).
The NPD was "well supported by significant investments" says Alex Gonnella, confectionery marketing director for Nestlé.
Its most famous cereals were a hit too. Cheerios and Shreddies grew volumes by 12.9% and 1.5% respectively.
Plus, Nestlé struck a chord with its lesser-known, health-focused fare. Lindahls Kvarg and La Laitiere yoghurts enjoyed fast value growth, as did the Yes snack bar range.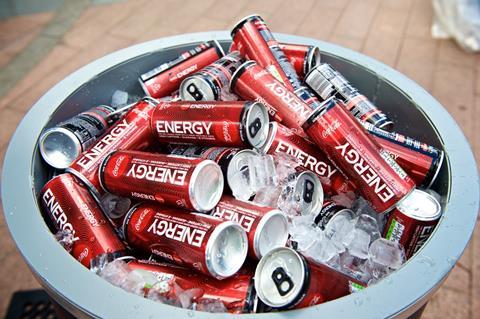 2 (2) Coca-Cola
Sales: £1,355.1m (+3.1%)
The UK's biggest soft drink brand has grown by £41.1m. That's the third-largest gain in this year's top 100.
Admittedly, top level volumes are more or less flat (–0.3%). That was largely due to Diet Coke's performance; its unit sales are down by 6.8%. By contrast, its other sugar-free variant – Coca Cola Zero Sugar – delivered a 12.3% volume gain.
The sugar-free soda was responsible for the lion's share of its maker's success, adding £36.7m. It's now worth £253.6m in grocery, making it bigger than the entire portfolio of stablemate Fanta.
But Coke's success is not just a case of cashing in on Brits' ongoing phobia of sugar.
The supplier's decision to raise prices of its core cola to meet the sugar tax, rather than reformulate to avoid the levy, has paid off. Shoppers have stayed loyal and Classic maintained its volumes, while raking in an extra £21.5m.
That's not all. Coke has significantly switched up its strategy around new products. The masterbrand, which was until recently virtually untouchable, is now more malleable than ever.
"Last year we took the Coca-Cola trademark into new territory, pushing the boundaries of this iconic brand and making it relevant to even more occasions," says CCEP VP for commercial development Simon Harrison.
The most notable launch was Coke Energy, which landed in April 2018. Its original two variants had already racked up more than £4m in value sales by the end of the year, according to CCEP, by appealing to an audience beyond traditional energy drink shoppers.
The brand also rolled out a quartet of Coca-Cola Signature Mixers, co-developed with top bartenders, designed to offer a premium trade-up for posh spirits drinkers.
Meanwhile, lesser moves included a slew of new flavours for Diet Coke, like Sublime Lime and, more recently, a cherry variant for Coke Energy.
A growing move towards smaller pack sizes helped drive value over volume, adds Harrison. It is seeing growth in its 'Coke Icon' glass bottle multipack, which as a rule commands a higher price per litre, as well as 'pick & mix' mini cans.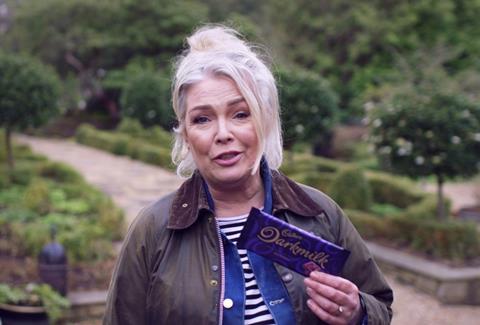 1 (1) Cadbury
Sales: £1,682.1m (+6.6%)
Cadbury has delivered far more than a glass and a half of growth. It's up by £104.7m, making it Britain's fastest-growing brand (as well as its biggest). To put that in context, the other chocolate makers in this top 100 (excluding Nestlé) are up £31.3m combined.
"We've had a phenomenal year," says Claire Lowe, marketing activation director for chocolate at owner Mondelez. "Our value share is up 1.3 percentage points. To be able to grow to that extent when you are the size we are is something we are enormously proud of."
Crucially, units are up too, by 6% (in last year's report, they were down). The supers have sold an extra 83.4 million bars, bags and boxes of Cadbury chocolate, 6.1 million more cereal bars, 5.5 million extra cakes and 619,000 more ice creams.
Of course, chocolate confectionery is by far the most important category to the overall brand, accounting for 78.9% of Cadbury's value.
Its chocolate is up 8.3% in value on units up 7.6%. Lowe puts the growth down to a mix of innovation and big marketing investment. That has helped boost the core Dairy Milk lines by 9.1% to £585.5m, making it the biggest contributor to Cadbury overall growth. Units are up 8.1%.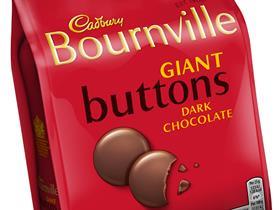 "We've seen a big shift in terms of purchase intent, and that's down to the great activations and TV ads we have done in the past year," says Lowe. She points to the push Cadbury kicked off last year with Age UK.
"Age UK pinpointed the really sad fact that quarter of million older people in the UK can go a week without talking anyone. So, we produced our wordless bars [which came in packaging bearing only Dairy Milk's logo] to encourage people to call their elderly relatives or knock on the doors of elderly neighbours." Thirty pence from the sale of every bar was donated to the charity.
It was backed by an ad centred on an elderly man living alone. As the seasons changed, his young next door neighbours' toys landed in his garden, and the man threw each back over the hedge. In the final scene, a Dairy Milk landed on his lawn and a young voice said: "You don't have to throw that one back."
"The success of this shows that it is very important to consumers that the brands they buy are authentic," says Lowe. "Authenticity is one of the brand values that we hold really tightly on to."
After Dairy Milk, Darkmilk, the 40% cocoa solids spin-off launched in 2018, is the second-biggest contributor to growth. Sales are up £15.4m to £16.5m. Further proof of the vogue for darker chocolate can be seen in Bournville's 53.4% increase, worth £7.4m. Lowe points to the launch of toy-chocolate combo Freddo Treasures as another success, claiming it is now worth £8m.
There's one launch that perhaps hasn't hit the mark, however. The Dairy Milk 30% Less Sugar that launched in July had hit sales of £1.8m by the end of the year. "As a treat brand it is more niche," concedes Lowe, while insisting the launch has hit expectations. "We are confident we have the right recipe and are offering consumers choice."
But how long will retailers want to offer that choice if sales remain so small?
Britain's Biggest Brands 2020: the top 100
1

Currently reading

Britain's Biggest Brands 2020: the top 100

2

3