NPD is expensive and risky. Some brands have pulled back, but others are reaping the benefits of thinking long term and investing accordingly
Britain's biggest grocery brands have faced a hectic 12 months. Against a backdrop of inflationary pressures and ongoing supply chain disruption, they've been locked in negotiations with retailers on price increases.
At the same time, they've been battling to protect core ranges against both the onslaught of supermarket range rationalisations and burdensome new regulations, such as those around HFSS products in stores.
Then, of course, there has been the need to engage with cash-strapped consumers still making their way through a cost of living crisis that is forecast to last well into the second half of this year.
This incredibly challenging climate is laid bare in the performance of the UK's top 100 biggest grocery brands. Though value sales increased 4.5% to £28bn in 2022 among the sector's heavyweights, according to data from NIQ, this was only thanks to significant price rises in many categories, with all but three brands increasing average price – 40% by more than 10%.
In fact, unit sales in the same period were down 3.6% as consumers attempted to buy less, while inevitably spending more.
Which raises the question: what has this all meant for the budget, capacity and even interest in rolling out innovation in the past year? Preoccupied with price, have brands simply turned off the light in their NPD labs? Where have they launched new products? Has their focus on characteristics and cost shifted? And for those brands that have continued to bring out a steady stream of innovation, to what extent has this given them a competitive edge?
In the back seat
Broadly speaking, it's clear NPD has taken a back seat in the past year amid all the other shenanigans.
"Over the last 12 months, a lot of focus has been on protecting the core range and as a result NPD has been neglected," says Mark Thomson, co-founder & director at TRKR. "Brands are having conversations with retailers about cost price increases and trying to get through price increases," he adds. "That's diverted attention away from NPD."
It's a completely logical approach, agrees Ged Futter, director at The Retail Mind. "It's natural to be scaling back and making sure what they've got is working. Launching any kind of NPD costs a huge amount of money and there's a risk of it failing. More fails than succeeds.
"Scaling back just makes complete sense. You have to make sure what you've got already continues to work, particularly for brands."
But though NPD pipelines may have slowed, it wouldn't be accurate to say they've stalled entirely. There have been a number of high-profile launches in the past year, be it Evian (45) adding fizz to its portfolio for the first time in January 2022, Walkers (3) rolling out its first non-HFSS crisps range in March, or Warburtons (6) targeting health-conscious shoppers with its paper-wrapped Seeds & Grains loaves in April.
The bakery brand is among those that believe NPD is as important as ever. "To grow our business, it's incredibly important we continue to invest in innovation," says sales director Colin Bebbington.
"Over the last 10 years, we have invested over £400m in innovation – and now over 20% of our sales come from new products launched within that time.
"Over the last couple of years alone, we have invested over £30m in NPD, launching exciting new products like soft pittas and our range of seeded loaves. We have seen our most recent NPD continue to grow. For example, we now hold a 50% share of the pitta market from a standing start less than two years ago."
In some cases, NPD pipelines may even have sped up, suggests Nick Horan, global brand experience lead at Reckitt. "If, like today, there are exceptional market forces at play, it might be that parts of your innovation pipeline need to be accelerated to cater to the current market conditions, and others may need to slow down until the timing and conditions are right for launch."
Which isn't to say priorities haven't shifted. As the major mults periodically rationalise ranges to optimise categories in light of the cost of living crisis – with Waitrose shrinking its range by 5% in the past year alone, according to exclusive research by The Grocer using data from Assosia – the appetite for experimental or high-risk innovation has shrunk.
Read more:
Instead, the focus is on incremental, insight-driven launches with a clear business case for retail buyers.
It's likely why Pot Noodle (76) turned to the crowd for the launch of its latest variant in 2022, selecting Doner Kebab only after it gathered feedback from 100,000 consumers across Facebook, Instagram and Twitter. That approach paid off, with the SKU the best-performing in the instant hot snack market in the 12 months to January 2023, according to NIQ data.
"Our strategy at Pot Noodle for 2023 remains the same – we will continue to excite shoppers with innovation and flavours based on genuine consumer insight," says Georgina Bradford, marketing director for nutrition UK&I at brand owner Unilever.
Perhaps Bryan Roberts, global insight leader at IGD, has Pot Noodle Doner Kebab in mind when he says: "There has been a sense that suppliers have been looking for fewer but more impactful launches and ones that play into tightened household budgets, as many households are less willing to gamble on a new product that is not tried and tested."
Risk-averse innovation
Alexandra Hayes, of food and drink consultancy Harris & Hayes, agrees with Roberts. "Big brands are still innovating, but they aren't generally taking a punt on riskier NPD right now," she says. "If NPD isn't affordable, relevant and sustainable then it won't last long in the current market."
Unsurprisingly, the biggest requirement for relevance in NPD in the past year has been value. Brands pitching any new product to supermarkets right now will inevitably be faced with a question about how it fits in to the cost of living crisis, points out Nigel White, CEO of The Marketing Place.
And if they don't have an answer ready, that's a problem. New pack sizes or formats that offer a better cost per portion ratio are in demand as a result.
Some high-cost categories, such as maple syrups, have been exploring both the potential of smaller bottles and blended ingredients to bring down the unit price, White adds.
It's also why categories such as frozen have churned out innovation at higher rates in the past year compared with others, says Hayes. Frozen products are inherently "perceived as more affordable" as well as offering "ultimate freshness and convenience but with little wastage".
This doesn't preclude premium brands either. Charlie Bigham's (50), for instance, has tapped growing demand for elevated at-home eating experiences as consumers cut back on eating out. The brand, which defied market trends to grow both value and volume sales in the past year, has added "incremental" NPD that includes broadening the range of recipes in its 'for one' format, and developing twin-packs of its single-serve format for puddings, according to CEO Patrick Cairns.
"We recognised that we have an opportunity to target more consumption occasions during the working week, as well as looking at a new demographic of consumer in terms of younger, single and dual households," he adds.
Health and sustainability
Focus on a value proposition doesn't mean macro trends have completely fallen by the wayside, either. "Health and sustainability aren't going anywhere, and along with price, they remain some of consumers' primary concerns," insists Hayes of Harris & Hayes.
"Even seemingly small EPD [existing product development] changes, like Sainsbury's recently vacuum-packing all beef mince to save 450 tonnes of plastic each year, attract an increasingly conscious shopper whose purchases are driven by values," she adds.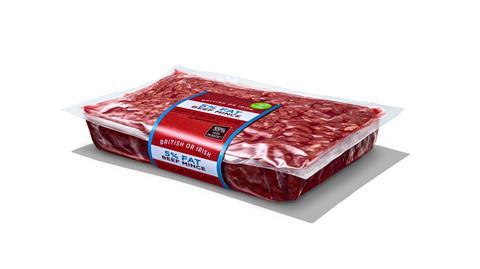 "A lot of big brand healthier NPD has been driven by HFSS legislation, like Cadbury's (1) non-HFSS Fruitier & Nuttier or Starburst Fruit Squares."
At Walkers (3), this been a key area of focus, says chief marketing officer for owner PepsiCo Fiona Tomlin, with the brand continuing with its commitment to a £35m investment over the next three years to reformulate or launch non-HFSS products in its range.
In fact, two thirds of its NPD in the past year has come from non-HFSS SKUs, including the 45% Less Salt crisps in March. The range has already delivered £22.2m in retail sales value.
At Suntory Beverage & Food GB&I, too, new formats for its zero sugar Ribena (88) Sparkling drink and additions to its low-calorie, natural caffeine 'stimulation' drink Lucozade (12) Alert have been part of the innovation pipeline in the past year.
"While our core range is seeing real success, well-designed innovation remains an important part of our strategy," says interim sales director Jon Plows.
"This will continue into 2023 with the launch of Lucozade Sport Zero Sugar, which taps the growth of the sport segment, with year-on-year sales up 29.3% – and Lucozade Sport within this – and the continued desire for low- and no-sugar options, which account for almost 48.3% of total soft drink sales."
Design importance
For these brands that tapped this ongoing demand for new formats, flavours and ingredients, it really paid off. In fact, suppliers that grew sales from innovation in 2022 were 1.8 times more likely to grow overall total sales compared with those with stagnant or declining innovation pipelines, according to NIQ's read of the market.
"Innovation remains a critical priority and competitive edge," says Mike Jones, global head of innovation intelligence & syndicated solutions at NIQ.
"More consumers across a variety of demographic cohorts are actively seeking new products and experiences – for the personal pleasure it gives them and their loved ones, as well as for the social cache it provides them to share with friends and family."
Which is why, as some market forces stabilise, it's likely rates of innovation will pick up in the year ahead.
"Retailers are now crying out for NPD," says Thomson at TRKR. "They want to bring out exciting new products and find ways to tick their strategic priorities. Brands that are looking at insight and opportunities for NPD now are the ones that will do well and start to ramp up.
"I definitely think that seesaw will reverse back and you'll see more NPD coming through. But to pitch NPD and get it on shelf, retail buyers are under even more pressure to make sure it's justified, that there's evidence behind it and it's not gut feel."
The bar for innovation is higher, agrees IGD's Roberts. "Shoppers, as much as retailers, grow weary of the relentless parade of new flavours, formats and variants and it remains the case that genuine breakthrough innovation is thin on the ground.
"What is becoming clear is that retailers are expecting suppliers to showcase NPD in the form of impactful promotions or activations within loyalty schemes. Simply popping a new SKU on the main fixture and crossing your fingers no longer seems to cut it."
That's yet another thing to keep Britain's biggest grocery brands busy in the year ahead, then.
How Britain's 100 biggest brands are innovating through a cost of living crisis
1

Currently reading

How Britain's 100 biggest brands are innovating through a cost of living crisis

2

3

4

5

6

7