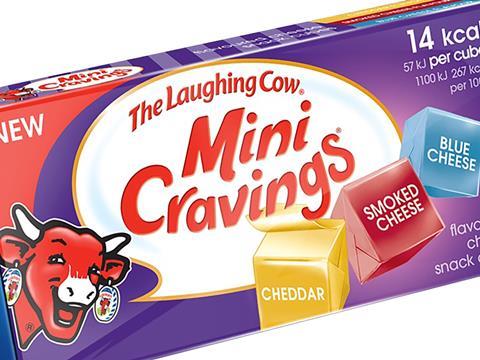 Who: Bel UK

What: The Laughing Cow Mini Cravings Cheese

Where: Cheese

When: Launched March 2015

How much: £2/125g

Why: Bel UK expanded its Laughing Cow range in March with Mini Cravings, packs of 24 individually wrapped cubes of soft cheese. Available in three versions - Original, Herb (comprising ham & herb, garlic & herb and three cheese flavours) and the Cheese variant tested (which comprises Cheddar, blue cheese & smoked cheese flavours) - each cube weighs in at 14 calories.

Consumer verdict: Mini Cravings has set a new record score for the category, achieving a maximum 50 out of 50. Prompting comments such as 'lovely selection of flavours', 'versatile' and 'no waste', the product scored above the category norm for all attributes, with the majority of testers seeing it as ideal for chilling out midweek, as a weekend treat or when entertaining. It was also considered suitable for children. High pre-trial purchase intent was maintained after testing, with more than 90% agreeing Cravings was not only novel but a better alternative to similar products on the market. The maximum rating of 20 was achieved for innovation & relevance.

Pre-trial purchase: 72%

Post-trial purchase: 96%

Better than what's out there: 96%

New and different: 98%

Overall score: 50/50

What is Fast Foodfax?
It is a subscriber service that has been running for more than 30 years, offering consumer assessments of new products and allowing comparisons with more than 17,000 products from our database. It is objective, impartial and totally independent, and each product is assessed using original consumer feedback from respondents across the UK. See here for further information. Fast Foodfax is prepared by Cambridge Market Research, which works closely with The Grocer magazine on a variety of projects including the consumer judging element of the The Grocer's Own-label Food & Drink Awards and New Product Awards.
Tel. 01223 492 050 Email: Info@CambridgeMR.com