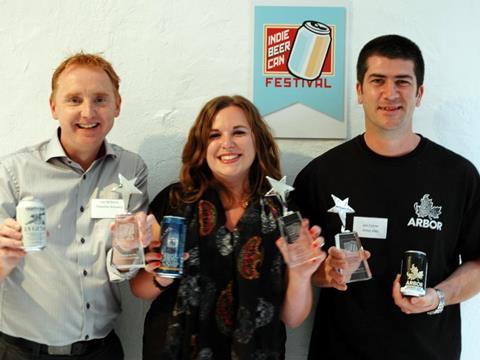 Adnams Ghost Ship has been named the UK's best independent canned beer.
The Suffolk brewer's pale ale beat Thwaites' 13 Guns and Arbor Ales' Breakfast Stout into second and third place respectively at the Indie Beer Can Festival in London yesterday (11 September). The festival, which was jointly held by trade body the Can Makers and the Society of Independent Brewers (SIBA), invited independent brewers in the UK and Ireland to submit their beers, regardless of usual packaging, to be judged in cans.
More than100 entrants were whittled down to 12 finalists judges by a panel including Tesco beer buyer Chiara Nesbitt, Can Makers chairman Graham Fenton and Peter Love, president of Cask Brewing Systems Inc.
The judges praised Ghost Ship for its notes of tropical fruit, balanced malts and sparkling amber appearance. "The competition was very tight but Adnam's Ghost Ship clearly stood out from the others," said Nesbitt. "We felt this beer had the widest appeal of the finalists and all agreed it was a joy to drink and suited the canned format perfectly. All twelve finalists are great examples of how independent beers look and taste great in cans."
Fenton said the festival acknowledged the "rapidly growing trend" for canned independent beers, and added: "Cans are convenient, light, quickly chilled and they look great. In America, canned independent beers are the height of cool, and it won't be long before the same can be said in the UK."