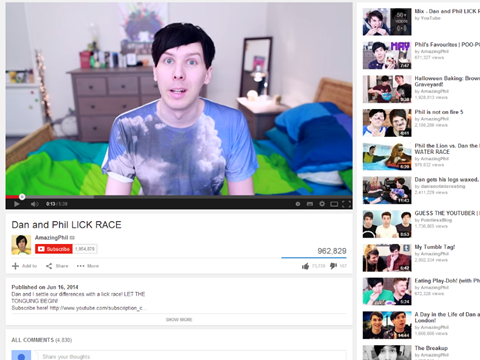 Five vlogger YouTube videos featuring Oreo biscuits have been banned by the advertising watchdog for not being 'obviously identifiable' as marketing communications.
The Advertising Standards Authority upheld a single complaint made by a BBC journalist after it deemed the videos, in which vloggers, friends and characters take part in an Oreo 'Lick Race', were not presented in a style that made it immediately clear they were ads. In a Lick Race, contestants compete to see how quickly they can lick the cream filling off an Oreo.
The ASA noted all the clips contained references to Oreos and other Lick Race videos and accepted that four of the videos stated variations of 'Thanks to Oreo for making this video possible'. It also acknowledged that three videos either mentioned contact with Oreo or that the video was part of a campaign.
However, the watchdog asserted that the CAP Code required ads to be obviously identifiable as marketing communications and, as the presentation of the footage was in keeping with the editorial content of the respective channels, this wasn't immediately clear from the style alone.
"We considered this should apply to the general audience of the ad and considered that, given that these ads were on online video channels that were usually editorial based, the commercial intent would have needed to be made clear before viewers engaged with the content," the ASA stated in its ruling.
The authority said it acknowledged Mondelez's assertion that comments made by some viewers indicated they understood a financial arrangement may have been in place, but insisted this did not demonstrate that the videos had been identified by these viewers as ads specifically, or that the audience more generally would have identified the commercial intent of the videos before engaging with the content.
In its response, Mondelez said it had not intended to mislead consumers and claimed the description boxes under each ad stated the video had been created with Oreo. It also believed the inclusion of the acknowledgement at the end of the content 'did not render it unidentifiable as an ad'.
However, the ASA disagreed, claiming the statements did not fully establish the commercial intent of the videos and stating 'no disclosures were made before consumer engagement with the material.'