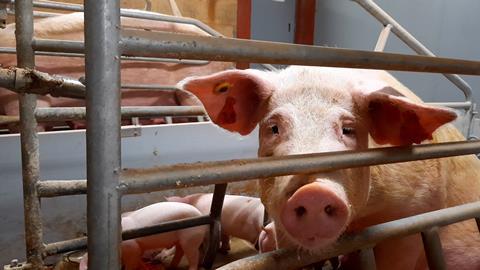 Companies are too slow to deliver meaningful welfare improvements for animals on the ground, a new report has found.
The 10th annual Business Benchmark on Farm Animal Welfare (BFFAW) report, published today, has shown that companies are continuing to invest in animal welfare. However, its authors are calling for them to move even faster to make meaningful change.
The report analysed 150 global food companies with a total of six British retailers ranking within the top two tiers. Waitrose and M&S both retained their tier one positions for the eighth and ninth consecutive years respectively.
Suppliers Noble Foods amd Premier Foods were also ranked in tier one, while Greggs, Cranswick, Danone and Unilever were ranked in tier two.
Of the 150 food and drink companies covered by the benchmarking study, 134 (or 89%) now acknowledged farm animal welfare as a business issue, compared with 71% of the 68 companies evaluated in 2012. Some 122 companies (81%) had formal policies on farm animal welfare (up from 46% of companies in 2012), while 119 companies (79%) had published formal objectives and targets for animal welfare (an increase from 26%).
The 2021 benchmark increased the focus on 'Impact' and direct changes being made on the ground rather than commitments or goals from companies. Impact now accounted for 45% of the total score and ranks companies 'A-F' on the 10 performance impact questions. Marks & Spencer and Waitrose were two of only five companies to achieve a 'B' Impact Rating. No company achieved an 'A' Impact Rating.
BBFAW suggested this indicated a disconnect between many companies' animal welfare commitments and their subsequent impact on farm animals in their supply chains.
"Our approach starts at the farm, and we go to great lengths to work with the best farmers – those who are dedicated to quality and who take good care of their animals," said Steve McLean, head of agriculture & fisheries sourcing, M&S Food. "Today, we have rigorous requirements for animal welfare that exceed standard industry practice and legislation and every one of our 12,500 supplying farms must meet them to supply us."
"We've flown the flag for higher animal welfare practices for decades, but it is down to the tireless effort and commitment of our farmers that we've managed to make the progress we have," said Jemima Jewell, agriculture and responsible sourcing lead, Waitrose. "Their dedication to farming to a higher standard and our close relationship with them is what sets us apart and we want to thank each and every one of them."
Premier Foods, menwhile, said its tier one status reflected its "continued efforts to improve animal welfare standards within its supply chain" via projects such as the Better Chicken Commitment.
The main UK retailers all retained their tier rankings Waitrose (tier one), M&S (tier one), Tesco (tier two), Sainsbury's (tier two), Co-op UK (tier two) and Morrisons (tier two). However, the companies had varying degrees of success in the newly published Impact Rating, with Sainsbury's, Morrisons and Co-op UK all awarded a 'D'.
"Today, around 80% of the 150 companies assessed by BBFAW have strengthened their governance of farm animal welfare through formal policy commitments, objectives, and targets," said Nicky Amos, executive director of the BBFAW and MD of Chronos Sustainability.
"While this provides a strong foundation for action, companies need to demonstrate that their investments in farm animal welfare are delivering positive welfare impacts for animals on the ground," she added.
"Our focus now must be on ensuring that companies across the globe really do drive forward and deliver substantial and measurable welfare improvements for farm animals," said Philip Lymbery, global CEO at Compassion in World Farming. "This means making significant progress in their supply chains: for example, moving away from keeping animals in confinement systems such as cages and crates, and towards more humane and sustainable husbandry practices, to help create a food system that works for animals, people, and the planet."
The report calls for change following a number of notable welfare scandals in the UK food industry in the past year.