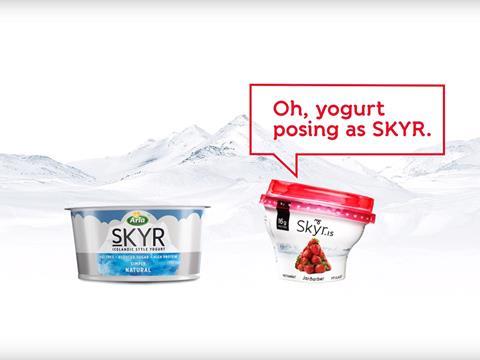 Icelandic dairy co-op MS Iceland has gone head-to-head with rival Arla after securing the first-ever UK supermarket listing for its Iceland-manufactured skyr yoghurt.
The processor's range went on sale in 199 Waitrose stores last week in plain, vanilla and blueberry flavours (rsp: £1.25/170g pot), and will be sold alongside Arla's Icelandic-style skyr yoghurt, which was launched last year.
MS Iceland said the Waitrose listing marked the first time real Icelandic-made skyr had been sold in any significant volume in UK. It has a 42-day shelf life and will be shipped weekly to the UK from Iceland.
The co-op, which sources its milk from 600 farms on Iceland, has clashed on several occassions with Arla over its rival's German-made Arla Skyr, and won an injunction in Finland last year ordering Arla to stop using the word 'skyr' after arguing successfully that it owned the trademark. Arla said it was appealing the decision, but its skyr product is currently not available in Finland.
MS Iceland has also taken issue with the multimillion-pound European marketing campaign for Arla Skyr – which it said suggested strong Icelandic links despite Arla's product being manufactured in Germany. It ran a web ad campaign last year mocking the Arla product's authenticity.
"The UK could be a big market for us," said MS spokesman Jón Axel Pétursson, who slammed Arla's decision to market its skyr product with strong Icelandic imagery as "pretty low". Arla had competed with MS in Sweden for many years without resorting to overtly Icelandic imagery on its skyr, he added.
A spokesman for Arla said the co-op welcomed new entrants into the yoghurt fixture. "Some 70% of Arla Skyr sales are adding incremental value to the yoghurt category and it has proven itself with consumers by reaching a high repeat purchase rate," he added.
Arla results
It comes as Arla announced strong 2015 results for its UK business, with new branded products such as Skyr, Big Milk and Arla Protein helping drive volume growth of 5.2% for the year. It also saw record volume sales in butters and spreads with Lurpak and Anchor up 4.6%, while Cravendale saw sales grow by 2.1%.
Overall revenue in the UK increased from €2.8bn in 2014 to €2.9bn in 2015. But on a group level, Arla experienced a 3.3% fall in sales to €10.3bn, which Arla said was "in line with the company's expectations" due to the ongoing price pressure felt across the global dairy sector.
"Our performance success means that we will continue to invest in branded growth, and increase our marketing spend as well as our presence in the yogurt category in 2016," said Peter Giørtz-Carlsen, executive vice president of Arla Foods UK.