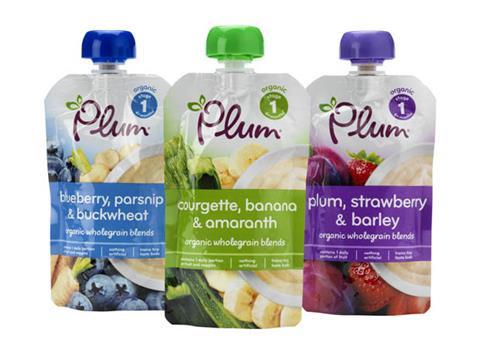 The US business that acquired British organic babyfood supplier Plum Baby UK 18 months ago is closing down the operation.
The Buckinghamshire-based supplier is being wound down following a strategic review of its business. California-based owner Plum BPC said it planned to close the business by the end of the summer, "through a carefully planned and managed scale-back programme designed to minimize impact on its customers".
The news follows a statement posted on the Facebook page and website of the UK operation last week that read: "We have some sad news… Our company is currently proposing to wind down the business here in the UK. We are proud of our range of products but we also need to run a viable business, and in the current market this is challenging."
Plum BPC said the decision "in no way reflects the accomplishments of the Plum UK team, which has shown great passion and energy building a brand that is loved by parents and children. The company is working to assist those affected move on to new opportunities".
Plum Baby, which was founded 10 years ago, was acquired in January 2013 by US organic food supplier Plum BPC. Until then there had been no connection between the two businesses, and the similarity of their names was a coincidence.
At the time, Plum BPC said the deal would create a joint operation worth $120m in retail sales, and would allow both businesses to benefit from supply chains and distribution networks that would span the UK and US.
"Plum Organics is known in the US as a game-changing innovation hothouse, and we can't wait to capture some of that momentum by bringing their products to little ones in the UK and beyond," said Plum Baby CEO Scott Wotherspoon when the deal was announced.
Wotherspoon left the business in February this year to become head of functional milk brand A2 Milk.
In November, Plum was forced to recall some of the first products introduced to the UK by the new owner. Six pouched products that had been manufactured in the US were pulled from Tesco five days after the launch following complaints in the US that some Plum pouches had become bloated and were unsuitable for consumption.
This May, the business recalled a batch of its pouched Bread & Butter Pudding in the UK after it was found that a "very small" number of pouches were under-processed, which could have caused the food to spoil.
Plum BPC said the decision did not affect any other part of its business adding it would "continue to invest in growth opportunities in the United States and selected international markets".