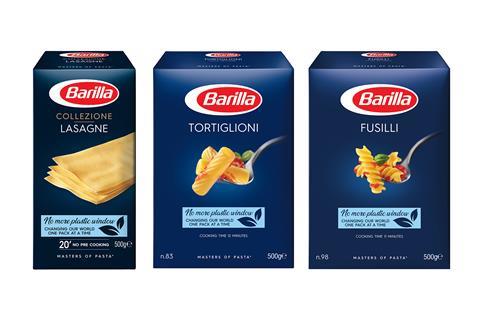 Barilla has rolled out 100% recyclable packs across its biggest pasta lines.
Its has removed plastic front windows from its its Penne, Fusilli, Spaghetti, Lasagne, Linguine, Tortiglioni and Mezze Penne Tricolore pastas, and moved them into new packs made from "a combination of paper-based materials and 100% virgin fibres", which Barilla added were sourced responsibly from certified sources.
The new paper packs feature instructions and visual aids to "ensure ease of disposal for consumers".
It's the latest in a series of 'Good for You, Good for the Planet' commitments to design, product and distribute packaging responsibly from the brand. It has looked to ensure materials are sourced renewably, use resources from responsibly managed forests and reduce the quantity of materials used in packaging.
It follows a similar packaging change from Napolina in September last year, in which the supplier switched from plastic packs to "fully coated boxboard" across 12 SKUs.
Barilla has recently seen a number of lines dropped by Tesco, with the retailer slashing its listings from 18 SKUs to just five. Lines to be cut included its 500g packs of penne, fusilli, tortiglioni and linguine.