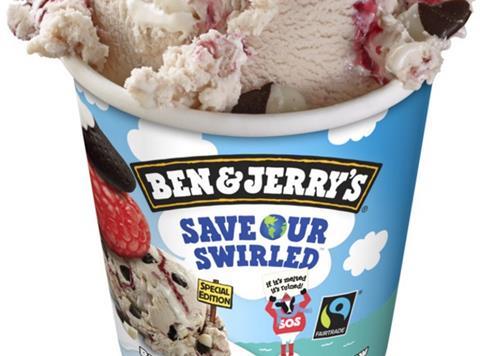 Unilever-owned Ben & Jerry's is looking to flag up its commitment to the environment with new ice cream variant Save Our Swirled.
The product, which comprises raspberry ice cream with marshmallow and raspberry-blackberry swirls and chocolate pieces, will roll out to stores from October (rsp: £4.99).
Ben & Jerry's is promoting a petition started by international campaigning group Avaaz calling on world leaders to switch to 100% clean energy. The brand has also committed to "dramatically reduce" its own carbon footprint.
"Ben & Jerry's has a rich heritage of campaigning for climate change, and through launching Save Our Swirled we hope to encourage our fans to join us in calling on leaders around the world to support the transition to 100% clean energy," said Ben & Jerry's social mission manager Ed Shepherd.