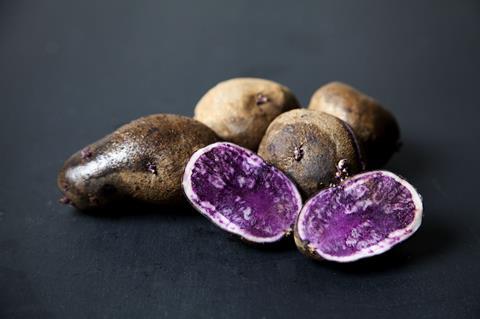 Blue spuds, once a staple British crop, are back on the dinner table after being listed by online marketplace farmdrop.co.uk.
The organic nutty-tasting potato variety disappeared from UK plates after post-war farmers were pushed towards higher-yielding varieties.
But former Cambridge scientist Adrian Izzard – who runs organic family farm Wild Country Organics in Cambridgeshire – has now revived the heritage spud and begun producing it in unheated glasshouses.
Costing £1.90 per 1kg bag, the organic potatoes went on sale this week, and generally arrive with customers some 17 hours after being dug up, Farmdrop said.
"Too many delicious foods are lost to a complicated food supply chain that delivers bland, chemically-preserved produce," Farmdrop founder Ben Pugh, said.
"We're using very modern technology to change that by connecting food-lovers directly to local food producers, and help bring great-tasting food of the past such as blue potatoes back into the present," he added.
The online farmers' market gave Izzard's business direct access to customers in an environment that was "otherwise impossible for small-scale farmers to survive in, especially with the large supermarkets controlling so much of the veg growing in this country," he added.