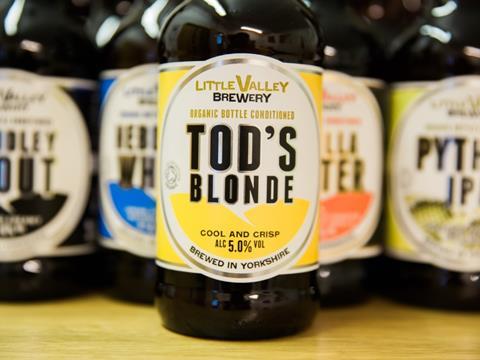 West Yorkshire's Little Valley Brewery has secured a listing in Booths for four of its bottle-conditioned beers.
Two of the new beers will be available year-round from this week: 5.0% abv Tod's Blonde (rsp: £2.39) and 6.0% abv Python IPA (rsp: £2.39). The brewer's Stage Winner (rsp: £2.19), a 3.5% abv pale ale, will be stocked until the end of summer, when it will be replaced by 4.5% abv Vanilla Porter for autumn and winter.
The new lines join the Hebden Bridge brewery's flagship product Withen's Pale Ale (rsp: £1.95, 3.9% abv), which is already in the retailer. In addition to being bottled-conditioned, the full range is vegan and organic.
"It is fantastic for us to be able to introduce these products to Booths and share them with beer fans in the North," said Little Valley co-owner Sue Cooper. "We are sure that the new product lines will be a huge success."
Booths beer buyer Pete Newton said the retailer had worked with Little Valley Brewery for some time. "We are proud to work with lesser known northern breweries and to recognise and celebrate their northern excellence," he added.