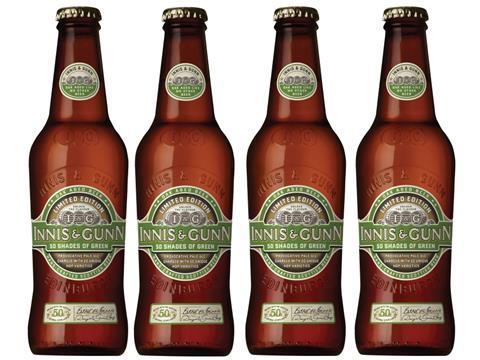 Brewer Innis & Gunn has been inspired by raunch-fest 50 Shades of Grey to whip up a new beer designed to get drinkers feeling frisky.
The very limited edition 4.2% abv 50 Shades of Green – the brewer has made just 200 of the 330ml bottles that it is selling through its website at £30 a pop – contains 50 different types of hops and some added ingredients claimed to have stimulating properties:
Ginseng, which would "get your sex drive firing on all cylinders," according to the brewer; Ginkgo to "get blood pumping to all the right places"; and nerve stimulant Damiana "to help hit the sweetspot".
News of the launch comes ahead of the release of the movie version of 50 Shades of Grey. It will be steaming up British cinemas from 13 February, when fans can watch the exploits of Anastasia Steele and Christian Grey.
"We had a lot of fun making this beer, doing things that have never been done before in brewing, much like couples all over Britain will be doing behind closed doors once they've seen the film," said Innis & Gunn CEO Dougal Sharp. "Seriously, who wants Grey when they can have a love affair with something far more lively…this is all about full-on flavour with a little bit of a kinky kick. Forget the British stiff upper lip, this is one you'll want to stand to attention for."