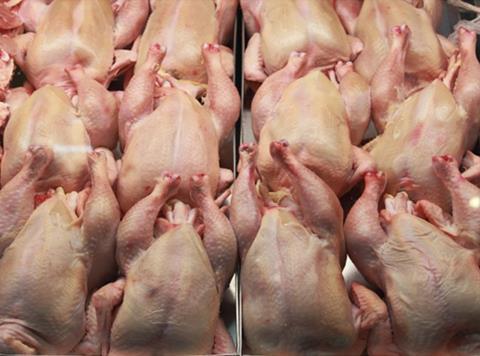 Media reports that supermarkets are knowingly selling chickens contaminated with campylobacter may mislead consumers, the British Poultry Council (BPC) has claimed.
An article in today's (19 November) The Times cited BPC data that showed 24% of a randomly tested sample of 5,000 batches of chicken had tested positive for the highest levels of campylobacter contamination.
The results were similar to those revealed in August in the first batch of quarterly results from a 12-month survey currently being undertaken by the FSA on the prevalence and levels of campylobacter contamination on fresh whole chickens and their packaging. The FSA survey showed 16% of birds at the highest level of contamination of more than 1000 colony forming units per gram, and 26% at between 100 and 1000 cfu/g.
The Times report continued that retailers had taken no action to remove the contaminated chicken, despite the BPC receiving results of its random tests and sharing them with retailers within two days.
BPC CEO Andrew Large said The Times article was based on a small sample of testing, designed to assist members of the Joint Working Group on Campylobacter in their operations.
"As the data is neither comprehensive nor statistically robust, it will not be useful for consumers and risks being misleading," he warned, adding: "Consumers have a key role to play as good kitchen hygiene will remain a cornerstone of preventing foodborne illness."
A spokeswoman for the British Retail Consortium defended the decision not to withdraw contaminated meat, noting that the only way to be sure it was safe to eat was by "cooking it properly and observing good kitchen hygiene".
She added that the 5,000 tests voluntarily carried out were for chicken suppliers to audit against hygiene criteria "and not so that products can be withdrawn from sale".
"As long as campylobacter is present in the food chain, and we don't yet have the solution for that despite our best efforts. We need to maintain the very strong message that all raw chicken should be handled with appropriate care and releasing incomplete data could dilute that message to consumers and lead to confusion," she warned.
The FSA will next week issue the second set of quarterly results of its campylobacter survey, when it will also "name and shame" retailers with the worst record for campylobacter-contaminated poultry.