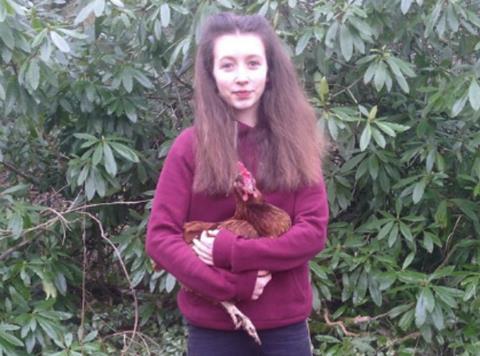 Environment secretary Andrea Leadsom has become the latest target of a schoolgirl's campaign to put an end to caged hen farming in the UK.

Fourteen-year-old Lucy Gavaghan, who has petitioned Tesco, Asda and Morrisons over the sale of caged eggs, called on Leadsom to make the practice illegal.

Gavaghan's petition began on Friday and has already gathered over 21,000 signatures.

In her letter to Leadsom, the schoolgirl acknowledged the UK was "ahead of many other countries in terms of farm animal welfare legislations" and that the main supermarkets would stop selling eggs from caged hens by 2025.

But it was likely that caged hen farming would continue on a smaller scale, she said. "This is why the farming method has to be made illegal, in order to ensure that the welfare of laying hens is improved on the greatest scale possible," Gavaghan argued.

"I understand that this change cannot be immediate, but I will do whatever it takes to ensure that the hens in the commercial farming industry are given the highest quality life possible," she pledged. "I would like to think that the country I and future generations grow up in will be one that treats animals with fairness, respect and compassion, regardless of what they offer to society."

Defra refused to comment on the petition but its response suggested it was unlikely to be swayed. "The government shares the public's high regard for animal welfare and we have some of the highest standards in the world," said a spokeswoman. "Every livestock farm, regardless of scale, must comply with strict legislation, including comprehensive environmental and animal welfare rules."

Gavaghan's campaign began in the spring, when she called on Tesco to ban the sale of caged eggs in a petition that gained 300,000 signatures. In July, Tesco announced it would withdraw the eggs from sale by 2025 - although it did not cite the petition as a reason.

Later that month, Gavaghan turned her efforts to Morrisons and Asda with a new petition. Within the space of two weeks, both supermarkets pledged to stop selling eggs from caged hens before 2025.

Since then, Iceland, Lidl and Spar have made the same pledge. Aldi also vowed to stop selling caged eggs at the start of the campaign in May.

Waitrose, M&S, The Co-op and Sainsbury's are currently the only major UK supermarkets to sell 100% cage-free shell eggs.