The grocery and poultry industries respond to the Food Standards Agency study that has revealed 70% of all chickens sold in UK supermarkets are contaminated with campylobacter to some degree.
Asda
"We take campylobacter seriously and it goes without saying that we're disappointed with these findings. There is no 'silver bullet' to tackle this issue, but along with other retailers, we're working hard to find a solution.
"We welcome the transparency of the FSA results and are committed to providing our shoppers with safe, quality food. We have led the industry in packaging innovation and were the first supermarket to launch Roast in the Bag chicken, removing the need to handle raw meat. And we continue to work with our suppliers to ensure that we are doing everything we can to reduce the chances of our customers coming into contact with campylobacter – including investing in trialling a new procedure - SonoSteam - which, if successful, we will roll out across our suppliers.
"We also continue to offer shoppers helpful advice on how to safely prepare and cook chicken – which will kill off any trace of the bug."
The Co-operative Food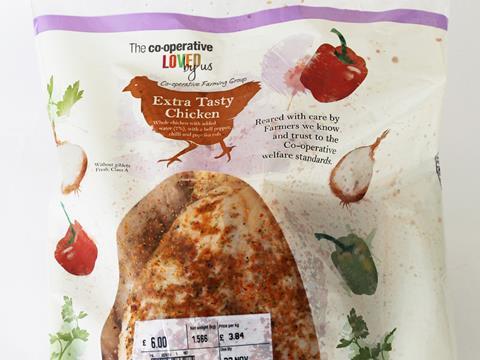 "Food safety is an absolute priority for our business and we are working hard with our suppliers and farmers to tackle campylobacter in farms and during production.
"We are part of the industry-wide efforts to reduce levels and we are testing new technologies to find a long-term solution.
"We are introducing roast-in-bag packaging for all our whole chickens as part of our efforts to reduce incidents of campylobacter. Roast-in-bag packaging means there will be no need for consumers to handle raw chicken, thereby improving food safety and hygiene in the home."
Marks & Spencer
"The data shows that we have amongst the lowest levels in the industry. We've tested thousands of chickens and our results are consistently a third lower than the FSA target. We take food safety extremely seriously and have introduced an innovative five point plan that ensures the highest standards and makes it easy for our customers. The FSA has described the plan as "impressive" and it is working. Our latest results show a step change with levels down to around 5%."
Morrisons
"Morrisons and our suppliers are working incredibly hard to reduce campylobacter. We have introduced a number of improvements since the FSA collected its data in August this year. From Monday, Morrisons packaging of whole chickens will contain stronger advice to consumers, and from January next year we will be introducing roast in a bag to half of our range of whole chickens.
"Our own independently verified test results, derived from a larger sample over a longer period, showed high levels of campylobacter were found in 10 per cent of whole chickens. This is in line with the FSA's own target."
Actions we are taking:
We currently have advice on all our packaging advising against washing raw chicken. From Monday (1st December) whole chickens will feature new enhanced messaging with clear advice "Do Not Wash" poultry before cooking
To enhance consumer choice we will be launching a range of Chicken in Oven-ready packaging in January 2015. This will be across 50% of our whole chicken range to give customers the choice of not having to handle or touch the raw chicken at any point, thereby eliminating cross contamination risks.
Morrisons conducted our own testing over 12 months looking at levels of campylobacter – the FSA only tested for 6 months. Our own tests revealed only 10% of the chickens sold by Morrisons had high levels of Campylobacter. The FSA target is 10%.
During National Food Safety Week Morrisons ran a strong campaign promoting the 'don't wash raw chicken' message. We ran the campaign through all stores and utilised social media to reach our 11million customers and 110,000 staff.
Morrisons is a member and active contributor to the FSA Joint Working Group into Campylobacter reduction.
As part of the FSA working group we are monitoring the results of supplier trials in thinning, Sonos steam and rapid chilling to consider, if successful, which could be taken forward with our own suppliers
We have a continuous improvement programme in place with all major suppliers focusing on a number of interventions including increasing standards in evisceration and carcase washing. Morrisons is then monitoring these interventions with monthly progress reports from suppliers.
One of our suppliers is also running a Model Farm looking at biosecurity and ways of reducing the presence of Campylobacter and early results are positive.
Sainsbury's

"Campylobacter is a naturally occurring bacteria which is easily controlled by common-sense food hygiene measures. Proper cooking will kill it completely.
"We're committed to reducing campylobacter in the supply chain through cutting edge technology and close collaboration with suppliers – but we also share best practice on kitchen food safety with customers so they can always prepare chicken safely.'"
Tesco
"Providing safe food is always our absolute priority. Tesco is committed to the reduction of the industry-wide issue of Campylobacter in poultry. We were one of the first retailers to introduce more robust leak proof packaging in 2011, and continue to work with suppliers to try and keep flocks free of campylobacter and implement best practices with processors.
'We are supporting a wide ranging programme of work with our suppliers assessing new innovations including the very first full scale trial of rapid surface chilling, to ensure we remain at the forefront of any developments to reduce Campylobacter further in raw poultry.'
Additional points:
Tesco will be co-funding the very first fully inline trial of rapid surface chilling in partnership with one of its suppliers, in the early part of 2015.
In December labelling on packaging will be more prominent and will include a new 'Do Not wash' label.
For customers who prefer not to handle chicken directly, we provide one of the largest ranges in the market of cook in the bag chickens and are looking to develop this range further.
We will be trialling innovative packaging solutions next year, which could prevent cross contamination in stores and at home.
Tesco has worked with suppliers to help keep flocks free of Campylobacter, by installing farm protocols above and beyond industry standards.
We funded the first farmer incentive trial, rewarding farmers who were able to keep flocks free of Campylobacter and are co-funding larger incentive based trials.
We are conducting a trial to fully assess the impact of not thinning flocks (Thinning is the removal of about 25% of the birds from a house to leave sufficient space for the remaining birds) and are co funding work to improve farming protocols during thinning.
Tesco funded the work that led to the development of the carcass washing guidelines, now available to the industry. All of our sites have been independently audited for control of Campylobacter, including compliance to this guidance and other best practices.
Contamination of the outside of packaging can occur at the factory if individuals handling raw chicken also handle packed product- Tesco require that suppliers have in place procedures to prevent this and store staff are trained to look out for and remove any damaged or leaking packs from shelves.
Tesco has funded research and projects within the industry and co-funded university research.
Campylobacter is destroyed by thorough cooking, and we provide comprehensive consumer advice on the safe handling of chicken. All of our raw poultry contains safe handling information on packaging and cooking instructions are checked to ensure thorough cooking. Further detailed information and a video are available on our Real Food website.
Waitrose
"The safety of our customers is our highest priority. By working closely with farmers we know and trust, we have been tackling this issue for several years and are actively working to further reduce our levels.
"We are helping customers to understand the importance of handling and cooking chicken properly, which destroys all traces of campylobacter. Waitrose has also sold roast in the bag chicken for three years, and will be launching more lines of "cook in the bag" birds in 2015."
Joint Working Group on Campylobacter
Richard MacDonald, Chair
I know that all the stakeholders are here to find a solution, and we are convinced that solid scientific process supported by robust data will be theonly path to success. It will take time and effort but I firmly believe we will see incremental improvements made in the fight against campylobacter. All parts of the food chain must work together and I hope we will continue to have the full support of the FSA to do it. There is no 'silver bullet' to eradicate this bacteria, but we hope that by operating a step by step approach from farm to fork, we can reduce levels found in chicken."
2 Sisters Food Group
"Campylobacter is a naturally occurring bacteria which lives inside healthy chickens and is killed by cooking. Providing people prepare chicken properly and follow sensible hygiene practices, they're at no risk.
"As poultry producers, we are working hard with our retail and agricultural partners to reduce its presence. We've made massive progress in recent years, and 2 Sisters Food Group will continue to invest on top of the £10m we have already pledged to spend to reduce its presence.
"There is no 'silver bullet' solution. If there was a scientifically proven intervention which would completely eradicate campylobacter, it would have already been implemented.
"We believe our industry-leading approach – which touches all levels of the supply chain from farm through to consumer - will go some way to substantially reducing levels.
"We hope the response to this FSA data is proportionate. Unnecessary over-reaction around this issue does have the potential to cause undue alarm for consumers and consequently damage the UK's food and farming industries."
Faccenda Foods
Andy Dawkins, managing director
"Reducing Campylobacter has always been a top priority issue for Faccenda Foods. We are demonstrating our commitment by investing in what we believe are necessary, impactful ways of tackling this issue. The recent first half year Campylobacter Retail Survey results further reinforce our decision to invest across our supply chain to address this food safety challenge, which is an issue faced by all poultry producers.
"Faccenda Foods is committed to an ongoing programme of improved bio-security and hygiene at our farms, but the major focus of our current investment recognises the difficulty in eradicating this naturally occurring bacteria from the bird supply chain itself. Therefore we have concentrated on two key areas: factory processing intervention to significantly reduce the amount of Campylobacter in chicken and packaging innovation to improve food safety in the kitchen.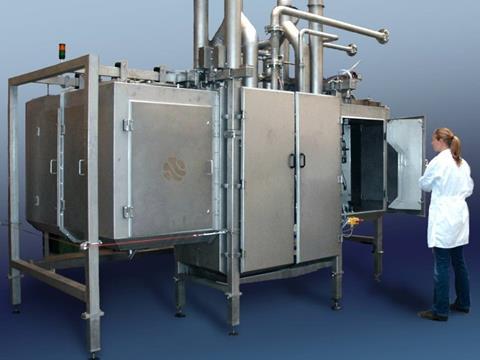 "Faccenda Foods has spent the last year trialling a new factory process called Sonosteam, which has the potential to reduce Campylobacter by 90%. The technology kills Campylobacter and other micro-organisms on the skin of chickens through the simultaneous application of both steam and ultrasound. The steam kills the micro-organisms and the ultra-sound optimises the effect, so the process time required is only 1.5 seconds. We are now installing the equipment in our primary processing factory in Brackley and will be starting full scale in line operational trials in December. If as suspected these prove successful then we have committed to spending £1m on this new technology. The investment will ensure that every single chicken we process passes through Sonosteam to minimise the risk of Campylobacter.
"Faccenda Foods has also led the way in significantly improving food safety in the kitchen through novel product and packaging design. Working in partnership with Asda in 2013, we invested a further £1m to launch the first-to-market range of multi-award-winning Simply Roast in the Bag products. As the chickens are cooked in oven-ready packaging, there is no need for consumers to handle the raw product. Simply Roast in the Bag improves food safety at home and, as supported and endorsed by the FSA, significantly reduces the risk from Campylobacter. We have been very pleased by consumer reaction to this product – reflected through unprecedented demand.
"By combining a technological intervention focused on applying an effective process to every bird, with a packaging innovation to help consumers handle whole chickens safely and conveniently in their homes, we are confident that we will meet the FSA 2015 Target for Campylobacter Reduction and drive a significant reduction in food borne illness."
British Retail Consortium
Andrew Opie, Director Food and Sustainability
"Today's figures are an important reminder that we have not yet found a way to prevent the presence of Campylobacter in raw chicken and supermarkets are working even harder to find solutions to help consumers such as leak-proof packaging for all raw chicken and new roast in the bag products – this is our top priority for food safety. Retailers, farmers and producers have been working with the FSA and DEFRA for many years as part of the joint government and industry campylobacter working group and millions have been invested into researching solutions for eradicating the bacteria.
"We are committed to continuing the search for a solution to Campylobacter and we support the work of the FSA to get clear advice to consumers about proper cooking and kitchen hygiene.
"There has been concern that implementing a solution to prevent Campylobacter will mean the cost of chicken increases but we believe any increase should be small and in our competitive market retailers will work with their suppliers to do everything they can to avoid passing this on to consumers."
British Poultry Council
The British Poultry Council (BPC) views the release of retail survey data as another step to reduce the number of cases of food poisoning by raising awareness amongst consumers. Over the last five years the poultry sector, with retailers and the FSA, has worked hard to understand how this naturally occurring bug gets into flocks, how we can stop it, and how we can remove it once it's there. It is important to note that campylobacter is a global issue.
The data released from six months of sampling shows that all producers and retailers have levels in the same range. The difference between upper and lower in overall level of campylobacter in flocks is not statistically significant when examined against confidence intervals. This reinforces how universal and challenging the issue is and the complex nature of campylobacter. This data for the first half of 2014 reflects the historical trend of campylobacter peaking in the summer months, and we look forward to seeing the results from future surveys.
It is right that consumers have plenty of information on which to base their buying decisions, be that on safety, welfare, convenience, or price. The industry is freely sharing its progress on reducing campylobacter and details of work undertaken and ongoing can be found at www.campylobacter.org.uk
Campylobacter is not a new phenomenon and research into the bacteria has been ongoing for decades across the globe. We have made significant improvements in detection methods and diagnostics in recent years which will aid our continuing research and measuring the effects of any potential intervention.
Professor Chris Elliott, Director of the Institute for Global Food Security who led the government's review into the integrity and assurance of food supply networks, said: "Campylobacter is a complex problem to get to grips with, not only in the UK but worldwide. The Food Standards Agency have very correctly identified this as an important issue for them and the UK food industry to work on in a collaborative manner. I'm not aware of any region in the world working harder to find solutions to this problem but in my opinion, having looked at all the evidence, there is no 'quick fix'. Improved interventions at the farm level, food processing and packaging, food service and at retail will all be required to really get to grips with significantly reducing the level of contamination and reducing associated human illness. "
Poultry producers have looked at every part of their production chain to see where new ideas and technology can combat this very complex bacteria. Improved biosecurity on farms, new methods in the slaughterhouse, and brand new technologies being developed such as SonoSteam, rapid surface chilling, and roast-in-the-bag packaging. We hope that a combination of these measures will, over time, reduce the level of campylobacter in chickens.
We need to improve the amount of teaching children (and in many cases adults) get in terms of storing, preparing and cooking food
Reducing the use of thinning (removing birds from a house in stages) is an intervention that may reduce the risk of colonisation by campylobacter in flocks. Not thinning would mean fewer birds being produced on a given farm and at a higher cost, and across the industry more growing space would be required to meet consumer demand.
Consumers also have a role to play as thorough cooking eliminates campylobacter, and along with proper storage and handling any risk can be managed in the kitchen. Roast-in-the-bag technology, on the shelf alongside regular packaging, will allow consumers to choose a product that suits both their lifestyle and their level of confidence in handling and cooking chicken.
Professor Elliott continued: "I also believe education has a major role to play. We need to improve the amount of teaching children (and in many cases adults) get in terms of storing, preparing and cooking food. In terms of the much broader issues of food security and healthy diets, poultry is an extremely important food source. I firmly believe collectively we will get on top of the Campylobacter issue but this will only be achieved by all stakeholders, including us as consumers, playing important roles."
The BPC and its members are committed to the Joint Working Group on campylobacter, between industry, government, and retailers. This forum has delivered significant understanding of campylobacter over the last five years, and is now overseeing the implementation of techniques that have been developed.
Richard MacDonald, Chair of the JWG, said: "I know that all the stakeholders are here to find a solution, and we are convinced that solid scientific process supported by robust data will be the only path to success. It will take time and effort but I firmly believe we will see incremental improvements made in the fight against campylobacter. All parts of the food chain must work together and I hope we will continue to have the full support of the FSA to do it. There is no 'silver bullet' to eradicate this bacteria, but we hope that by operating a step by step approach from farm to fork, we can reduce levels found in chicken."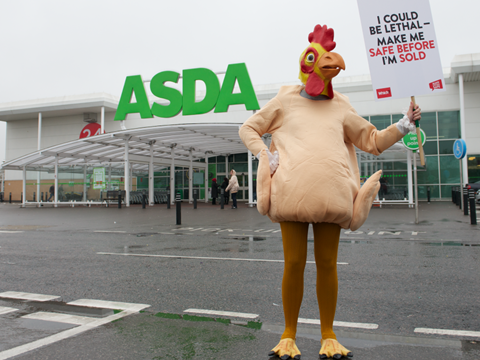 Which?
Richard Lloyd, executive director
"These results are a damning indictment of supermarkets and consumers will be rightly shocked at the failure of trusted household brands to stem the tide of increasingly high levels of campylobacter. Supermarket bosses should hang their heads in shame.
"It's now vital that the industry cleans up its act and works hard to restore consumer confidence.
We want to see supermarkets not only publishing effective plans that tackle these scandalously high levels but also demonstrate they're taking real action to make chicken safe."
Compassion in World Farming
Dr Tracey Jones, director of food business
"The link between bird welfare and public health cannot be ignored if we want a reduction in Campylobacter. What's clear is that our desire for cheap chicken, which is relentlessly driving down prices, is a fundamental barrier to solving this issue. It pushes producers into using chickens with higher growth rates and increases the number of birds in each shed, both of which are bad for animal welfare and increase the likelihood of campylobacter.
"What these results don't tell us are the links with specific processors, where a high level of cross contamination can occur.
"Some of the actions taken by retailers so far, like roast in the bag chicken, address the symptom not the cause. Others – such as incentivising farms to be campylobacter free and stopping thinning, where a proportion of birds are taken for slaughter before others – can potentially drive change, along with other industry interventions, so long as bird welfare is also addressed.
"By eating less and paying more for better meat, we can change the future of chicken farming for the better and support higher welfare systems which will ultimately reduce the incidence of campylobacter and have a positive impact on public health."
Law firm Eversheds
David Young, partner and health and safety expert
"There will undoubtedly be some outrage and surprise surrounding the statistics about campylobacter in supermarket chickens. We should not lose sight of the basic facts before we as consumers declare we are never going near another chicken (or any other poultry for that matter).
"Campylobacter grows naturally in chickens, just like lots of bacteria grow naturally in humans. Ours do not harm us at all most of the time; those in chickens will not either, if we take the simple measure of cooking the bird properly.
"It may be reasonable to be concerned about avoidable costs to the NHS, and consumer health generally, due to food poisoning. The solution lies in education and consumer behaviour and cannot be targeted entirely at manufacturers and retailers. It is a concern if processing leads to contamination on external packaging. It is a concern if supermarkets or any other retailers should be giving more priority to their suppliers' production methods and facilities over bare cost per unit, but the other side of that equation is what consumers are willing to pay. The culture of poultry being the cheapest of meat will not be altered overnight, but if consumers are not taught to recognise their own role in the hygiene chain no amount of good practice within industry will eradicate the problem.
"The targeting must be proportionate and sensible. This was the initial route taken by the authorities over horsemeat - blaming the industry before it fully understood the problem; it did not work with food fraud and it will not work with food safety. Consumers have to be part of the solution too."