Heroes emerge from the unlikeliest of places at times of war. In the price war, they've stepped out of the supermarket booze aisles.

Sales have risen 2.4% to £14bn. Volumes are up 0.8%. That's an extra £326m in sales and 21.1 million more litres of alcohol.

George Osborne helped in March, cutting beer duty and freezing it on spirits, cider and sparkling wine. But the greatest hero of this campaign is Italian: the sparkling fizz Prosecco: value grew 55%, propelling sparkling wine sales up a whopping 12.7%.

Such is the growth that Plaza Centro Prosecco, a Tesco-only Prosecco, is now the number-two brand, after Moët & Chandon.

"The price war has focused on retailer-specific Prosecco, not branded Cava," says Damian Clarke, MD of Freixenet, down 18.6% in value. "For the first time Prosecco is stealing share from us."

Of course, gains in BWS at the supermarkets pale beside the 18.5% growth recorded by Aldi and Lidl, driven by a strong own-label wine offer . The supermarkets retaliated with fierce deals on own-label fizz brands. Volume on deal has risen from 65% to 75%.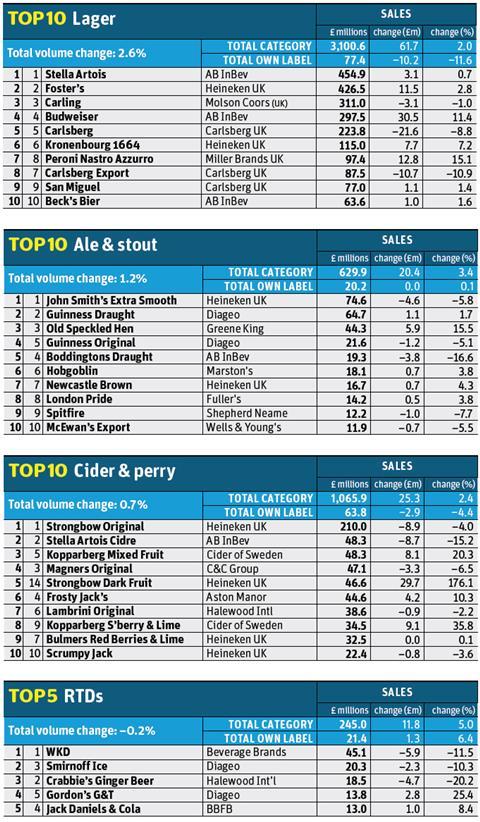 Champagne brands are also flying, but not because they've promoted harder (volume on deal has fallen). It's because own-label Champers is not as cheap as it was a year ago: prices surged 8% as it left the promotional space now filled by Prosecco. The likes of Moët and Lanson still wield hefty pulling power (both have invested in big ad pushes this year). And their absence from the discounters is a point of difference.

Not so big still wine brands, which have taken heavy casualties. Jacob's Creek has lost £12.4m (12.1%); volumes are down even more. "Our strategy to drive value by holding the highest average price with Jacob's Creek may have hit volumes, but we believe this is the right strategy," insists Pernod Ricard commercial director for wine Chris Ellis.

Spirit brands had more success. Smirnoff, for example, enjoyed strong growth without lowering price. Premium brands such as Grey Goose and Jameson Original are flying. "Price is only ever a short term solution," says Diageo off trade sales director Guy Dodwell, pointing to Baileys' Chocolat Luxe and Smirnoff Gold as examples of successful premiumisation. "We do participate in price promotions but we also invest heavily in driving the equity of our brands."

Russian Standard grew most, up £32.3m (48.6%), thanks partly to heavy use of featured space deals. Malibu, up 5.7%, has run deals on one-litre bottles. Limited edition bottles and a tie-up with cocktail mix brand Funkin also helped. Jack Daniel's is flying, thanks to big marketing spend, particularly around Jack's month-long 'birthday' in September, and a 3.4% fall in price.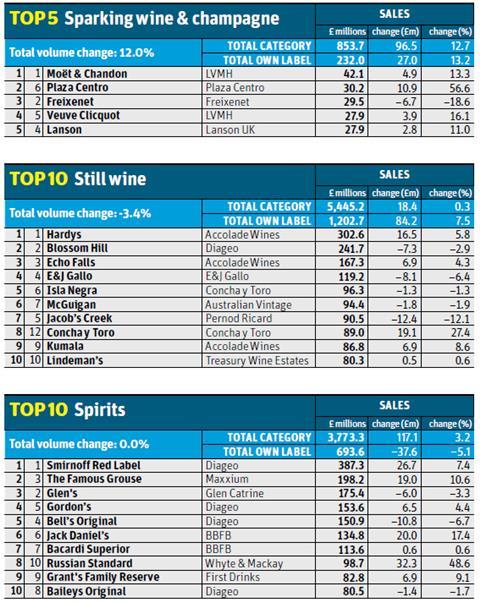 "Pricing levels reflect the wider category," says Amanda Almond, UK MD of Bacardi Brown Forman Brands. "This year we secured the strongest feature and display for Jack's Birthday, supported by bespoke PoS and exclusive retailer promotions including limited edition glassware."

In lager, back in growth after several years of decline, piling high and selling cheap was the game. Bud had most the growth: £30.5m (11.4%), as price dipped 1.9%; Foster's 2.8% growth was partly driven by a 3.9% fall in price, as Foster's Gold lost 13.4% of its value.

"Gold has seen a fall in off-shelf visibility, as big brands like Foster's and Strongbow were given greater visibility," says Heineken UK off trade MD Martin Porter. "Gold is a young brand and has huge potential. Trial and repeat purchase remains critical; as is off-shelf display."

And while cider sales stagnated, new fruit-flavoured ciders boomed, notably Strongbow Dark Fruit, Kopparberg Mixed and Strawberry & Lime and Stella Cidre Raspberry.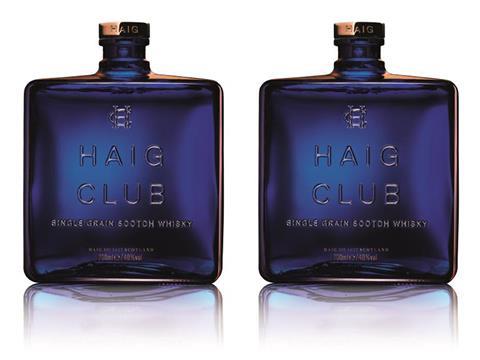 Top launch: Haig Club by Diageo
This had to be our top booze launch, just for the guts Diageo is showing as it tries to revitalise the whisky market.
At £45 a pop, bottles of this single-grain Scotch look more like aftershave than after-dinner dram. Diageo is hoping to lure younger, more affluent drinkers and is spending big on the brand, having signed Golden Balls himself for the launch.
He's more than just a poster boy; Becks is also involved in overall brand strategy. Let's hope he's better at branding than he is choosing tasteful tattoos…