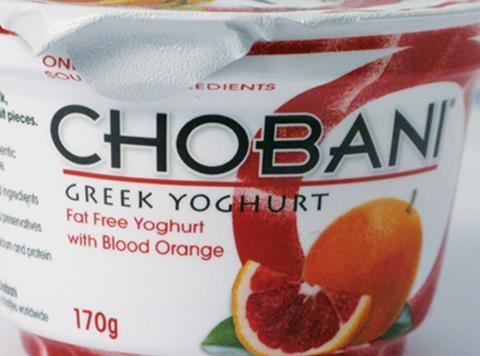 A long-running legal battle over the term "Greek yoghurt" appears to have come to an end – with US dairy giant Chobani refused permission to appeal to the Supreme Court.
Three Supreme Court judges - Lord Neuberger, Lord Clarke and Lord Reed – have said an application by Chobani UK Ltd to appeal a previous decision that "Greek yoghurt" had to be made in Greece "does not raise an arguable point of law".
The legal row began in November 2012, two months after Chobani made its UK debut with a listing in Tesco, selling US-made yoghurts described as "Greek yoghurt".
Total brand owner Fage, which makes its yoghurt in Greece, took out an injunction against Chobani and launched a legal case that went to trial in the spring of 2013. Chobani removed any references to "Greek yoghurt" from its packaging while the case was pending.
After Fage won the case, Chobani lodged an appeal, maintaining "Greek yoghurt" described a production process and arguing that Fage had failed to prove the term was so distinctive as to warrant special protection.
In January this year, the Court of Appeal announced it had sided with Fage, refusing Chobani permission to take the case further - although Chobani appealed directly to the Supreme Court, resulting in this week's decision.
Chobani has been ordered to pay Fage's costs incurred in resisting the application for permission of the appeal.
Last November, Chobani announced it was temporarily pulling out of the UK until it had its own UK production facilities up and running. It said at the time it expected this to take 12 to 14 months.
Following this week's ruling, Fage UK MD Nigel Amos said: "We are very pleased with the ruling of the Supreme Court to uphold the permanent injunction thereby preventing Chobani (and others) from selling yoghurt labelled as 'Greek yoghurt' in the UK unless it satisfies all key criteria."
These criteria, he added, are that: it must be made by a straining method; it must contain no additives or preservatives; and it must be made in Greece.
The ruling had "significant ramifications" for the UK yoghurt market by detering other brands from claiming to be Greek yoghurt, he said. "And for the UK consumer who needs to be able trust in the integrity of food labelling and who respect and value the heritage of the food they consume."