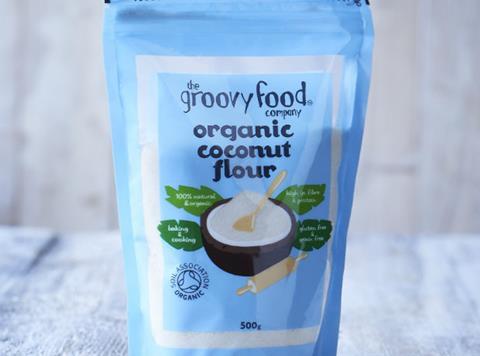 A flurry of supermarket listings for coconut flour suggests it could become the next coconut product to achieve widespread popularity.

An organic coconut flour from The Groovy Food Company (rsp: £3.99/500g) launches in Tesco today, and an equivalent product from Biona (rsp: £3.99/500g) went into Asda last week. Biona's product has been on the market since 2013, but has not previously been available in the multiples.

The two listings follow the rapid expansion in the distribution of Sukrin Low Fat Coconut Flour (rsp: £5/400g), which has been available in Tesco since last August, Waitrose since September, and Sainsbury's since November. The only coconut flour brand found in the mults before last summer was Tiana Fair Trade (rsp: £6/500g), in Asda since August 2014.

The Groovy Food Company said this month's launch aimed to take advanage of rising enthusiasm for alternative baking ingredients, which has led to a 134% increase since 2010 in the launch of bakery products with non-grain flours [Mintel Global New Products Database].

"This is a natural extension for The Groovy Food Company," said founder Rosie Hayward. "Not only does it tap in to the growing demand for free-from products, it highlights our ongoing commitment to the brand.

"Coconut Flour is set to be the ultimate 2016 'go to' kitchen staple as it can be switched in many flour-based recipes. The high fibre content of the product makes it very absorbent, meaning smaller and more economical quantities are required in recipes."

Biona supplies the mults with products including multiseed bread, canned beans and pomegranate juice, while The Groovy Food Company has listings for its coconut oil and agave nectar.

Coconut water has been one of grocery's biggest success stories in recent years, growing sales 73% last year to £36.3m [IRI 52 w/e 20 June 2015].